With (YHOO) announcing earnings Monday, I am already bullish on the stock. Confident new management is fueling a turnaround story for the company, I would expect at a minimum, on target earnings and raised guidance for 2013 which could push the stock higher.
(YHOO) has been stuck in this $19 - $20 range for some time indicating an accumulation period was taking place. From a technical perspective I have been seeking a trend confirmation signal that would indicate it's time to initiate a long position. Confirmation of a potential break out came to fruition yesterday with (YHOO) breaking the neckline on an ascending triangle formation and a move higher to close @ $20.44.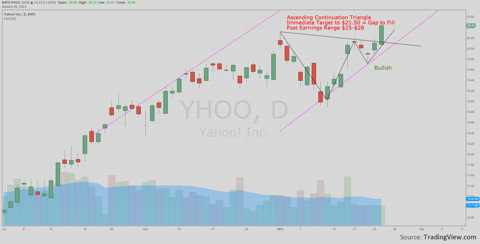 I recommend a buy on (YHOO) anywhere below $21.00 ahead of earnings, with a stop of $19.00 and target of $25-$28. A breakout above $21.50 and stop moves to $21.00.
Disclosure: I have no positions in any stocks mentioned, but may initiate a long position in YHOO over the next 72 hours.