Best Buy (NYSE:BBY) confirmed a head and shoulders pattern being confirmed on Friday at the close breaking its neckline at $16.89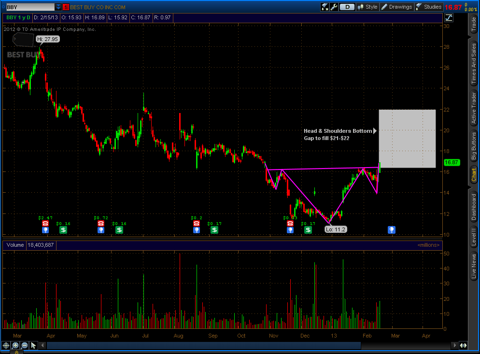 This signals a major trend reversal and sets a new gap to fill putting the target price between $21-$23. The slight slant upwards of the neckline gives support that this is most likely not a false indicator and the stock will continue to trade up.
Volume is critical here. Increased volume at the point of breakout is the most solid evidence the downward trend is over and marks the beginning of the stocks new uptrend. Notice the volume spike at the point of confirmation.
With the move up this morning, the stock also crossed it's 200-Day Moving Average as it passed $16.94 giving additional support to a continuing upward trend.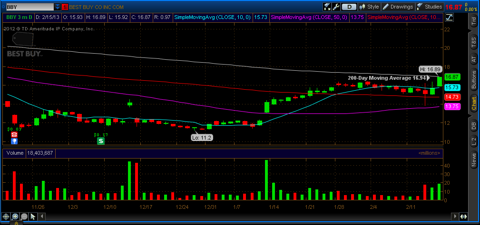 Also in pre-market trading 2 analysts upgraded the stock. Stifel Nicolaus upgrades Best Buy (BBY) from Hold to Buy and announces $23.00 PT. Barclays upgrades Best Buy (BBY) from Equalweight to Overweight and raises the price target from $13.00 to $20.00.
I established a long position in Best Buy (BBY) today at $17.50 pre-market and will add to position on any short term dips below trade price. I am recommending a stop of $15.95 and target price of $22.50.
Disclosure: I am long BBY.