Facebook (NASDAQ:FB) made its public debut almost one year ago on May 18th, 2012 after filing for one of the largest IPO's in history. Since its initial offering, Facebook has been one of the most traded, most promising and most controversial companies. If nothing else, it certainly was one of the most widely discussed and debated in 2012.
While very difficult to resist the temptation, I held off on Facebook in the beginning. I wanted to see how the company handled themselves as a public entity, how they responded to market forces, and what new information could be deduced from the disclosure of their financial data. After almost a year of review, I see a financially strong company with massive market share potential becoming progressively more mature. To clarify, I am not referring to maturity in the sense of a business cycle where they have reached their potential and a correction is due. I am referring to maturity in a sense that they have laid the foundation and vision for their future and now have the talent and resources to tap their potential. This article is intended to support these statements and provide an in depth look at Facebook as it approaches one year as a publicly traded company.
In analyzing Facebook, there were several key things I have paid close attention to in the last year such as, management, fundamentals, volatility, monetization, market perception, and technicals. I see Facebook as a hyper-growth potential company such as some of it's tech space predecessors like, Google (NASDAQ:GOOG), Linkedin (LNKD), Apple (NASDAQ:AAPL) and (NASDAQ:NFLX) to name a few. All produced a very healthy ROI for investors that bought in at key growth stages and I believe Facebook will follow suit. The obvious common denominators in all the companies mentioned is innovation and huge market share growth potential. These are all highly innovative ground breaking companies in one way or the other. But more importantly, each one of these companies found the right recipe to balance innovation leverage strong management to access that potential as it matured. Lets take a look at Facebook's progression.
Management: When Facebook first went public, I was curious to see how management would perform with Zuckerberg at the helm. Up to this point, I think he has done a phenomenal job and is becoming more and more in tune with the needs of his shareholders along with being the original creative force behind the company. I wouldn't necessarily equate him to a Steve Jobs quite yet, but there are some similarities. He has created a very dynamic culture at Facebook making it a highly desired workplace that attracts top talent and seems to have a knack for efficiently bringing out creative processes from his employees. The Zuckerberg we have seen since the IPO is laser focused and has a firm grasp on where they are taking the company in the future. This apposed to the more timid early 20s something kid in flip flops and sweatshirts we saw pre-IPO days. Along with like minded management members like COO Cheryl Sandburg formerly of Google and board member Reed Hastings who is CEO of Netflix , the company has infused itself with the right type of players.
What the company has ended us with is a hyper-innovative management team that also knows the value of patients and proper capital allocation. To date, they have done an outstanding job of properly allocating Facebook's resources to drive revenue from strengths while at the same time remaining disciplined enough not to get to far ahead in creative projects that may end up mitigating those profits. The company is still young, and still growing, but they seem to be gaining significant traction by being just as focused on revenue growth as product innovation. The team at Facebook has the ability the flawlessly integrate the two.
Fundamentals: Were going to dive into Facebook fundamentals. Being such a new public company without years of historical trends to analyze, there are some additional drivers we'll explore along with earnings, trends, etc... that give support to the bullish outlook for the company. First lets take a look at the numbers.
Below is a chart of Facebook quarterly earnings since it's IPO and annual EPS numbers/projections.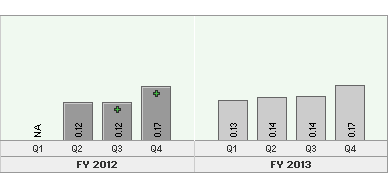 Quarterly

Annual
Facebook reported 4th quarter 2012 earnings of $0.17 per share on January 30, 2013. This beat the $0.15 consensus of the 32 analysts covering the company. For the 2012 year, they reported earnings of $0.53 per share in line with consensus. The tables also outline current 2013 analysts projections showing steady growth. However, I believe these numbers are conservative. I attribute the Q4 earnings beat to the explosion of mobile add growth in the smartphone market overall for 2012, and that number is not declining anytime soon as the use of mobile for web is growing exponentially.
Next we'll break down some fundamental numbers. You will notice the trail off of net income in 2012 and we can attribute a major portion of that to the change in capital structure and additional expenses from going public. That being said, the most important element to keep an eye on is overall revenue. Below is a chart showing Facebook revenues year over year.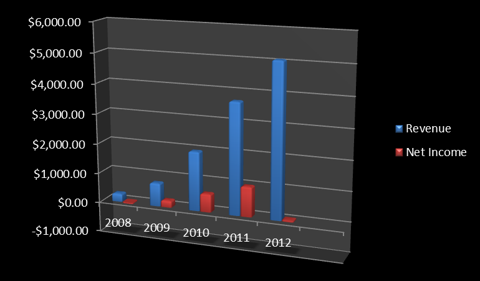 Facebook revenue has grown consistently year over year at a very high rate and so has net income for the most part. However, you will notice the drop off in 2012. The increased revenue due to expansion comes at a price along with other expenses like labor, admin, equipment, legal etc... They also ramped up R&D in 2012 which was expected and a primary factor in the decision to raise capital via going public. This is outlined in the chart below that shows some of their expenses year over year.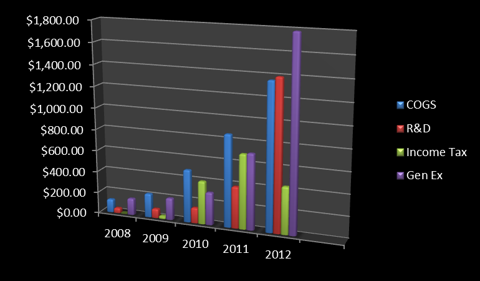 One important thing to notice is relative to sales, Facebook does a very good job of managing their COGS with only 3.6% of variance year over year (relative to sales). With the exception of 2012, their COGS is historically the largest expense and their ability to control that number so tightly is a very positive sign. My consensus is, that revenue will continue its high growth rate over the next several years, while the boom in expenses will grow at a much slower rate post-IPO making Facebook increasingly profitable from a fundamental approach. With about $10 billion in cash on the balance sheet, no debt and free cash flow margins above 40% of revenue over the past two years, the company is strong enough financially to reach their potential.
Mobile & Monetization: The bullish outlook on Facebook is supported by several key factors, primarily focusing on last quarter. Most important, as mentioned earlier in this article is mobile growth and monetization. Facebook is achieving this through ad revenue. In Q4, total revenue topped $1.5 billion, with $1.3 billion from coming from advertising. Advertising revenue grew 41% compared to 2011, by far surpassing the industry average for online advertising. Of the total ad revenue in Q4, mobile accounted for nearly 23% of that number and continues to grow. The company is showing that it's current ad platforms via news feeds and unique targeting are successful and they are also developing new ways to extend their reach with coming soon products like Graph Search.
Facebook is on the right track by developing more for mobile. This is very important as the primary differentiator for Facebook compared to it's competition is user interaction. Facebook currently has over a billion users and that number grows daily. The key to this as apposed to rival online advertisers is user interaction. Of their current user base, almost 60% of users log on and interact DAILY! To put that in perspective, the Super Bowl's potential audience claims to be 2 billion but an average of around 200 million viewers tune in world wide every year, according to multiple online debates. So looking at the Facebook audience by comparison, advertisers can reach about 3x or 600 million users that log on daily and interact with the network. Right now, it's estimated that close to 700 million users are mobile and again, that's a growing number. One huge advantage for Facebook and their mobile apps, is they go cross-platform from iOS, Android, & Web seamlessly making it the interactive social app of choice no matter what smart phone platform you prefer. While I don't want to speculate or get off track, I think it's important to mention that with many business's going mobile these days, there is major potential in Facebook mobile platforms for enterprise applications.
Many SaAS companies like Sales Force (NYSE:CRM) for example are already doing an outstanding job integrating their products to work with social networking. It's important to note however, that relationships with developers and staying on point to meet advertiser needs is crucial for Facebook's success. One challenge I would propose to the company is put the needed resources into developing a better ROI tracking system for advertisers either through a universal platform or customized solutions.
I have personally used Facebook's targeted advertising and found it be a great driver for new business and very cost effective. However there was no real way for me to gauge ROI. For a business such as a retail mom & pop shop that would spend a maximum of lets say $3.00 / day on target ads this may not be that important, but for enterprise companies that spend hundreds, thousands, even millions of dollars a year on advertising, tracking ROI is crucial. If the company can improve that aspect of their platform they will eliminate a major hurdle, but if not they could be perceived as just another way to drive general web traffic. Again, this goes back to the issue of market perception. Overall, I am convinced they will rise to the challenge while continuing to tap their potential for outstanding profitability.
Now that we have covered a good amount of the fundamentals and business model, lets look at Facebook for entering the trade. One thing that I like about the company here is the volatility in it's stock price (post-IPO speculation) has closed in on it's gap over time and seems to be more stable. See the chart below that analyzes historical volatility over the last year.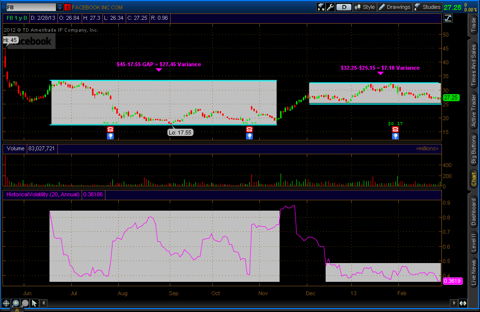 The lower study is a measure of volatility, which clearly shows the stocks much higher swings in its first few months of trading, vs. the last 3-4 months where volatility has been much lower and remained steady. This indicates the stock has reduced variance risk and is a more certain time to enter into a trade at a stable price with less risk in short term price swings. I attribute this again, to Facebook becoming more transparent and mature as a public company resulting in less speculation.
The Technicals: So we've covered the fundamentals and determined this is a more attractive time to consider a trade. Adding to that, I always prefer to look for good technical indicators for confirmation to enter. In this case I am looking for confirmation of the stocks continued upward trend over time, as fundamentally I have a bullish outlook on the stock and want to initiate a long position.
Since it's peak at $32.51 January 28th, the stock has traded for the most part below it's 50-Day Moving Average on a downward trend signaling a pullback and the stock may be in an accumulation period. See the chart below as it crosses below that threshold and trades just under it.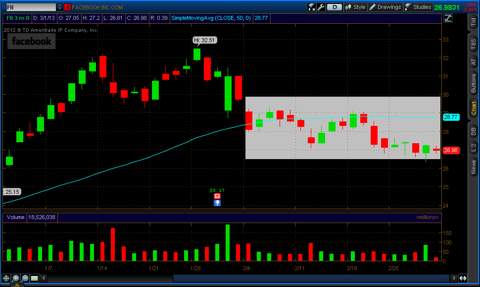 However, in stark contrast, the stock has been mostly in an upward trend since it's low near $17 a few months back. So what we want to see is some type of pattern to signal which way the stock will break from here. In the next chart, there's two critical things to notice. A bullish continuation wedge is forming, however the stock is close to it's 200-Day Moving Average as well. When the wedge comes to a point, if the stock can break above and out of the upper line that signals the current uptrend will continue. For the stock to break out, it needs to close above $27.37. On the other side, the green price level that runs across is a major support line and falls right at the stocks 200-Day Moving Average of $25.40. If the stock were to close below that level, it's a sign that it will most likely reverse and continue to head lower from the current range.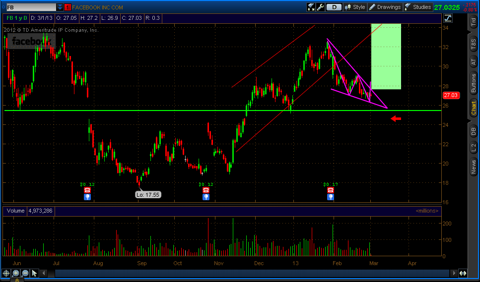 Watch this closely over the next week or so to determine a good entry point. My opinion based on the fundamental outlook is the stock will continue to go higher. If it breaks out, it has a gap to fill in the $33.00-$34.50 range. I will be looking to initiate a long position buying on dips below $27.50 and above $26.50 with a stop at $25.40. Based on multiple valuation methods, I find an average fair value for the stock is around $33.00 per share so I would look to re-evaluate at this level once it approaches.
On a more long term outlook, I believe Facebook is realistically a $40 stock based on it's huge growth potential but that's hard to predict. Beyond that, I think significant higher levels can be achieved if we see Facebook reaching it's potential in 2013. I see a major accumulation occurring and at some point, think this stock will take off at a rapid rate, hence I believe the stocks undervalued and I am happy to own it here.
Conclusion: I recommend Facebook a buy at current levels and will look for a good price to initiate a long position. Outlook is intermediate to long term with a stop @ $25.40. This is supported by the companies progressing fundamentals, solid management, and improving volatility. Their ability to maintain and gain market share in mobile advertising along with traditional online advertising is important to watch. Pay close attention to earnings, conference calls and future guidance as it can have an impact on this highly traded stock. As Facebook is still a young company, they have gone above expectations in my opinion this first year and continue to mature at a healthy rate. The continuation of this gives me little reason to doubt the stocks massive upside potential, and supports that it's unlikely we would see the stock retrace anymore than $10 per share from current levels making the risk:reward factor a no brainer in my opinion. I see this growing company reaching new heights and believe it's stock price will begin it's journey of closing the gap between it's larger competitors like Google . With $10 billion in cash and no debt, management is fully capable of taking Facebook to the next level.
Disclosure: I have no positions in any stocks mentioned, but may initiate a long position in FB over the next 72 hours. I wrote this article myself, and it expresses my own opinions. I am not receiving compensation for it (other than from Seeking Alpha). I have no business relationship with any company whose stock is mentioned in this article.