Blackberry (BBRY) confirmed several major technical indicators yesterday, 3/13/2013, that signal this could be a great entry point with a 34%-36% upside in the coming weeks. So looking at those signals, we saw:
Bullish Continuation Triangle - This tells us price has broken upward out of a consolidation period, suggesting a continuation of the prior uptrend.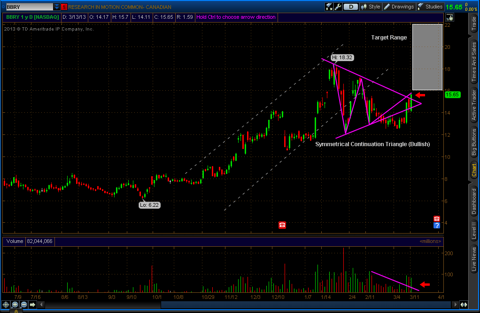 In this instance, the stock has a gap to fill upwards of $21.50-$22.00 and its important to notice the volume. The volume pattern indicates this is not a false flag as it declines approaching the Apex of the triangle, then spikes a few bars before and as it crosses the neckline giving additional support to the pattern. This pattern signals an intermediate-term move up over the next several weeks.
Triple Moving Average Crossover Next we saw a triple moving average crossover yesterday of the 4,9, and 18 day moving average. With the stock already holding above its 50 and 200 day MA, this signals a short term spike in price is underway which could lift it towards its target range from the triangle break out.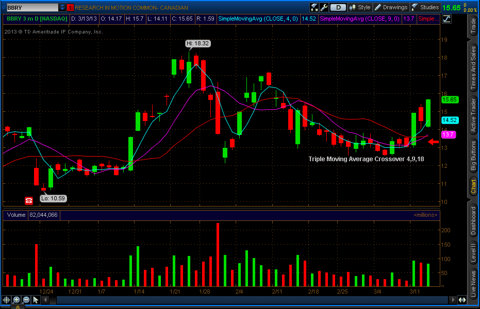 Short-Term KST The short term KST or Known sure thing combines multiple time frames into a single measure of momentum. A bullish signal is generated when the KST crosses above it's moving average.

Notice the approach, for this to be confirmed, Blackberry (BBRY) needs to close above $15.22 and would support another short term run up towards it's target range confirmed by the triangle break out.
Conclusion It's a speculative play with all the hype and news surrounding Blackberry (BBRY) and the BB10 launches, however these signals could give a great deal of support for anyone wanting to be long the stock. For a long position, I would recommend an entry around $15.50 - $16.00 with a stop at $14.50. Target price should be about $21.50 - $22.00 for a good exit. Pay close attention to earnings, analyst comments, and guidance between now and March 28th for catalysts that could push the stock one way or the other as it's very volatile right now.
Disclosure: I have no positions in any stocks mentioned, but may initiate a long position in BBRY over the next 72 hours.