The Morning Call
12/10/18
The Market
Technical
The S&P made a valiant two day attempt to reverse the deterioration in its technicals but failed. It is now back within a very short term downtrend, below both MA's and has set a new lower high and lower low. I have to think that stocks will stage some kind of oversold rally; but I thought that last Thursday and Friday and look what happened. You can clearly see the next two support levels: the late October low and the lower boundary of its short term trading range.
The long bond's chart changed dramatically in the last week, apparently the result of a morphing of bond investors' sentiment from bearish (higher rates) to bullish (lower rates). Its 100 DMA reverted to support on Friday and if it remains above its 200 DMA through the close today, it will also revert to support. It did challenge the upper boundary of its short term downtrend, but failed. It really needs to bust through that resistance level to confirm that a major change in attitude has occurred.
Morgan Stanley: "A Credit Bear Market Has Started And Will Be Painful"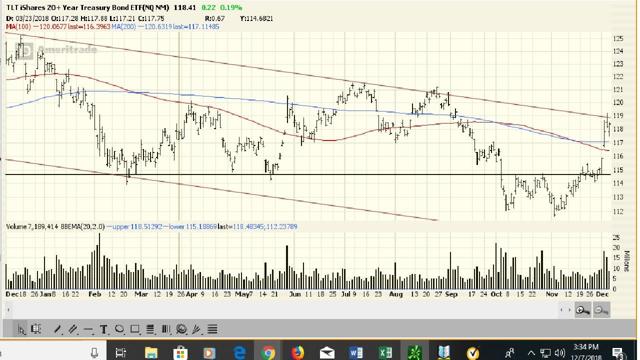 The dollar continues to perform reasonably. It ended above both MA's and in a short term uptrend. The only negative note is that it closed below the lower boundary of its very short term uptrend; if it remains there through the close today, the trend will be voided.
Gold's chart is improving. It has lifted above the upper level of a trading range and is developing a very short term uptrend. It is holding above its 100 DMA. The pin action usually responds positively to lower rates and the need for safety, so this better performance isn't surprising. In fact, given the deluge in equities and the developing reversal in TLT's chart, I had expected better.
Not surprisingly in a week full of big declines, the VIX's chart remained strong. Notice the 100 DMA is crossing above its 200 DMA, a technical positive.
Fundamental
Headlines
China threatens severe retaliation if Huawei CFO not released.
Beijing Threatens "Severe" Retaliation Against Canada If Huawei CFO Is Not Released
Surging federal expenditures and declining tax revenues are not a prescription for a growing economy (must read).
Surging Federal Expenditures, Collapsing Tax Revenue...These Are Not Signs Of A Strong Economy
News on Stocks in Our Portfolios
Economics
This Week's Data
US
International
November Chinese CPI and PPI were below estimates; in addition, exports/imports weakened though the trade surplus with the US grew.
Third quarter Japanese GDP fell 0.6%, in line.
Japan GDP Tumbles After Biggest CapEx Collapse Since Financial Crisis
Other
Consumer credit hits all-time high.
US Consumer Credit Hits All Time High As Credit Card Usage Soars
What I am reading today
If US quits INF treaty.
If US Quits INF Treaty, Europe Loses
Listen to the Martian winds.
Listen To Martian Wind: In Historic First, NASA Captures Audio Of Mars Surface
Visit Investing for Survival's website (Home | Investing for Survival | Investingforsurvival.com) to learn more about our Investment Strategy, Prices Disciplines and Subscriber Service.