The Morning Call
8/12/19
The Market
Technical
My charting service has changed its format. It is obvious in the way the charts are presented. This new system is having its problems that are sure to be ironed out. One of them is that their logarithm scales don't work on long time horizons. So at the moment, I can't plot some intermediate and long term trends including those of the Averages. The good news is that neither are even remotely close to those trend lines. In the meantime, bear with me.
It was a busy week for the S&P: (1) it voided its very short term uptrend but quickly regained the lower boundary. If it remains there for a couple more days, I will re-instate that trend, (2) it also reset its 100 DMA from support to resistance and one day later traded back above that MA. I also have this change on hold, and (3) it closed Monday's gap down opens.
Stocks "Are One Shoe-Drop Away" From Realizing Bonds Are Right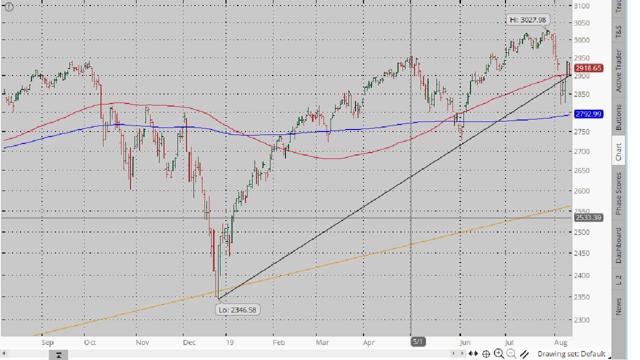 The long bond is smoking. It is above both MA's and in uptrends across all timeframes. The only technical negative is a short term one---last Monday's gap up open that needs to be closed.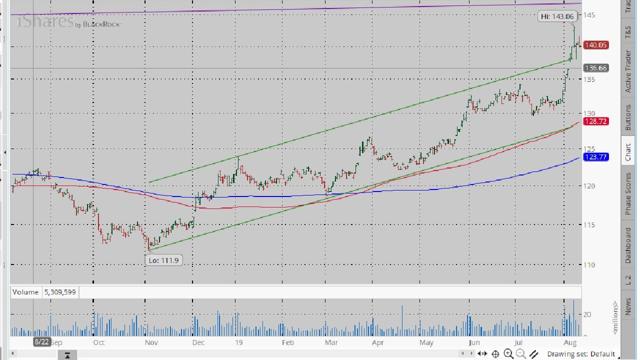 The dollar remains strong. It is in short and long term uptrends and above both MA's. Plus, it needs to close Monday's gap down open. However, after it took out the upper boundary of its long term trading range, it traded back below that level and has remained there. That is a bit worrisome.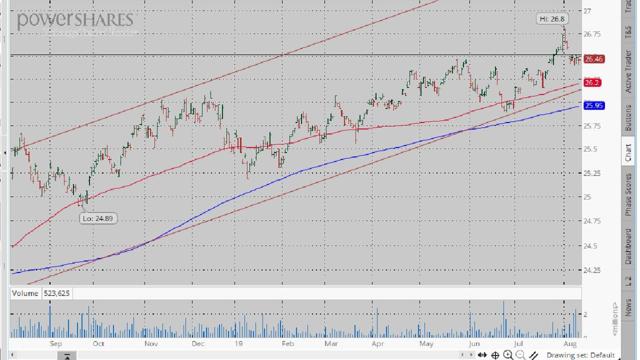 Gold continues to soar. It remains in very short term and short term uptrends and above both MA's.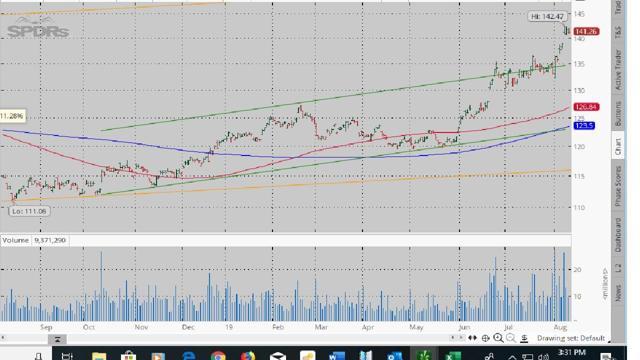 In its latest spike, the VIX made a higher low and a higher high in addition to resetting both MA's to support. That suggests a lot more caution that is not being reflected in stock prices.
Fundamental
Headlines
Risk happens fast.
QE returning to a market near you.
JPMorgan: The Fed Will Need To Restart QE Soon
If you don't want to be depressed, don't read this. The latest from David Rosenberg.
David Rosenberg: "These Are Truly Historic And Dangerous Times"
News on Stocks in Our Portfolios
FactSet Research Systems (NYSE:FDS) declares $0.72/share quarterly dividend, in line with previous.
Economics
This Week's Data
US
International
June Chinese vehicle sales fell 4.3% versus estimates of -8.0%.
July Chinese outstanding loan growth equaled 12.6% versus forecasts of 12.7%.
Other
Shipping fuel prices declining.
Bunker Chaos: Global Shipping-Fuel Price Plunges Amid Slowdown Fears
Farm loan delinquencies and bankruptcies increasing.
Farmageddon: Farm Loan Delinquencies And Bankruptcies Soar, Incomes Plunge
Protests in Hong Kong gather more steam.
Hong Kong On The Edge: Chinese Troops Gather In Shenzen; 100s Of Flights Cancelled Over Protester "Terrorism"
The future of the EU (must read):
Germany Stalls And Europe Craters
What I am reading today
Quote of the day.
Visit Investing for Survival's website (Home | Investing for Survival | Investingforsurvival.com) to learn more about our Investment Strategy, Prices Disciplines and Subscriber Service.