The Morning Call
8/19/19
The Market
Technical
The S&P has been consolidating since late July. It is now between its 100 DMA and 200 DMA and between the upper boundary of a developing very short term downtrend and the August 5th low which it has bounced off of twice. So, there are multiple levels that will provide directional information.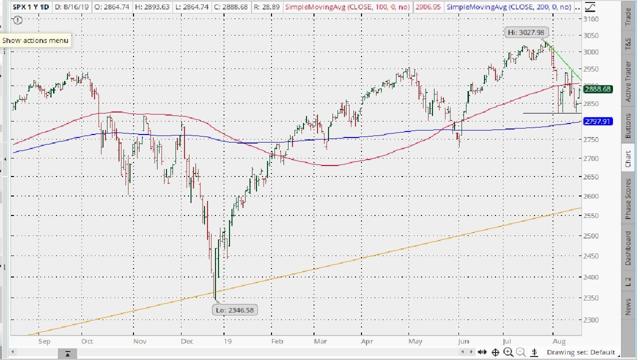 On a long term basis, TLT remains in uptrends across all timeframes and is above both MA's. But shorter term, it has gotten overextended. Plus, it has two gap up opens that need be filled, neither of which would call into question the long bonds upward momentum. Barring a financial crisis, some backing and filling would not be surprising.
The dollar's performance remains strong, ending above both MA's and within short and long term uptrends. However, it has not gotten overextended like TLT and GLD. So, there is less technical pressure for a correction; although it still has a one gap up open that needs to be filled.
Despite being off slightly on Friday, GLD is also getting overextended; though like TLT, there is no sign of a decrease in GLD's upward momentum. The only negative is all those gap up opens further down. But also, like TLT, barring a crisis of some sort, expect some short term loss of momentum. However, unlike TLT, GLD is nowhere near its all-time high.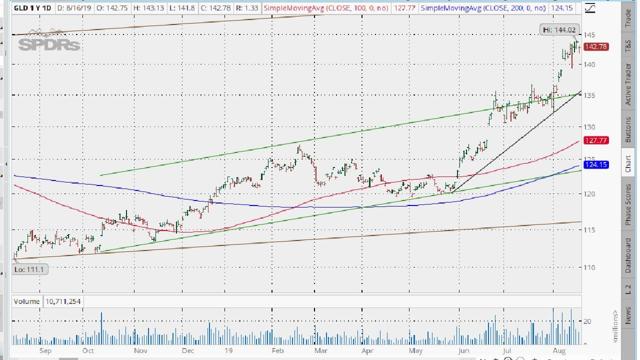 The VIX followed the see saw Market last week. Note that it made a higher high and remained within a developing very short term uptrend---giving a slightly bias to the stock market
Fundamental
Headlines
***overnight,
Trump makes another concession to Chinese, giving Huawei an additional 90 days to buy US made supplies.
https://www.zerohedge.com/news/2019-08-19/stocks-climb-ross-confirms-another-90-day-delay-huawei-blacklist
Germany prepares stimulus in case of recession.
Germany Prepares Stimulus In Case Of "Deep Recession"
Bank of China initiates interest rate reforms designed to lower lending rates.
China Unveils Its Own Libor: How China's Interest Rate Reform Will Work
News on Stocks in Our Portfolios
Economics
This Week's Data
US
International
The July Japanese trade deficit was Y249.6 billion versus estimates of T200.0 billion.
July EU CPI was -0.5% versus forecasts of -0.4%.
Other
The role of offshoring in the decline in manufacturing employment.
A New Assessment of the Role of Offshoring in the Decline in US Manufacturing Employment | naked capitalism
Mounting loan problems in the farm belt.
Midwest Farm Loan Repayment Issues Hit Highest Level Since 1999
What I am reading today
Massive Black Hole 'wakes up'
Supermassive Black Hole 'Wakes Up', Starts Flashing '75 Times Brighter Than Ever Before'
Comet plunges into the sun.
Comet's Fiery Death Caught On Video As It Plunges Into Sun; Conspiracy Theorist Warn Of Planet Nibiru
Quote of the day.
Soundness is not rate of return.
The Essence of Valuation is Soundness Not Rate of Return: Part 1