Monday Morning Chartology
Sep. 21, 2020 9:12 AM ET
CSCO
Please Note: Blog posts are not selected, edited or screened by Seeking Alpha editors.
The Morning Call
9/21/20
The Market
Technical
The S&P remains above both DMA's and in intermediate and long term uptrends. Still, it is now developing a very short term downtrend; although, there is lots of support at its 100 DMA, 200 DMA, and the lower boundaries of its short term trading range and intermediate term uptrend. As you know, I believe that the Market's bias will remain to the upside as long as the Fed continues to pump money into the financial system. However, shorter term, a test of one or more of the above mentioned support levels would not be surprising.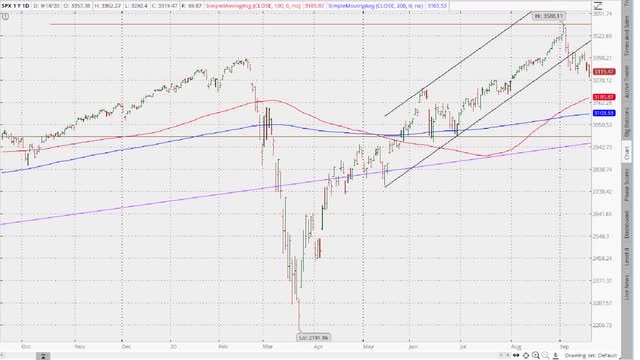 I have been noting for the last month that the long bond was in a consolidation phase. Here you can see the series of lower highs and higher lows---typical of consolidation. A break of one those trends would point to a move in the direction of the break.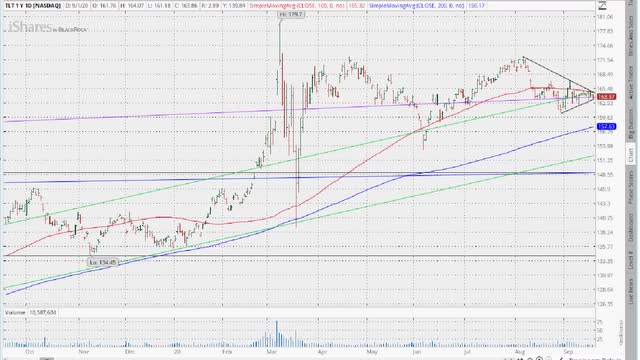 While the longer term chart for GLD is positive, you can see that it has been in a fairly tight trading pattern since early August---making progressively lower highs (not good) but holding a minor support level (GOOD). This is characteristic of consolidation. So, we wait for a break of one those trend lines to give us directional guidance.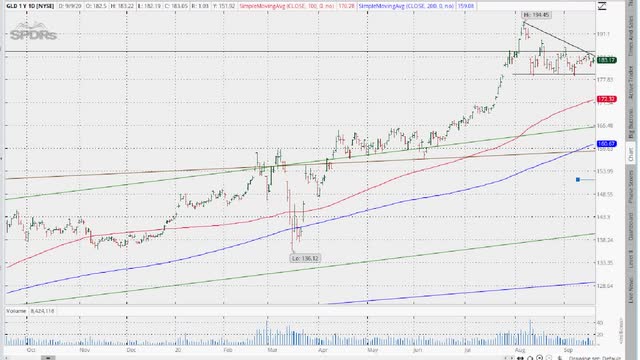 The dollar has been in a solid declining trend since March and trades below both DMA's. It made a low in early September near the lower boundaries of both its short term downtrend and intermediate term uptrend and since bounced. While it can't make a higher high, it is holding above that last lower low. However, it needs to successfully challenge the short term downtrend before assuming that any recovery is taking place.
I can't glean anything of informational value from the VIX chart.
Friday in the charts.
Stocks Suffer Longest-Losing Streak In Over A Year As Dollar Dump Continues
Fundamental
Headlines
The Economy
Last Week in Review
The stats last week were negative as were the primary indicators. This adds more evidence to the notion that the economy is improving but not likely in 'V' shape that is hoped for. Overseas, the indicators were overwhelmingly positive---which continues the pattern of irregular growth. I think that unfortunately their sluggish performance will serve to restrain our own growth.
In other news, both the Fed and the Bank of England held their regular meetings and, like the ECB in the prior week, left rates and QE unchanged. So, the beat goes on.
Whatever the shape of the recovery, I am not altering my belief that long term the economy will grow at a historically subpar secular rate due to the twin burdens of egregiously irresponsible fiscal and monetary policies---which, by the way, are becoming even more egregiously irresponsible as a result of measures being taken by the government and the Fed in dealing with the current crisis.
US
The August Chicago Fed national activity index was reported at .79 versus estimates of 1.95.
International
Other
The latest Q3 nowcasts.
You do not solve lockdowns with more central planning (must read).
Be Serious, You Don't Solve Lockdowns With More Central Planning
Global debt is exploding.
Global Debt Is Exploding At A Shocking Rate
The Fed
Fed weighs a second stress test and capping bank dividends.
https://www.bloomberg.com/news/articles/2020-09-17/fed-weighs-extending-bank-dividend-caps-re-starts-stress-tests?sref=loFkkPMQ
The coronavirus
Nearly 60% of coronavirus business closures are permanent.
Nearly 60 percent of COVID-19 business closures are permanent: report
China
Why China's recovery is not what it seems.
https://ftalphaville.ft.com/2020/09/15/1600190531000/Why-China-s-recovery-is-not-what-it-seems/
Bottom line. It ends when the money runs out.
Newton, Physics, & The Market Bubble
Part 2: The hazards of being in the grips of growth mania.
From Brilliant To Brain-Dead: The Risk Of Timing Manic Markets
Where value resides.
Tug Of War Across Markets Hides "Trade Of A Lifetime"
News on Stocks in Our Portfolios
Cisco: a bargain in the tech sector.
Cisco Systems: One Of The Few Bargains In The Tech Sector (NASDAQ:CSCO)
What I am reading today
Ten easy ways to save $870,000.
How big money is powering the search for alien intelligence.
How big money is powering a massive hunt for alien intelligence
The bill for economic inequality is coming due.
The Bill For America's $50 Trillion Gluttony Of Inequality Is Overdue
Picking Ginsburg's successor.
Picking RBG's Successor: The Who, The When, & The Hypocrisy
Visit Investing for Survival's website (Home | Investing for Survival | Investingforsurvival.com) to learn more about our Investment Strategy, Prices Disciplines and Subscriber Service.
Analyst's Disclosure: I am/we are long CSCO.
Seeking Alpha's Disclosure: Past performance is no guarantee of future results. No recommendation or advice is being given as to whether any investment is suitable for a particular investor. Any views or opinions expressed above may not reflect those of Seeking Alpha as a whole. Seeking Alpha is not a licensed securities dealer, broker or US investment adviser or investment bank. Our analysts are third party authors that include both professional investors and individual investors who may not be licensed or certified by any institute or regulatory body.