"Americans weaned on post-war affluence have come to expect an extended period of leisure at the end of their work life." — The Center for Retirement Research, October 2009 


For baby-boomers, this terse scrutiny touches a painful nerve since 2007-2010. Instead of simply kicking back and reaping the rewards. The baby-boomer thought they had enjoyed the longest continual sustained bull markets in stocks, bonds, and real estate in decades. Many boomers must now perform a hard reality check on their retirement expectations in the post-crash world.
Surviving a "perfect storm"


In key respects, 2008 was a perfect storm leading into 2009. A storm for America's retirement system, as the meeting of two generational trends.
The
Great Moderation
coincided with what we might call the
Great Pension Realignment
. Millions of workers were shifted from defined benefit (
DB
) to defined contribution (
DC
) plans, including the first wave of baby boomers who are now at or near retirement age.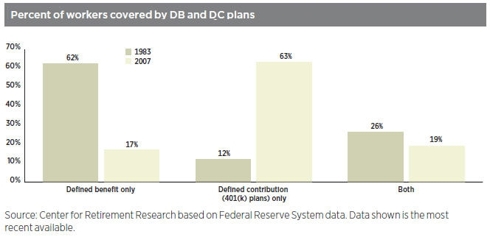 Recent history has underscored the rewards and risks in both DB and DC approaches. Employees covered by a DB plan can look forward to assured lifetime annuities; all they have to worry about is staying employed. However, DB plans have proven untenable over the long term for many plan sponsors in an era of "global competition and shrinking margins". Thus, further view is growing in numbers of DB plans have been frozen or terminated, they have receded in importance for the American retirement system through discovery by extensive research to date.
 
In contrast, DC plans are more affordable for sponsors (Employers), and increasingly prevalent, and provide workers with a tax-advantaged platform for investing being frequently combined with employer contributions. However, the traditional DC plan requires the participant to supply all the initiative and expertise, from the initial decision to contribute to the finer points of asset allocation and risk/reward trade-off.

With hindsight, it is clear that this total, open-ended transference of responsibility and investment risk to participants is far from optimal. The crash can be viewed as an exclamation point to that observation. 
Research has brought the belief that the retirement system must evolve to bridge the gap between the DB and DC approaches. Some of the security inherent in DB plans can and should be developed for individual retirement investors, both inside and outside of DC platforms. Before examining some promising ways to accomplish that, one must first briefly take stock of the damage to the retirement landscape, as a graphic reminder of the urgency of the task of building foundations for retirement before all seeking a resolve of risk to reward they are faced with.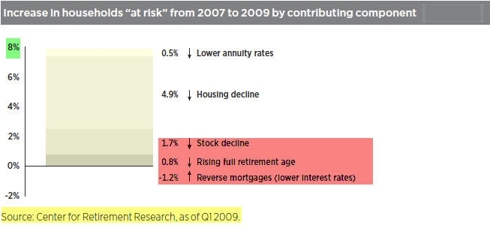 The CRR cites several factors behind this trend:
 
• The length of retirement is increasing with longer life expectancies, while the age for receiving full Social Security benefits is being pushed back to 67 from 65.
 
• More workers are vulnerable to market exposure and investment mistakes as part of DC plans, as discussed above. The median 401(k)/IRA balance for participants approaching retirement was found to be just $78,000. "In theory," the study notes, "401(k) plans could provide adequate retirement income, but many individuals make mistakes at nearly every step along the way."
 
• Most of the working-age population saves virtually nothing outside of their employer sponsored pension plan.
 
• Fixed-income and annuity yields have fallen, so accumulated assets are generating smaller income streams. However, there is a partial offset to this with the availability of lower interest rates for reverse mortgages, which makes it less costly to borrow against home equity. 
 
The graph above summarizes the eight percentage point worsening in the NRRI by source. It is worth noting that while more than twice as much equity market value was wiped out than housing equity, the latter affects many more households and is responsible for 4.9 percentage points of the negative change.

Keep all your trades weighted properly. It is wise to have a professional adviser. An adviser who is an active money manager works your portfolio when working within this current market environment.
Disclosure:
Holding Options Long and Short Puts and Calls in BAC, GS, GLD, SIL, SMH, TLT