Understanding inverse economic pressure bring opportunity. The important facts building and safe-guarding your portfolio performance during these next four (4) quarters comes out of the oil patch and semiconductors.
We will try and reveal hidden gems that can disconnect or separate from oil futures price. The oil patch are signaling a new era of profits. We also take a peak for the coming summer swoon within the semiconductor sector.
Getting your investments right presents an austerity environment in making decisions for your choices becoming paramount, as many get it wrong and can lose big. The world though is offering room for this market to run within Emerging Growth and U.S. Markets still showing signs of life, as seen within the charting provided below.

Source: Dorsey Wright & Associates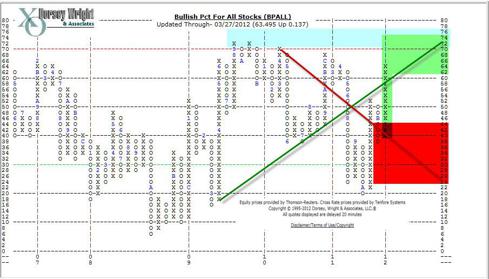 Source: Dorsey Wright & Associates
Stocks surprisingly closed out the first quarter on a quiet note reported by CNBC. The Dow and S&P 500 modestly higher and the Nasdaq slightly lower on Friday. The term "quiet" as stated by Gorillatrader.com weekend comments;
"It was hardly what the bulls experienced this first quarter, though, and the term that more clearly describes this first quarter is something more like "barn-burner." For the quarter, the Dow rose 8%, the S&P 500 gained 12% and the Nasdaq lifted by nearly 19%! It was the biggest first-quarter gain in 14 years, and it was clearly not expected by the conventional wisdom we saw at the beginning of the year."
"What I've learned, that is how it works on Wall Street, though, because the "conventional wisdom" of what most people expect rarely ever occurs. The stock market has a wicked way of proving the most people wrong precisely when that majority expects a certain outcome. The buzz heading into 2012 was that Europe would possibly melt down, the Mideast would flare up, and that oil prices would soar to $120 -$150 per barrel. Somehow none of this has occurred, and that might be why the stock market has rallied so strongly as stated by www.Gorillatrader.com.
Another fear swirling the trading floors and many firms was that interest rates might spike and that inflation would rear its ugly head. Again, we have seen evidence of this occurring to a small degree, but these forces have not been able to gain a solid foothold enough to rattle the stock market one bit. That has the bullish camp singing and dancing this weekend as they revel in the impressive double-digit gains for the major indices in the first quarter. Some traders the street news agencies heard from said that the first quarter performance for the stock market was "a great year!"
No bull would complain about a 12% yearly gain for the S&P 500, and as great as this quarter has felt, it seems like another three quarters of this is not likely. A 48% return for 2012 would be a welcomed performance, but given the fact that we have nearly doubled since March 2009, tacking on another 36% might be tough. It would certainly be tough, but it would definitely be a whole lot of fun if it did occur. Does this mean we are due for a flat market or a pullback? No, it does not, but if we are to see this bull flex more muscle, we are going to need some impressive earnings when earnings season kicks off next week. Bulls would agree that it has been as exciting as the stock market has been in the first quarter of this year, and they also hope the second quarter will see that same amount of upside momentum and excitement.
One positive that the bulls saw on Friday was that better-than-expected University of Michigan Consumer Sentiment number. It came in at 76.2, which improved upon last month's 75.3, and also topped the 75.0 level that economists expected. It is an interesting indicator, however, because it makes us wonder what drives sentiment. We have soaring gasoline prices which should be skewering consumer sentiment, but at the same time we have a soaring stock market. It may cost a bundle at the pump, but it looks like stocks hold sway when it comes to consumer sentiment.
All three of the Strength Indexes declined last week and are now in bearish territory. The DJIA (NYSEARCA:DIA) dropped to 33.3% from 43.3%. The S&P 100 (OEX) slipped to 41.0% from 48.0% while the NASDAQ 100 (NASDAQ:QQQ) fell to 49.5% from 60.6%. While readings below 50.0% indicate that the majority of the stocks in the index are under distribution, it is the trend that tends to forecast future price direction. These indexes have been in a slow but steady down trend since the week ending 02/10/12.
Numbers to Watch: DJIA: 12929--50-day simple moving average DJIA: 12086--200-day simple moving average DJIA: 13780--Resistance - 12/07/11 high DJIA: 12734--Support - 03/06/12 low
S&P 500: 1361--50-day simple moving average S&P 500: 1266--200-day simple moving average S&P 500: 1425--Resistance - 5/16/08 high S&P 500: 1340--Support - 03/06/12 low
NASDAQ: 2949--50-day simple moving average NASDAQ: 2699--200-day simple moving average NASDAQ: 3535--Resistance - 10/20/00 high NASDAQ: 2900--Support - 03/06/12 low
Source: Markets-Edge
Unmasking the Risk Wall Street Doesn't Want Advisors to Understand
Rigged Money author and investment advisor Lee Munson, a former trader, talks about how Wall Street does its best to turn advisors' and investors' attention away from the most important topic: risk.
Click through the video link to gain this insight that we use to guide many to keep risk and reward properly understood.
HEDGING AUSTERITY
The professional hedging investor or firms generally make themselves to be within a select group of mammoth players, that few can pattern or shadow their plays. Folks like Paulson, and Soros are the notable, but many can use the depths of research to be successful like these mammoth players. You can follow Paulson, Soros, and others within their SEC filings and block trade profiling of market makers they are using.
Hedgers know what is valued incorrectly. Warren Buffet is known for finding companies improperly valued. A quick example that surfaces is the housing crisis when Paulson made one of his most notable and profitable investments. The ones, who did well, held short positions and cashed in big. While the Paulson's were making their money, many nations slid into recessions and provide the backdrop for the nations having default radar placed with the downgrades given by both Moody's and Fitch.
IS SUMMER OFFERING A SWOON IN SEMIS?
The wisdom of comments made recently by Paul McWilliams of Nextinning.com gave insight to another sector many are watching. He thinks investors should differentiate between a "swoon," dip, correction and whatever we want to call an interruption of a trend and a change in a trend.
Two things happen during market corrections as caught with signals from the Point & Figure charting systems used out of Dorsey Wright & Associates. One is the temporary drop in price that for the broad indexes and most stocks is recovered when the trend resumes. While this is an uncomfortable event for most investors, the dip and recovery really doesn't change anything for those with valid long-term strategies. Investors who are patiently building strategic positions using a multiple buy strategy can add shares during a "swoon" and, thereby, use it to their advantage.
The second thing that often happens during a correction is a fresh appraisal of value. During rallies there are always stocks that simply go up too far - too fast and, as a result, over-shoot a realistic and sustainable valuation.
McWilliams thoughts about a stock's value are based on the projected value of its discounted future earnings adjusted for risk. During rallies investors in companies with high growth potential have a tendency to project optimistic growth potential and lower risk discounts. As a result, investors who do this justify higher valuations. During corrections we tend to become more risk adverse and flip to less optimistic views of future earnings and focus more on risk. This is why these stocks tend to trade with high betas (more considerably more than the broad market).
In some cases these stocks recover to trade again at high valuations once the correction is over and the positive trend resumes. However, there are plenty of other cases where the weight of reality is a factor (situations where the high valuations simply can't be justified), and in these cases the stocks don't recover along with the broader market. This is one of the reasons why I do my best to keep a critical eye on value and share the details of my valuation assessments.
McWilliams then directly answers our question as posed above. McWilliams thinks there is a distinct risk of a summer swoon - maybe one starting in late spring. However, investors who are doing a good job of managing both aggregate and allocation risks have likely thinned some equity exposure given the strength of the market during the first quarter of 2012, and if the swoon materializes these investors will have cash available to pick up shares of stocks they want to own during the dip.
Our interpretation from following Paul McWilliams, are while there will always be interruptions to the spread of affluence and, with that, the spread of information technology in the world to the billions of still disconnected people, I think the trend will continue.
Last year we went through a period of low capital investment in the networks needed to deliver these services, but spending on data centers remained strong. Going forward, we think we'll see capital spending on networks rebuild traction with the first real signs of that materializing in the second quarter. we think spending on data centers and consumer spending on mobile computing and communications will also increase - there are certainly risks of these trends being interrupted, but we just don't see anything that will stop or reverse the trends as thoughts posed by McWilliams.
With the above as a baseline view of the future, and our belief many tech stocks are still trading below full valuations, we think there is plenty of upside potential; but between now and then, there is and always will be risks of swoons and corrections, give the advice in reviewing other sectors creating dynamics to keep on your radars.
THE SET UP IN THE OIL PATCH
The housing crisis may be one example, but the other is what this article is alerting readers for plays to protect their portfolio's moving forward.
Allocation of investment choices need ability in achieving growth, even if markets and or sectors you would think not to invest in because oil is in a bearish correction or the general market is in correction.
The gem going green on last weeks down oil futures was the power of Seadrill LTD (NYSE:SDRL) holding an explosive growth, making it a must have choice for one's portfolio that was also blinking green when oil was red.
There is starting of a true disconnect of oil exploration and equipment servicer's from oil futures. Brent and other oil futures on the exchanges may disconnect from other earning potentials coming out of the oil patch. These sub-sector plays evolving with ETFs and individual companies are moving up out of sequence from usual market mechanics of either oil going down or up.
The problem of hedging, though, comes in trusting the instruments of your investment. The investment should be providing the depth of conviction that a sector and or market are going to produce a certain calculative outcome.
Using the drillers brings focus toward Seadrill LTD during the 6th Annual Invest in International Shipping. Seadrill during the conference shed valuable light to the upward market trend they are seeing within their niche sub-sector of the oil venue.
The inverse plays can be run with using Call (Bull) Debt Spread Option Positions or Selling of Puts in select ETFs or Buying long positions in the oil exploration stock issues as pointed out by the Point & Figure charting of Dorsey Wright and Associates and Markets Edge.
Buying long positions at current levels are becoming attractive. Going long within a sub-sector or finding the lead issues in making solutions to world problems are the main theme we are after. Review the link above and chart provided below.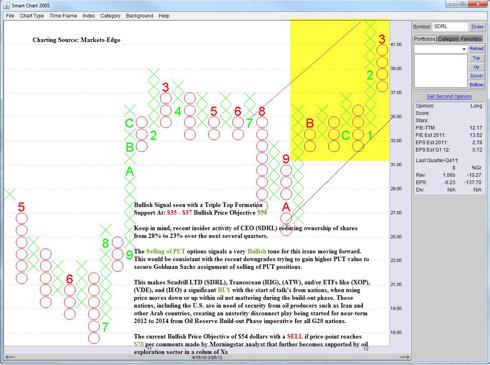 Source: Markets-Edge
How does this concept work? Use the price of oil coming down from its near-term high. Most would think, well this signals the whole sector should be sold off as well. In these austerity times, that thought would lose you a great opportunity in sub-sectors within the oil patch of solution plays.
The pressure comes from the oil flow being controlled and the nations that are no longer trust the headline. These nations who choose to not take advantage of the inverse opportunity to build further depth of increasing their oil reserves by drilling closer to home, such as the conditions facing the US and other G20 nations can cause their country to re-enter into another recession as feared by Fed Chairman Bernanke in his most recent comments.
Following the Flow of Oil News
The following news wire out of NEW YORK, NY -- (MARKETWIRE) -- 03/28/12 -- Capital Link's 6th Annual Invest in International Shipping Forum took place on Monday, March 19, 2012, in New York City with great success and with an attendance of 927, setting a new record.
18 Shipping Companies, along with Investment Analysts, Financiers and Market Experts participated in various panels and presentations.
The forum provided a comprehensive review and outlook on the various markets -- the container, dry bulk, and tanker sectors, in addition to offshore drilling -- made more relevant by the timely release of companies' annual performance results. The event also examined critical issues affecting the shipping industry, such as bank financing, access to the capital markets, alternative financing, restructuring, bankruptcy, ship recycling, and investment opportunities in shipping.
Tradewinds TV interviewed several of the participating executives at the Capital Link Shipping Forum. In addition, Barry Parker also conducted several interviews for Capital Link Shipping.
An archive of all these executive interviews can be found by clicking on the link above.
Starting your investments are based on oil futures staying between $75 - $150 dollars a barrel moving forward. This sector is clearly within a bear correction. It allows for going long offering buy points primed during pullback entry on your choice of the issues presented below, you can also exercise again, Call (Bull) Debt Spread Option Positions or Selling of Puts in select ETFs or Buying long positions strategies throughout sector of ETFs iPath S&P GSCI Crude Oil Total Trade (NYSEARCA:OIL), (BATS:IEO), (NYSEARCA:XOP), (NYSEARCA:OIH), Goldman Sachs Natural Resources (BATS:IGE), Select Sector Spider Energy Fund (NYSEARCA:XLE), and/or look to separate companies like; Transoceanic Seadrill , up against oil futures going down from $104.45 a barrel last week during trading. Look also at other players in the oil patch with Atwood Oceanic (NYSE:ATW), Diamond Offshore (NYSE:DO), Ocean Rig UDW (NASDAQ:ORIG), Ensco PLC (NYSE:ESV), and Noble Corp (NE).
Is it time to expose your portfolio to energy or immediate need solutions? The answer is yes, oil is giving signals that are sending a clear message of pullback entry on some of these issues. What other solutions are investors playing in this sector? One on the go to list can be seen with Halliburton (HAL).
The main idea of this second article in a series of austerity investment plays, are to start the oil patch on your radar for the disconnecting of oil futures price wanting to move downwards. The potential of politics and nations through their leaders can bring solutions in wanting to secure and hold off another turn at hyper-inflation and subsequent return to a deeper recession environment. The conference link as provided above, along with the video link and article out of Bloomberg should be a starting point in getting your vibes correct. Bloomberg was commenting on why oil and markets are showing a bearish correction.
The oil disconnect plays are signaling again, a bearish correction currently. A bearish correction caught within the Point & Figure charting provided courtesy of Dorsey Wright and Associates, but right now, the start of future market disconnect will have separate issues starting to rally within the sector markers highlighted below.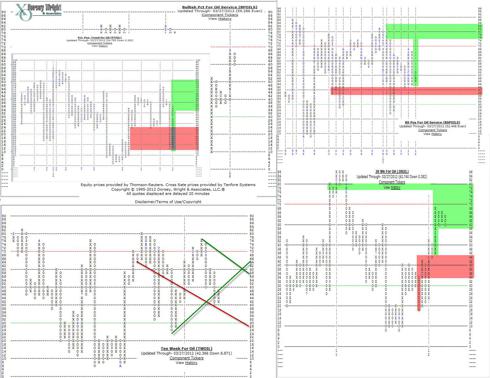 Source: Dorsey Wright & Associates
Pay attention to the pullback buying plays with these recent signals coming within the oil patch and semiconductor space, again, giving interesting invites to investors willing to start doing their due diligence in marking their future investment strategies.
Disclosure: I have no positions in any stocks mentioned, and no plans to initiate any positions within the next 72 hours.
Additional disclosure: Read my full disclaimer in my profile.