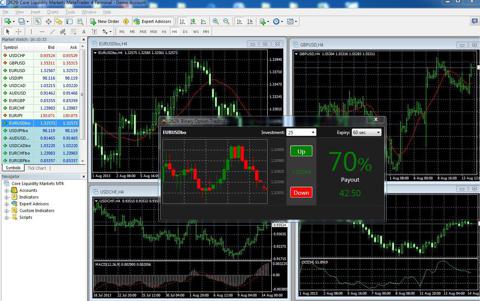 Taking advantage of Binary Options MetaTrader 4 software gives investors some interesting choices. Binaries are different from other investments as they do not buy any quantities of futures or commodities. A binary refers to making a choice between two options and if the right choice is made, a specific payout is given. To be able to make these choices effectively, having the right software is essential. This is where this program is so valuable. It automates many of the functions associated with binary trading,
Anything that makes trading binary options easier is a good resource. There are not many other software products available that help investors find opportunities they can profit from. Having alternatives is always important and this is another resource to help investors profit in uncertain economic times. Binaries are an exotic form of investing that can be complicated. Maximizing the opportunity to understand the process and profit from unique chances depends on having the right resources. A software package designed to help with this type of investing will be helpful. In the process, a bid is made that a certain price of a stock, commodity, or almost any other investment, will be reached by a specific time. If the price is reached, the bid pays off. If it does not, the bid is lost.
Using binary options trading can be risky and only those who are familiar with what is at stake should get involved. Because of the risk, it is even possible to leverage the risk with the pay off. Choices that seem likely to be achieved may pay off less than the cost of the bid. Managing the complexities of these choices is much easier with software like MetaTrader 4. It is even possible to buy and sell the bids, which complicates the process even more. The software however will manage all the trades without any problems.
Access to a binary options broker is essential to success. Brokers will need Meta Trader 4 to offer the best service. This is a far more complicated type of trading and investing than most casual investors are familiar with. They will need the reassurance that they are working with experienced professionals who can give them the guidance they need. Brokers will need every advantage to balance the risk of binaries with the possible pay offs. This is another strategy to protect investors by staying as diverse as possible and having MetaTrader 4 will give brokers and investors the best chance for profit.
Disclaimer: Trading of foreign exchange contracts, contracts for difference, derivatives and other investment products which are leveraged, can carry a high level of risk. These products may not be suitable for all investors. It is possible to lose more than your initial investment. All funds committed should be risk capital. Past performance is not necessarily indicative of future results. A Product Disclosure Statement (NYSE:PDS) is available from the company website www.clmforex.com. Please read and consider the PDS before making any decision to trade Core Liquidity Markets' products. The risks must be understood prior to trading. Core Liquidity Markets refers to Core Liquidity Markets Pty Ltd. Core Liquidity Markets is an Australian company which is registered with ASIC, ACN 164 994 049. Core Liquidity Markets is an authorized representative of Direct FX Trading Pty Ltd (AFSL) Number 305539, which is the authorizing Licensee and Principal.