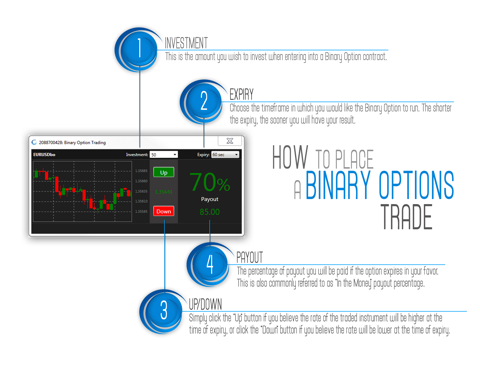 The new buzz about binary option trading has generated a lot of confusion, some serious criticism and a huge number of excited fans and traders. People are thrilled to be able to make quick decisions with simple results depending on the outcomes. Binary option trading is also called digital options trading, all-or-nothing trading, or Fixed Return Options (FROs). They're available on all kinds of websites and anyone with a credit card can get started quickly. It's tempting and for good reason, but it's also important to know what you're getting into and where you can safely conduct those binary trades.
Why Binary?
Binary option trading is binary because you select one of two options and put your money on that outcome. Still don't understand? Maybe an example will help. Typically, you decide on the time frame. Let's say you believe that in about 30 minutes, the stock price of a company will be higher than it is right now. You can put down $100 that says it'll go up and in about 30 minutes, you'll know the result. If you were correct, you get a payout. If you were incorrect, either you get a small amount back or none at all, depending on where you're doing your binary options trading. You're making a simple choice between stock prices going up or going down, and if you're correct, you get money back.
There are plenty of promises out there about how much money you can make, and it's true that you can make good money with binary options trading. But be cautious about some of those promises. As you can see, if you're wrong all the time, you'll end up losing a lot of money. So it pays to do a bit of research and make decisions based on what's happening on the stock market. Otherwise, you're just guessing about what will happen.
How to Trade Binary Options
First and foremost, find a website that you understand. Now that you know what it means to trade binary options, those sites will make more sense. Make sure that the site and broker are reputable and that you've got what you need in order to make the trades. Don't rush into anything, but plan your trades for times when you feel confident about your trades. Figure out how often you have to be correct on individual trades in order to come out ahead overall.
To learn more please visit www.clmforex.com
Disclaimer: Trading of foreign exchange contracts, contracts for difference, derivatives and other investment products which are leveraged, can carry a high level of risk. These products may not be suitable for all investors. It is possible to lose more than your initial investment. All funds committed should be risk capital. Past performance is not necessarily indicative of future results. A Product Disclosure Statement (NYSE:PDS) is available from the company website www.clmforex.com. Please read and consider the PDS before making any decision to trade Core Liquidity Markets' products. The risks must be understood prior to trading. Core Liquidity Markets refers to Core Liquidity Markets Pty Ltd. Core Liquidity Markets is an Australian company which is registered with ASIC, ACN 164 994 049. Core Liquidity Markets is an authorized representative of Direct FX Trading Pty Ltd (AFSL) Number 305539, which is the authorizing Licensee and Principal.