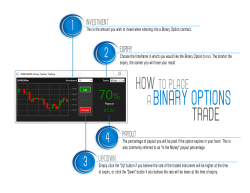 Have you ever Googled or searched binary options or binary option brokers? A multitude of binary option brokers appear with many things that they promise. The real question is do they deliver on these promises? One can get easily distracted trying to weed through all of the bonus offers and other incentives to try and get you to open an account.
Instead of looking for bonuses and incentives one should be really checking on how the binary option broker operates.You need to ask yourself does the broker operate out of the regulated jurisdiction?
One will notice as you come across these binary option brokers is that their platforms look very similar to one another. Many of these brokers are really white labels of set web platforms. First of all they will have a very inviting trading window usually it will be the EURUSD with an up or down arrow. If you dare try to place an order you will receive a message that you can open an account and deposit your money now. The question you should ask yourself is why do I need to deposit real funds for a demo account? The answer is that you should not have to deposit real funds for a demo account you should be able to try a demo account as you do in Forex demo account.
Some of these brokers have been known to manipulate pricing. Clients may experience delays in the expiry times just enough to benefit the broker. Usually these binary option brokers are only providing you with a tick chart as far as charting capabilities. This is hardly enough information to base a trading decision.
Those who have traded for Forex are quite familiar with MetaTrader 4. MetaTrader 4 is usually offered as a free demo account through most brokers. MetTrader 4 also offers a full and complete charting package. It would only seem logical that having all of the functionality with meta-trader for and the ability to trade binary options would be the best combination. The other benefit of trading binary options on MetaTrader 4 is that you can also trade Forex, CFD's, and spot gold.
To learn more about MetaTrader 4 binary options account please visit www.clmforex.com
Disclaimer: Trading of foreign exchange contracts, contracts for difference, derivatives and other investment products which are leveraged, can carry a high level of risk. These products may not be suitable for all investors. It is possible to lose more than your initial investment. All funds committed should be risk capital. Past performance is not necessarily indicative of future results. A Product Disclosure Statement (NYSE:PDS) is available from the company website. Please read and consider the PDS before making any decision to trade Core Liquidity Markets' products. The risks must be understood prior to trading. Core Liquidity Markets refers to Core Liquidity Markets Pty Ltd. Core Liquidity Markets is an Australian company which is registered with ASIC, ACN 164 994 049. Core Liquidity Markets is an authorized representative of Direct FX Trading Pty Ltd (AFSL) Number 305539, which is the authorizing Licensee and Principal.