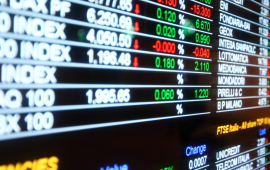 Currency Trading
In order to understand currency trading you have to have a basic understanding of what is known has the interbank market. The interbank market is composed of major banks and financial institutions that trade amongst each other a variety of currency pairs. In the interbank market there is no centralized clearinghouse or exchange, these are transactions amongst individual institutions. Over the past 10 years currency trading has made its way to a retail trading level. Retail traders can trade currencies with brokers from around the world. These Forex Brokers fall into two different categories those that are unregulated and those brokers that are regulated. The regulated brokers that offer currency trading must follow the guidelines and rules of their regulatory body in that particular jurisdiction. These rules and regulations that are instituted are in place to protect client funds and client trading. The regulators are there to make sure that standards are kept among the various brokers.
Currency trading among individual investors or retail traders has evolved a great deal over the past few years. Traders are trading on systems like MetaTrader 4 and have developed sophisticated trading systems and all automation as well. Leverage and lower barriers of entry have allowed sophisticated systems to be traded by retail traders which would definitely not be the case for stock traders or futures traders.
The individual investor in currency trading has become much savvier than they were several years ago. It is very important that their Forex Broker provides the fastest execution and best pricing. Spreads among many brokers have narrowed dramatically over the past few years as more and more currency trading investors are constantly on the lookout for the best deal out there.
To learn more please visit www.clmforex.com
Trading Forex and Derivatives carries a high level of risk, including the risk of losing substantially more than your initial investment. Also, you do not own or have any rights to the underlying assets. The effect of leverage is that both gains and losses are magnified. You should only trade if you can afford to carry these risks. Trading Derivatives may not be suitable for all investors, so please ensure that you fully understand the risks involved, and seek independent advice if necessary. A Financial Services Guide (NYSEARCA:FSG) and Product Disclosure Statements (NYSE:PDS) for these products are available from Core Liquidity Markets Pty Ltd to download at this website or here, and hard copies can be obtained by contacting the offices at the number above. Please also note that your call may be recorded for training and monitoring purposes. Any advice provided to you on this website or by our representatives is general advice only, and does not take into account your objectives, financial situation or needs. You should therefore consider the appropriateness of our advice before making any decision about using our services. You should also consider our PDSs before making any decision about using our products or services. Note that the information on this site is not directed at residents in any country or jurisdiction where such distribution or use would be contrary to local law or regulation.
Disclaimer: Core Liquidity Markets refers to Core Liquidity Markets Pty Ltd. Core Liquidity Markets is an Australian firm registered with ASIC, ACN 164 994 049. Core Liquidity Markets is a Corporate Authorised Representative Number 443832 of GO Markets Pty Ltd AFSL 254963 the Authorizing Licensee and Principal