Lucentis and Eylea are both anti-VEGF drugs used to treat Wet Aged Related Macular Degeneration and were both recently approved by the FDA this year and have been enjoying combined sales of about $2.5 billion.
The U.S. rights for Lucentis are owned by Roche (OTCQX:RHHBY) and the international rights are owned by Novartis (NYSE:NVS). Regeneron (NASDAQ:REGN) owns the rights to Eylea.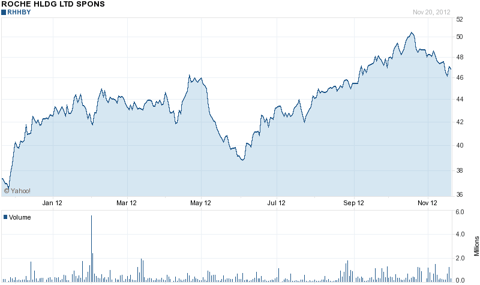 As demonstrated by the charts above, Lucentis success has not been significant to Roche and Novartis, but Eylea makes up over 98% of Regeneron's revenues and has therefore been a huge driver of Regeneron sending their shares to all time record highs. If Eylea sales were to encounter difficulty and decline, it could have an immense negative impact on Regeneron shares. Shares are at all time highs and vulnerable to massive selling from shareholders seeking to protect their profits.
The underlying problem in Wet Macular Degeneration, including Diabetic Macular Edema, is the result of blood vessels leaking blood and fluids into the retina causing swelling that reduces visual acuity and damage to the sight receptors responsible for converting the light into electrical impulses that are sent to the brain for processing and sight. Anti-VEGF drugs like Lucentis and Eylea do not correct the underlying problem of leaking blood vessels in the retina but they can help reduce the growth of new blood vessels and help reduce retinal swelling.
Dr. Bandello, a well-known eye surgeon and medical professor is quoted in Opthalmology Times, "With regards to the second therapeutic option, anti-VEGF therapy, I have to say that, in my hands, many of my patients appear to be unresponsive to this mode of treatment; around 50% of patients show some sensitivity to anti-VEGF therapy whilst the remaining 50% are totally unresponsive.
In addition to the minimal efficacy demonstrated by Lucentis and Eylea, there are side effects that can be quite severe not to mention that an injection directly into the eyeball is a very unpleasant experience to say the least.
Opthalmic Therapeutics Market Size
Genetic Engineering and Biotechnology News expects the overall market for ophthalmic therapeutics to reach $18.7 billion this year. Lucentis has already captured about $1.4 billion in sales in the past 12 months and Eylea is projecting $750 million for this 12 month period.
Surprise competition for Lucentis and Eylea?
Suddenly, from out of nowhere, a new competitor appeared recently and was revealed in a reputable medical journal, Retina Today, with a cover story titled, "Oral Danazol For DME". Danazol was approved by the FDA before 1980 for the purpose of treating endometriosis, a medical condition experienced by about 8% of the female population where cells lining the inside of the uterus flourish outside the uterus and cause irregular menstrual cycles and unusually heavy bleeding.
Danazol has been repurposed as "Optina" for the treatment of Diabetic Macular Edema and it is given in ultra low doses of an already safe Danazol. Lucentis and Eylea have been approved by the FDA for the treatment of Diabetic Macular Edema, or Wet Macular Edema.
Independent third party confirmation of Optina's promise came from the FDA and from a peer review of scientists from the respected medical journal called, 'Retina Today". After reviewing Optina data from prior studies and the recent phase II trial conducted at St. Michael Hospital in Canada, the FDA was compelled adequately by the data they examined to cause them to commit a large panel of 18 of their experts and provide guidance for the larger Phase IIB trial within just a few weeks of commencement in the United States. The FDA has limited resources in the form of experts and they do not allocate these resources frivolously. And consider that Retina Today is a reputable scientific medical journal that has a group of highly trained scientific peers to examine and review every article carefully before publication. Retina Today published "Oral Danazol For DME" as a cover story in last months journal.
The company issued a press release in July stating positive results of the phase II clinical trial.
It turns out that this little-known company, Ampio Pharmaceuticals (NYSEMKT:AMPE) has gone unnoticed developing Optina that appears to work better than Lucentis and Eylea because it goes right to the core problem and repairs it. Optina works by repairing the cells making up the blood vessels that are leaking.
According to the publication in Retina Today, Optina repairs the cells' cytoskeletal structure so that they can bind together tightly again and form a barrier to leakage in the blood vessels in the retina. This mechanism is entirely different than Lucentis and Eylea because it actually goes right to the root of the problem and repairs the F-actin Cortical Ring structure of the damaged blood vessel cells. And it does so without any adverse side effects. Also, consider that Optina is a pill that is certainly far preferable to an unpleasant injection directly into the eyeball.
According to the company's recent press release about their clinical trial progress, Optina is within a few weeks of starting a phase IIb clinical trial that if successful has the appearance of relatively quick approval because of it's known safety record and because it is scientifically known to address the problem directly as described in the article in Retina Today. Optina's phase IIb trial, if successful, can possibly roll into a pivotal phase III trial in a fast timeline. Repurposed drugs enjoy the FDA 505(b)2 pathway in the approval process that can greatly shorten the time for approval and also greatly reduce the risk of failure because it has already been proven for safety.
Keep a close eye on Optina because it is possible that it could be disastrous for both Lucentis and Eylea beginning in 2014 when it is expected to be ready for an approval decision by the FDA.
Lucentis, Eylea, Roche, Novartis and Regeneron
Lucentis may be enjoying blockbuster sales status and Eylea may be eating into Lucentis sales because it requires fewer injections into the eye, but it doesn't take much imagination to figure out what is going to happen to the sales of both drugs if Optina is approved.
If Lucentis sales decrease, it will probably not have a significant impact on the shares of Roche or Novartis, but if Eylea sales crater as a result of Optina, it is likely that Regeneron shares will also crater big time since Eylea is a major portion of their anticipated revenue stream.
With news of Optina's likely approval on the near horizon, it might be prudent to take some profits off the Regeneron table. It might even be a good short when or even before Optina gets approved. Regeneron appears to be losing its momentum. Watch Optina and Regeneron closely!
Regeneron shares are at all time highs and have demonstrated powerful momentum, but they appear to be peaking and losing momentum and in my opinion are a good shorting opportunity for the near term.
Disclosure: I have no positions in any stocks mentioned, but may initiate a short position in REGN over the next 72 hours. I wrote this article myself, and it expresses my own opinions. I am not receiving compensation for it. I have no business relationship with any company whose stock is mentioned in this article.