You might not know Winmark WINA, but you've likely seen its retail franchises throughout the U.S. - its Plato's Closet and Play It Again Sports are fixtures in strip malls. With revenues under $100 million, Winmark is a franchiser of about 1,150 secondhand-retail stores in the U.S. and Canada. It finished 2014 with EPS of $3.85, up 10.6% from the year before, and recorded earnings of $4.69/share in 2015, a 21.8% increase.
Last year's earnings were aided by the company's large tender offer to purchase up to 875,000 shares at $84.72/share. The offer was successful, removing 17.5% of the company's outstanding shares as of last May. The lion's share was purchased from John L. Morgan, the company's chairman and largest shareholder. Morgan reportedly wanted increased liquidity for estate planning. This year Morgan, who is in his mid-70s, also relinquished his CEO title in a series of moves that should shore up succession plans.
Meanwhile, the company has been increasing revenues in line with historical growth of around 10%. Overall franchise fees and royalties accounted for about 63% of total revenues, compared with 67% the year before and almost 68% in 2013. Royalty revenue makes up 96% of franchise fee/royalty revenue. The rest of Winmark's revenue is from leasing agreements, with a small contribution from merchandise sales. In 2015 leasing income growth was 33%, outrunning the 7.5% growth in royalties and decrease in franchise fees.
Plato's Closet, used clothing for teens and young adults, generated $19.1 million in royalties and franchise fees in 2015. Once Upon A Child, used children's clothing, toys and furniture, recorded $13 million in royalties and franchise fees last year. Play It Again Sports - used sporting goods, equipment and accessories - was responsible for $9.5 million. Style Encore, for women's apparel, and Music Go Round for musical instruments are relatively small units.
In the U.S., the company charges $25,000 for the initial franchise for all brands and $15,000 for any additional franchises. Royalties are 4%-5% except for Music Go Round (3%).
Winmark is seeing the most growth from the Plato's Closet and Once Upon a Child concepts. A net of 30 Plato's Closet franchises opened in 2015, with Once Upon a Child adding a net of 18. Play It Again Sports saw a net decrease, while Style Encore (which started up in 2013) added 14.
Renewals, an important metric for Winmark, were 100% in 2015. Franchise agreements are for 10 years, and lower renewal rates can hurt royalty fees.
I'll walk you through a fundamental analyis of Winmark employing the methodology of BetterInvesting, a nonprofit organization that has been around since 1951. As you'll see, the process relies on common-sense principles that allow anybody to find quality growth stocks selling at prices to meet your portfolio goals.
Growth Analysis
One of Winmark's most attractive qualities is that its brands cover a diverse set of customers and products, smoothing out potential cyclicality of any one brand. For example, Plato's Closet and Once Upon a Child continued growth offsets flat performance by Play It Again Sports. The new Style Encore brand is also off to a good start.
As you can see by the graph below, courtesy of BetterInvesting's SSGPlus stock study app, Winmark has grown sales at 10% historically and earnings per share at more than 23%. We're not expecting EPS trends to continue - this growth rate is quite high and unlikely to continue.
Earnings will outrun sales as the company grows, as Winmark is a small company that will still reap economies of scale as it grows. We'll maintain the 10% sales growth for the five-year growth rate, matching the historical rate, and assume an annual EPS growth rate of 14%.
For small companies such as Winmark, we look for EPS growth above 12%, at least partly to compensate us for the risk inherent in small-company stocks. So the 14% rate I'm expecting exceeds my minimum.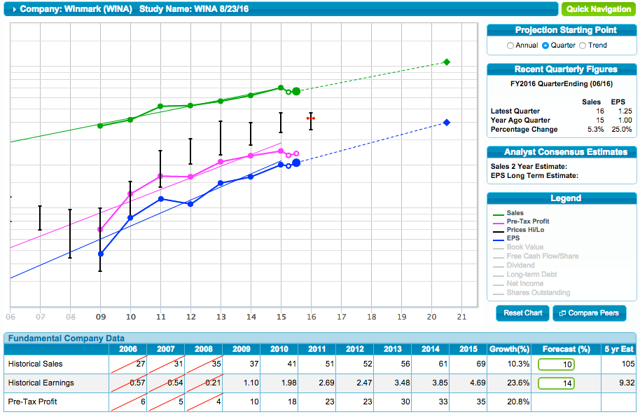 Quality Analysis
The overall trends in management performance overall are positive. Pre-tax profit on sales was 50.7% last year, up from the five-year average of 49.4%. Margins are high because the company relies mainly on franchise fees and royalties. Return on equity in 2015 is an outlier because Winmark tapped low-cost debt to finance the tender offer; we expect the high current percentage of debt to capital to drop over the next few years.
Valuation Analysis
After eliminating 2012 as an outlier because of the drop in EPS from 2011, Winmark's high P/E has averaged 24. The current P/E is 21, so we could see some capital return from P/E expansion.
Assuming the high P/E will be the average of 24 and EPS is $9.32 five years from now, the high price could reach almost $224. That's simply the high P/E multiplied by the expected EPS in five years. For the low price, we took the annual low average P/E of 15.3 (again, considering 2012 an outlier) and a low EPS of $4.84, the trailing-12-month total, to estimate a low of $74. That's a healthy 27% drop from the current price.
With these assumptions and at a current price of $99.76, the risk-reward ratio is 4.8 to 1, above our minimum of 3 to 1. The stock would be in a buy zone up to $111. The expected compound annual return is 17.7%, above our target of 15%.
Your judgments might be different. I've tried to be conservative and realistic in mine, but when a company's revenues are under $100 million, anything can happen. But Winmark's steady management and the stability in fundamental sales and earnings growth provide a measure of reassurance.
Supporting Documents
Disclosure: I/we have no positions in any stocks mentioned, and no plans to initiate any positions within the next 72 hours.