by Adam Ritt, Director of Communications, BetterInvesting
On April 30, BetterInvesting Magazine's Editorial Advisory and Securities Review Committee selected Nucor (NUE) as the Stock to Study and 3M as the Undervalued Stock. You can read the release on our blog.
The discussion of Nucor centered on these ideas:
The stock's current P/E was about 7 based on trailing EPS. That seemed very reasonable to committee members, especially in light of the company's historical excellence as a steelmaker.
Nucor is tied to capital expansion in the U.S., and the committee members had generally positive views on the economy.
The company and other steelmakers benefited from tariffs, and even though the tariff situation was bound to change (as it did after the meeting, with tariffs applied to Canada and Mexico lifted), management should be able to adjust to the changes.
I covered Nucor closely for seven-plus years in the 1990s as an editor of Iron Age/New Steel Magazine. In those days when you called headquarters and asked for Ken Iverson (the founder and chairman) or John Correnti (the CEO), you were rarely if ever asked who you were. But the next person you spoke to would be Iverson or Correnti. When trade disputes arose, management chided their bigger peers for looking to the court system for solutions when they should focus on lowering their costs.
The company unsurpisingly changed as it grew, especially management's view of trade disputes. Over the years the company has taken a more protectionist stance, a change led by Dan DiMicco, the star manager of its successful joint venture with Yamato when became CEO. 
But some things haven't changed. Nucor is still a highly efficient steelmaker, and its investment in raw materials provides an ongoing advantage. Particularly important is its use of direct-reduced iron, an iron-ore product that melts nicely in the company's electric-arc furnaces and can be used in varying quantities depending on scrap prices.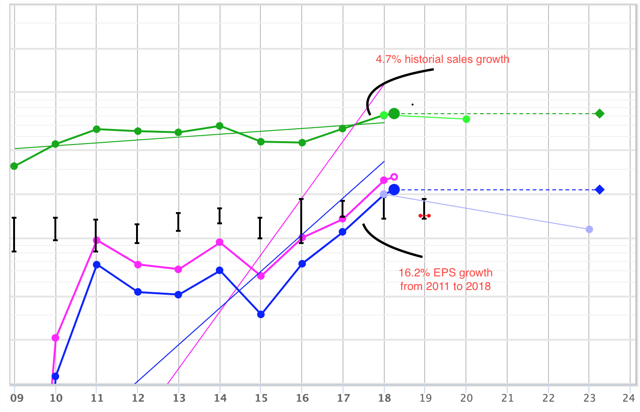 Above is a graph of the company's historical sales (green line), earnings per share (blue), pre-tax profitability (magenta) and annual high and low stock prices (black bars joined by a line). The company's days of high sales growth are behind it, but the historical rate of 4.7% is still acceptable for a company with revenues of $25.1 billion. The historical EPS growth rate, excluding the outlier years of 2009 and 2010, is a hearty 16.2%. Although the committee doesn't provide guidance on growth judgments, it's fair to say we're not expecting EPS growth to continue at this rate over the next five years. 
In general conversation about the investing, the committee extolled the benefits of investment clubs as sounding boards during times of market volatility. In the fourth quarter of last year, as stocks were dropping, investment club members could function as a support group for those doubting the wisdom of staying in the market. This is why it's so important when forming a club to ensure that all members are on the same page regarding the club's investment process and strategy.