At the May 30 meeting of BetterInvesting Magazine's Securities Review Committee, Anthem Inc. (ANTM) was selected as the Stock to Study for August. Foot Locker (FL) was the Undervalued Stock for August. You can read the press release here. The following are some of my notes regarding the company.
Anthem's major advantage as a health insurer is its association with well-known Blue Cross Blue Shield. It operates as the BCBS licensee in 14 states: California, Colorado, Connecticut, Georgia, Indiana, Kentucky, Maine, Missouri, Nevada, New Hampshire, New York, Ohio, Virginia and Wisconsin.
The company's internal pharmacy benefit platform, called IngenioRx, is rolling out, could provide its customers with improved drug pricing, strengthening Anthem's market position and improving its returns.
The committee spoke highly of new CEO Gail Boudreaux, who since taking over in late 2017 "has already made a significant impact on the firm's growth trajectory in her relatively short time in the role," Morningstar analyst Jake Strole said.
The company is growing at a rate sufficient for its large size. BetterInvesting-style investors would look for annual growth of at least 5%. As you can see from the Stock Selection Guide graph below, Anthem's historical sales growth rate is 5.3%, while the EPS rate is 6.2%. 
While the committee does not provide growth guidance to investors, note that Wall Street analysts are expecting rates to increase in coming years. The consensus two-year sales growth rate is 10.3%. Meanwhile, Value Line's long-term revenue growth rate forecast is 9.5%, and Morningstar's Strole is modeling 9% annual growth. The Street's long-term EPS forecast is 14% annual growth, versus 17% for Value Line and 14% through 2023 for Strole.
Investors studying this stock should balance these optimistic forecasts against the ongoing and likely increasing political risks. Note that the commercial side, as opposed to federal programs, accounts for most of Anthem's business.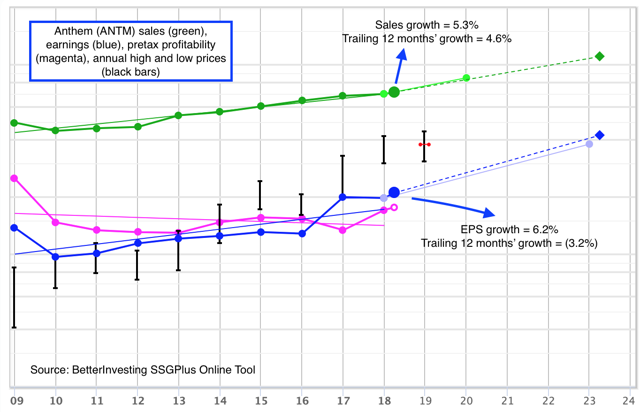 If you're interested in studying Anthem using BetterInvesting's online Stock Selection Guide, study the stock's fundamentals and input your judgments on our trial version of SSGPlus.
Disclosure: I/we have no positions in any stocks mentioned, and no plans to initiate any positions within the next 72 hours.