by Adam Ritt, Director of Communications
Disney (DIS), a favorite of BetterInvesting members for many years, has been working its way up the Most Active List and today was No. 1, with 108 buys and 12 sells recorded by investment clubs subscribing to the myICLUB.com club accounting portal.
Members likely are attracted not only to the company's strong, steady historical performance but also to several growth initiatives that should support both top-line and bottom-line fundamentals over the next five years. The Star Wars-related attractions at Disney's theme parks, Disney+ streaming service and new investment in the Hulu streaming service are among the new drivers of revenue growth.
Below is what BetterInvesting members see when they use our online tools to analyze stocks — the Stock Selection Guide's semilog graph of sales (green line), earnings (blue) and pre-tax profit growth (magenta) as well as the annual high and low prices (black bars). Members typically like to see steady sales and earnings growth, as illustrated by straight lines, and for growth to be sufficient relative to the company's size; in this case, because Disney is a large company with almost $60 billion in annual revenue, BetterInvesting-style investors would want historical growth of at least 5%. Disney's historical sales growth is 5.8%, and historical EPS growth is 17.7%.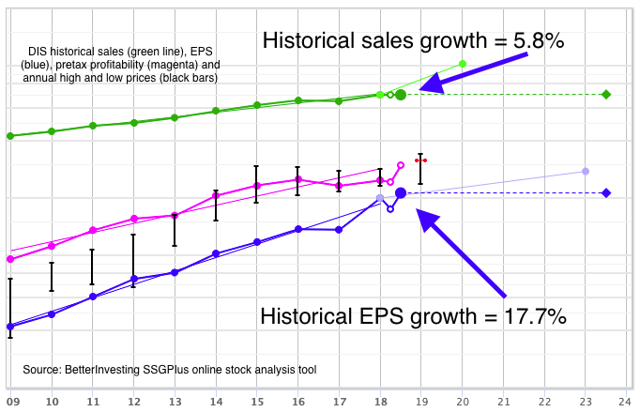 BetterInvesting members also seek quality management, using pretax profit on sales and return on equity as key metrics. PTP in 2018 was 24.8%, slightly below the five-year average of 25.6%. Members would prefer the most recent year to be level with or above the five-year average, but the 2018 figure was certainly respectable and the trailing-four-quarter PTP is 26.7%. Meanwhile, return on equity in 2018 was 27.2%, well above the five-year average of 20.4%. ROE has risen steadily over the past decade, from 9.7% in 2009 to 14.0% in 2013 to 20.8% in 2016 to 27.2% last year.
When BetterInvesting members see that a company meets its growth and quality standards, they move on to assess the company's worthiness as an investment. Based on 665 studies of Disney over the past 90 days using our online tools, members were forecasting five-year sales growth of 7.1% and five-year EPS growth of 7.5%. The sales growth forecast was a bit higher than the historical number, but note that Value Line is expecting long-term growth of 6.5%, while Morningstar's analyst is forecasting revenue growth of 10% a year through 2023. 
The average result of BetterInvesting members' online SSG was potential annual return over the next five years of 12.3%. That's a solid return, but each member completing a study will need to decide how that company fits in their portfolio and whether that's a suitable return for their needs.
For more information about our current Most Active List, go to our Most Active Stocks page here. (No investment recommendation is intended for stocks mentioned in this article. Investors should conduct their own study of any stocks of interest.)
Disclosure: I am/we are long DIS.