In A World Of Disappearing Income, Where To Invest?
Please Note: Blog posts are not selected, edited or screened by Seeking Alpha editors.
Summary
Why the rally in high dividend stocks is just starting.
"High Dividend Opportunities" has been the #1 Marketplace Service on Seeking Alpha for the 4th year in a row.
16% average return per year since 2016 and going strong.
We are offering our best deal ever for new members!
40% discount for the first 100 members who join.

In A World Of Disappearing Income, Where to Invest?
While dividend investing generates regular cash flow needed to supplement one's income needs, it is also a defensive investment style that generates regular cash flows and tends to outperform when markets are volatile.
The global economy is weakening, but the current bull market is certainly not over yet. In fact, I expect the gains to start to accelerate. First, the United States is not on the verge of a recession as many in the financial media would like you believe. In fact, the Federal Reserve Chairman noted this week that the U.S. economy is still on solid ground. He also noted that the U.S. labor market remains strong, with a low unemployment rate and solid jobs' growth. Still the Fed decided to cut key interest rates for the 2nd time this year by 0.25% in order to ensure that the U.S. economy continues to grow at a solid pace. These actions are in line with our market predictions that we posted to HDO members as early as October 2018, when interest rates were still rising. What is Happening in the High-Yield Space? in Market Commentary October 4, 2018 and Interest Rates Will Not Go Much Higher in Market Commentary December 2, 2018 are such examples on how we share our views with our members to keep them informed of where the markets are heading next.
Acting on our analysis, we re-positioned our portfolio accordingly, ahead of the crowd, locking in some nice gains to our members. Two of the defensive picks we introduced back then were preferred stock CEFs:
Flaherty&Crumrine/Claymore Preferred Securities Income Fund (FFC), and
Nuveen Preferred & Income Securities Fund (JPS).
The chart below shows the returns of FFS (20.52%) and JPS (21.76%) compared to 4.09% returns for the S&P 500 index (SPY) for the same time-period, but most importantly these CEFs provide safe and reliable income.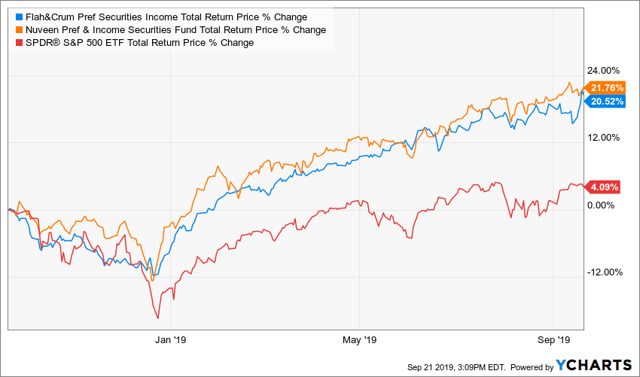 In my opinion, the recent actions by global central banks have made it highly unlikely that we will see any recession before the year 2022 at least. Now is one of the best times to be invested in high dividend stocks, and lock in the high yields currently offered!
Remember, falling interest rates are a bullish sign for the stock market. As the S&P 500's dividend yield remains above the 10-year Treasury, yield-hungry investors are returning to the stock market in full force. This quest for higher yields has been particularly apparent in our model portfolio which continues to see a strong rally.
Since joining the HDO team and getting access to the team's research my own portfolio has improved its income growth. Over the last 2 years, my income has grown more than 20% a year, well above my target of 12%.
High Dividend Opportunities
Have you ever wondered why High Dividend Opportunities continues to grow year after year and has maintained the #1 ranking as the most subscribed-to service for income investors and retirees for the 4th year in a row? It's because we realized from the beginning that success in the market can't depend on one person. High Dividend Opportunities has always been successful in bringing together the best experts to search within the high-yield space for the most profitable opportunities.
Our recommended model portfolio targets yields of 9-10% in safe, high-quality securities to ensure you see high immediate income. These include common shares, preferred shares, bonds, exchange-traded baby bonds, exchange-traded funds, and closed-end funds. Our portfolio philosophy emphasizes diversification and safety alongside highly predictable dividends, using our unique strategy we call "The Immediate Income Method". This income can be used to live, invest or save!
Even though total return is not a primary goal, we've actually done well on that metric too. Don't let folks tell you that high yield investing means poor total return performance. At High Dividend Opportunities, a $50,000 portfolio invested on January 1, 2016 is now valued at $83,978 (with dividend re-invested). It has returned an average of 16% per year for the past 4 consecutive years!
The Deal of the Year! Limited Places at 40% Off
We're offering our readers now the first 100 spots at High Dividend Opportunities for 40% off compared to our monthly rate. This offer won't last long, only 100 fresh new faces can join at this price!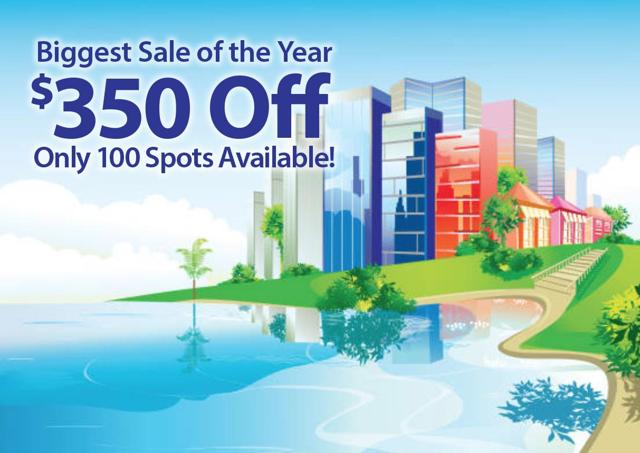 If you sign up and pay monthly before discounts, you'll pay $64 a month, totaling $748 annually - why wait? You can get HDO for your first year for $419!
How Do You Get This Special Rate?
You take the following steps:
1. Feel your heartbeat race with excitement
2. Click this magical green button below

3. Fill out the required information and pick the annual rate to get the full sale price. Subscribing with the annual rate not only gets you a 40% discount, but also makes a lot of sense. At High Dividend Opportunities, we follow up on all of our recommended high yield stocks. This is a service for long-term investors who seek income, and hundreds of our members have been with us for years now, getting a juicy yield on their savings - so it makes sense to save as much as you can!
4. Dive deep into all HDO has to offer, get involved in chat, talk to our experts and enjoy our world-class portfolio tracker. I have found our chat to be very valuable. Not only are team members active to answer any questions, but many of our members share their experiences as well.
Take a moment to remind yourself of all the benefits that come with a membership to HDO! Remember to take full advantage of this offer you need to sign up for the annual subscription.
The Largest Research Budget that Keeps Growing
Research is expensive and most investors either can't or don't want to spend the time and money to do it themselves.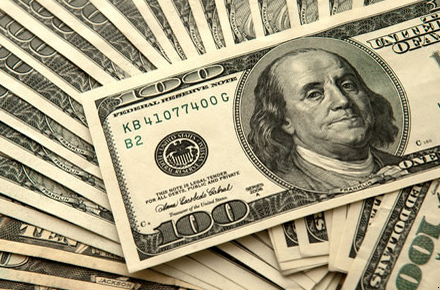 Our research budget is $250,000 per year. It'd take you over 491 years of being a High Dividend Opportunities member to pay us in membership fees what we pay to do our research in a single year! For just a small fee, you get access to $250,000 worth of research at your fingertips!
Best of all, we'll tell you exactly which stocks, bonds, and funds we are buying based on that research. HDO members get our exclusive buy alerts for high yield stocks trading at attractive valuations, in addition to weekly market commentary on what is happening with the markets and with high yield sectors!
Stop relying only on free resources alone. Get the best in class research available anywhere! Click the button below and get started today!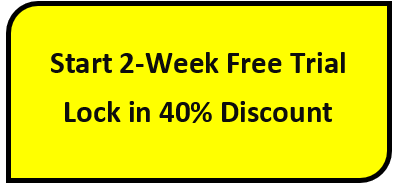 Our research team has now 6 of the best experts working relentlessly to find high quality, undervalued dividend stocks for our members to invest in.
Let me highlight some of the added value that our experts bring to our service
Preferred Stocks & Fixed Income - Preferred Stock Trader
Preferred Stock Trader brought 35 years' worth of trading experience to our team! He's been instrumental in launching our all preferred stock and bond portfolio. With a recession possibly coming in a couple of years, we have been recommending to our members to adjust towards a more fixed income-focused portfolio. TJ has brought to bear his significant skills to enable everyone to see additional safety in their income streams.
Getting the Right REITs - Beyond Saving
Beyond Saving ('Will')is our lead REIT author here at High Dividend Opportunities. The REIT marketplace is littered with high and low yielding options and it takes a true expert to navigate these waters. Yield traps and unsustainable practices abound but Will has been instrumental in finding diamonds in the rough that bring high returns - both in yield and price movements to our service. You get exclusive analysis both on Property REITs and super high yielding Mortgage REITs.
Immediate Income in Focus - Treading Softly
Author Treading Softly was making quiet waves before joining our team last year challenging the commonly accepted practice that every retiree should invest in low yielding stocks with high dividend growth. Treading Softly brings his expertise in CLOs and rare immediate income gems to our members that will keep their cash flowing from their portfolio through all market phases.
Undervalued U.S. and Canadian Dividend Stocks - Trapping Value
Author Trapping Value is very well known on Seeking Alpha for his bold and successful calls at identifying high yield picks that have become oversold, and advises our investors for the best time to pick them up, and lock the generous yields offered by the markets for the long run. He covers both the U.S. and Canadian markets for unique Opportunities.
Retirement Issues and How to Best Manage your Savings - PendragonY
Author PendragonY is an expert in retirement topics and shares his experiences with our members on how to maximize income in a retirement account.
Note that our members get the "buy alerts" and continuous coverage on all of our stock picks, and up-to-date ratings on our best high-yield picks to buy today!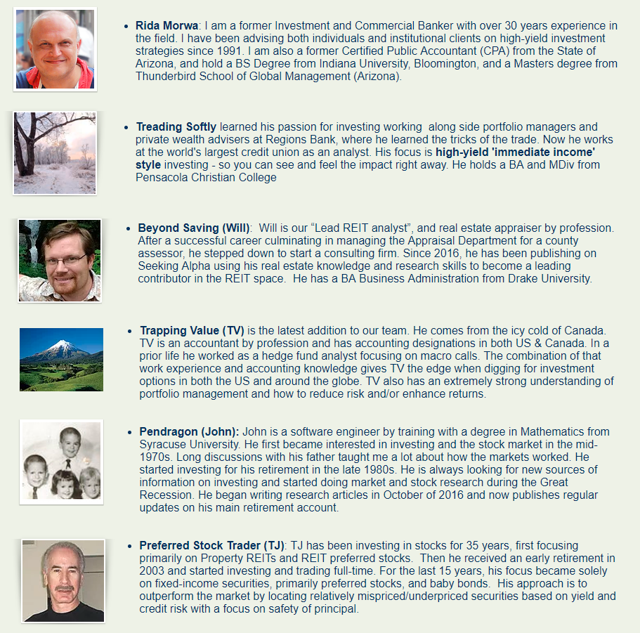 How Are We Positioning Our Portfolio Today?
I have very vocal since mid-2018 that interest rates are set to decline in 2019 due to a weaker global economy. As a result, we were the first to adjust our high-yield portfolio to maximize our profits in a world of sharply declining interest rates. We recommended to take profits on many interest-rate sensitive investments such as New Residential Investment (NRZ) and Ladder Capital (LADR) and redeployed our capital into undervalued income investments that are set to benefit in our environment today. In fact, many of our high yield picks are set to soar in case of a recession. At High Dividend Opportunities, we are continuously monitoring macro-economic conditions, and adjusting our investment strategy when needed. As a member, you get access to our latest views in the high yield space, and how they are impacted by ongoing market and economic changes. We always remind our members that keeping the health of the global economy and market conditions in check is more than 50% of the due diligence required for successful investing. By joining us, you will stay on top of issues that matter the most to your investments and hard-earned money.
We all need high income in both good and bad times. This is our mission for you and you don't need to be left out!
Conservative Income Investors - We Have You Covered Too!
Some of highly conservative income investors are worried about investing in higher yield common securities and want a little less downside risk to their income. We have a portfolio just for you! Our "conservative portfolio" includes a preferred stock portfolio with over 50 high quality and high yielding securities with clearly labeled "buy under" prices to ensure your income is sound and solid. Currently, the preferred stock portfolio yields close to 7%. The "conservative portfolio" also includes a recommended list of bonds, "baby bonds" and high-quality "fixed income CEFs" to boost your yield with low price volatility. In fact, most of our conservative picks have gone up in price when the equity markets saw sharp pullbacks this year, making our portfolio much less volatile than the S&P 500 index! We constantly monitor all of our recommendations and issue sell alerts in real-time to help you avoid trouble, and add safety to your income!
Currently, we are recommending to our members a 40% exposure to fixed-income style investments, as the market becomes more volatile our fixed-income picks will be a safe haven for your portfolio and a bastion of strength! For those newer investors or recent retirees who feel uncomfortable investing in individual preferreds, bonds, and baby bonds, we have a selection of highly conservative high yielding preferred stock and bond closed-end funds to add instant diversification to your portfolio!
Track Your Portfolio Like a PRO
As a member, you also gain access to a world-class portfolio tracker. It will keep track of your investments in stocks, funds, and bonds. It includes all the basic functions of any investment tracker and much more!
It displays the following:
What you own, the cost of your investments, present value, gain (loss), and each holding's percentage of the total portfolio.
Dividend yield, monthly and annual income calculation.
Live share price and today's price change.
Allocation warnings when a holding exceeds a preset percentage of your total portfolio.
Warnings when the dividend income from a single holding exceeds a preset allocation threshold. This feature is designed to help you remain diversified and limit your risk.
Our Dividend Tracker - Best in Tool to Track you Income!
As a member, you also gain access to our Dividend Tracker, a unique tool only available to HDO members! Hate not knowing when your next big dividend payment is coming? Hate buying a security and realizing you missed the Ex-Dividend date by a couple of days? Our dividend tracker solves these problems by highlighting when and how large your next dividend payment will be! It makes organizing your bills and finances easy when you know when your money is coming!
Protect Your Portfolio Today
At HDO, we combine high-quality portfolio management, high-quality macro-economic analysis with unparalleled sector expertise. From our newest report on Annaly Capital (NLY) report-
Over the long-term, the market is bullish more often than not, however for retirees simply waiting for recovery isn't always a great option. It is crucial that retirees have picks that can be expected to increase dividends and increase in price when the general markets are falling. Adding a few counter-cyclical picks will help reduce volatility and reduce the sting of drawdowns in recessions.
NLY currently yields 11.3% and can double in price in case of a recession! This is one of many defensive high-yield stocks we are currently recommending to our members as we move into an uncertain economic environment. Not all stocks tumble during a recession. In fact, NLY hiked its dividend during the last great recession and saw its price soar. Just look at the charts! High Yield investing can be very rewarding, in both good and bad times. You just need to know how to position your portfolio!
High Dividend Opportunities, The #1 Service for Income Investors and Retirees
We are the most subscribed-to service in the high-yield space, and consistently the highest-ranked service on Seeking Alpha since 2016.
As our prices are set to increase soon, we invite you to join today and take advantage of our 2-week free trial to get instant access to our model portfolio targeting 9-10% yield, our preferred stock portfolio, and income tracking tools. Importantly, you get access to our defensive investment strategy, with picks that are set to soar in case we hit a recession. You also get access to our report entitled "Our Favorite High Yield Picks to Buy Today".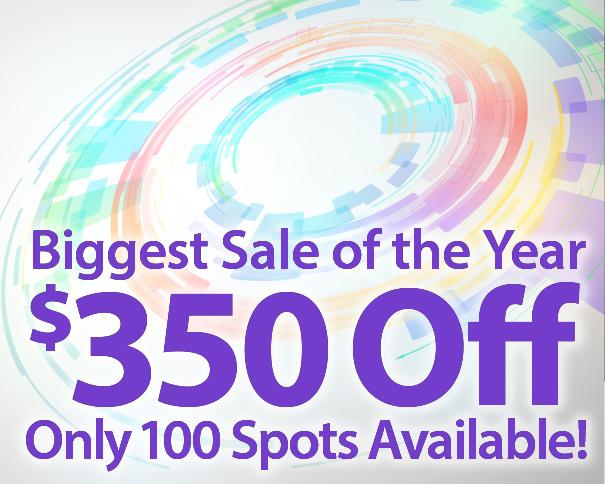 I am confident that you will love our service! No one needs to invest alone. To join us please CLICK HERE
Sincerely,
PendragonY
Analyst's Disclosure: I am/we are long LADR.
One or more HDO team members are long the securities in our model portfolio.
Seeking Alpha's Disclosure: Past performance is no guarantee of future results. No recommendation or advice is being given as to whether any investment is suitable for a particular investor. Any views or opinions expressed above may not reflect those of Seeking Alpha as a whole. Seeking Alpha is not a licensed securities dealer, broker or US investment adviser or investment bank. Our analysts are third party authors that include both professional investors and individual investors who may not be licensed or certified by any institute or regulatory body.