There are many rumors flying around the internet that CHBT is a fraud. One even compared CHBT with infamous CXTI which used the same auditor, BDO Hong Kong. I have looked deeply through CHBT's cash flow statements since 2006/2007 and found out that it is almost impossible for CHBT to have cooked the books.
How do hoax companies inflate revenue and net income?
There are 2 main methods to inflate revenue and net income which are:
Non-cash inflow method

: It is done by making fake customers and fake revenue. However, when there is no real cash coming in, these fake revenue will be accumulated in terms of 'accounts receivable (A/R)'. So, in the long-run, we can see red flags in too mamy A/R compared to revenue.

Real-cash inflow method

: It starts by making fake customers but, in this time, there is real cash injected into the company bank account. This cash does not belong to the company, so it will be drawn out somehow such as

paying special consultant fees, buying over-priced land, buying over-priced equipment or making overpriced acquisitions.
Besides these 2 methods, there is one special case which happened in India. It's an infamous IT company named Satyam. It inflated revenue by making fake invoices. There is no real cash coming in but bank statements showed that customers had paid these fake invoices. It's done by making fake bank statements. This has made many auditors being much more diligent not to use bank statements or deposit receipts from the audited company but rather use documents which come directly from the bank only. So, nowadays, it's almost impossible to deceive auditors by this trick.
So, the best way for most investors, who don't really have a chance to do due diligence, is to detect fraud by looking at money trails in the cash flow statement.
Look at the real fraud company.
CXTI is an IT company which has cooked its books to deceive investors. Management have sold a lot of shares during that time and then they just resigned and disappeared.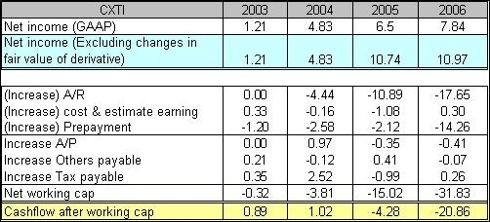 One simple indicator to find a red flag is 'net working capital'. If it is a big negative value compared to net income for many years, this might mean that company's revenue and net income couldn't generate real cash, which investors should be very cautious of.
In CXTI's case during 2003-2006, its net working cap was negative every year. In 2003, there was just a small negative amounts, so this was not too worrisome. In 2004, it made $4.83m in earnings while net working cap was -$3.81m which means cash inflow is a little bit less than earnings. Furthermore during 2005-2006, this huge negative net working cap of -$15.02 and -$31.83, respectively, was much higher than net income which tells us that more cash was pulled out of the company than was generated from net income.
If we look deeper into the cash flow statement, we will see that A/R and Prepayment are 2 items that have big negative amounts. This fake A/R can be seen as the first fraud method (non-cash inflow method) and prepayment is one channel for management to siphon money, which was injected in the process of making fake customers, or it may be a way to draw out raised capital of new investors to management's own pockets.
Besides 'net working cap', another indicator worth looking at is 'Cash flow after net working cap' which is 'net income excluding changes in fair value of derivative' plus 'net working cap'. If this number is continuously negative for many years, this would tell us that the company generates only net income but not real cash. If I were looking at CXTI cash flow statement at that time, I would have stayed away from the company.
Investors couldn't be deceived if they look closely at the cash flow statement. Also, cash flow statement analysis can separate great investments from moderate investments by comparing their 'cash flow after investment'.

Moderate companies, which have negative or small positive 'cash flow after investment' numbers, need more money to invest in order to grow or just sustain their positions in the industry. Great companies, which have big positive numbers, don't need much capital expenditure to grow their business, so, in the long-run, they will have ample cash to pay dividends, buy back shares or make new acquisitions which are good for shareholders.
Analysis of CHBT's cash flow statement.

Let's find out whether it is possible for CHBT to have inflated revenue and net income.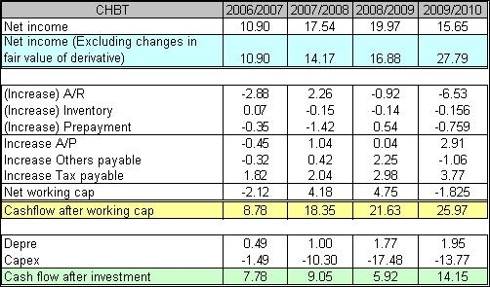 CHBT's net working capital was negative in some years. In 2006/2007 and 2009/2010, the numbers were -$2.12m and -$1.825m which were negligible when compared to their non-GAAP earnings.

In the yellow row, cash flow after working cap were in big positive numbers 4 years straight. This tells us that CHBT couldn't have used the first fraud method because there was real cash coming in for a long time.
If CHBT used the second fraud method (Real-cash inflow method), it would have needed to have some ways to pull cash out which usually is done in terms of capital expenditure (Capex).
CHBT, for many years, has been increasing its capacity. In the earliest stage, it increased the old facility's capacity at Pudong and built a new facility at Qingpu for the second stage. I found cash out flow from investing activities to be fairly suitable with investment plans.
2006/2007: CHBT used $1.49m which wasn't much to increase old plant capacity.

2007/2008: CHBT started building the new facility and expanded outlets so cash of $10.30m was used.

2008/2009: CHBT continued building the new facility and setting up equipment for phase1. Capital expenditure was $17.48m.

2009/2010: Investment for phase1 started to decrease while phase2 and the R&D center wered started. $13.77m was used for the investment.
CHBT hasn't made any acquisitions so it couldn't have siphoned cash this way. The question is 'Did CHBT pay too much to increase capacity at Pudong and Qingpu?' We can find out by looking at 'cash flow after investment' calculated by adding back depreciation and deducting Capex from cash flow after working cap. These numbers are in the range of $6-14m in every year which shows that cash being paid for investing is even much less than CHBT's cash flow from operations. (In my opinion, CHBT didn't need to raise the last $75m in capital because cash from their operations is enough for its growth plan.) In the long-run, CHBT will have more and more cash while it continues to grow exponentially. More cash means more dividends, more share repurchasing and more acquisitions.
For CHBT's future investment
2010/2011: CHBT is expected to pay for phase2 and R&D center investment, but that will not be more than $18m compared to its expected cash from operations of $45m in 2010/2011, which is more than enough.

2011/2012: CHBT will be generating cash of around $70-80m. That is enough for cover the new $58 investment  required for the new probiotics facility for the animal feed industry at Yangling which will be the next cash machine, 2 times the size of Qingpu plants, generating much more cash in the future.

 
Conclusion

The above information tell us that CHBT has very strong cash flow. It has cash inflows on the same level as net income and it can generate much more cash than needed for investment for a very long time. All of these are why I think CHBT is not a fraud but a great investment.
Disclosure:
Long CHBT, no position in CXTI