Here is our read on global money flows as we begin May: 

Asset allocations are the most important aspect to portfolio management. Our ETF screener helps tell us where global money is flowing. We think it's a good idea to use experience and market savvy in conjunction with the quant models. There are countless ways to actually implement a given higher-level 'strategy.' We would strongly suggest staying with the theme of the backtested models -- but also keeping a watchful eye on overall portfolio volatility as a sanity check. Volatility is a good way to think about the potential for drawdown – so this focus protects you when there are strong rotations within the global marketplace.
Our models have not seen much change recently. Stay overweight US equities and underweight (or short) international equities, particularly Europe. Given instability in Europe and the already large outperformance of US Equity this year, a large divergence like this is a bit of a concern.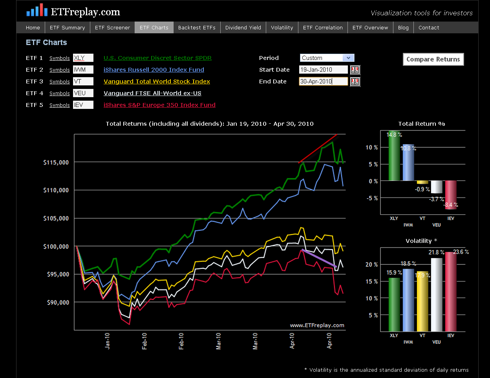 Other regions of the world, such as Latin America and Emerging Asia do not appear to be worth an investment at this time --- these regional ETFs have high volatilities and are not showing relative strength. Interestingly, US REIT's have been showing strong movement within the rankings – indicating global money continues to have a risk appetite for segments of the U.S.
It makes sense to us to stay aggressive on the non-equity portion of the investment landscape. U.S. treasuries do not look interesting at this point as yields are low and the global economy – outside of Europe – appears to be fine. If the U.S. were not strengthening, why are junk bonds continually making new 6-months highs?

Outside of the primary indexes (and REITs) – 2 interesting developments we have noticed over past 4-6 weeks:

1) Precious metals are rising in the relative strength rankings
2) Emerging market bonds look good in the rankings (note that EMB/PCY are dollar-denominated) -- they tend to trade a lot like U.S. high-yield bonds -- and they have pulled back recently.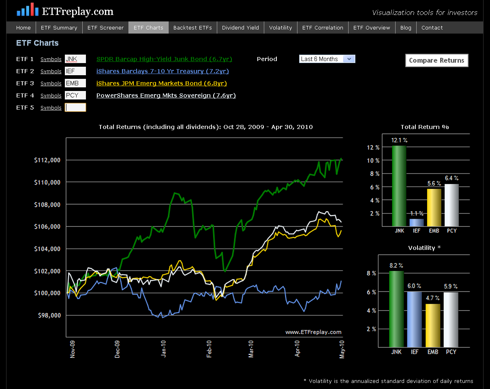 ETFreplay.com Blog
Disclosure:
none