Recently, there has been a price-war in the ETF marketplace which is a very significant development. Schwab moved first, Fidelity raised Schwab -- and now Vanguard has pushed all-in. Neither Schwab nor Fidelity has been a strong player in the ETF market. But now industry heavyweight Vanguard has made each and every one of its 46 Vanguard ETFs free to trade --- assuming you have your account at Vanguard.
If this story sounds familiar, it's because the same thing happened many years ago in the mutual fund business. Prior to the 1970's, banks and trust companies controlled most of the assets in the industry. Then the mutual fund became the product of choice and this was a multi-decade trend that led to eventual $25 trillion mutual fund industry. Along the way, funds went 'no-load' – that is, no transaction fee. This was a very significant development as transaction costs like commissions and loads take money out of the investors pocket.
Today, we sit in the early innings of a major transition away from mutual funds and towards exchange traded funds. This current price war will serve to accelerate that transition.
Here is a breakdown of the ETF line-up at Vanguard. We do not view this as a complete list - as it fails to capture many of the interesting things that are likely to occur on a global scale over the next 10 years.   That said, Vanguard has recently launched fixed-income ETF's so this at least begines to round-out a very heavily 'U.S. Equity' view of the world. We respect Vanguard as perhaps one of the most investor-friendly institutions in the world so we enthusiastically support this ETF list – but treat it for what is, a US dominated list.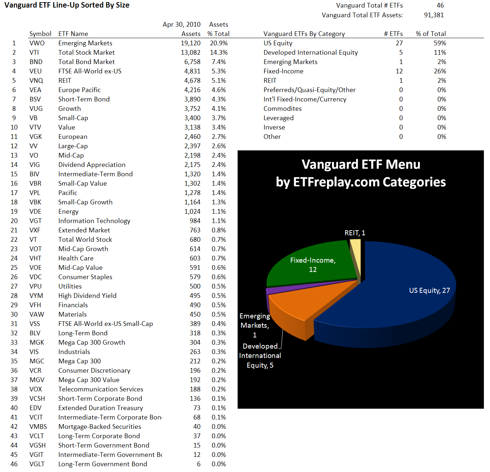 Disclosure:
no positions