Baidu Rides Waves Of China Growth To Big Profits
Agustino Fontevecchia,

10.21.10, 07:45 PM EDT
China's leading Web search company, reports better-than-expected results after the closing bell Thursday.
If you remember anything from Econ 101 than this article should be no suprise to anyone who has followed Baidu(NASDAQ:
BIDU
) and Google(NASDAQ:
GOOG
) when it comes to the China market.
Google's decision to refuse to censor it's search engine back in March and to leave the China market left that market to be dominated by its rival Baidu. With the growth of the internet in China and the demand for search engines, this was a very profitable market. When Google left that market, the only one left to meet the demand was Baidu.
Baidu's(
BIDU
) Chart: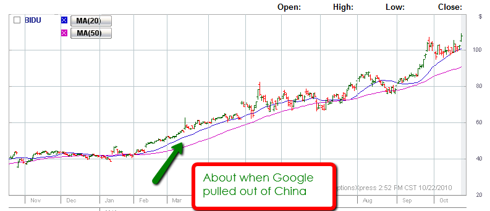 Baidu should have no problem staying profitable with its now sole domination of the market. Also their growth should continue as there is no real competition to worry about. They are basically a monopoly in the Chinese market. It really is a no brainer to invest in Baidu. There really is nothing to slow its growth besides a slowing in the Chinese economy.
So what lessons can we learn from this? One huge fundamental stock signal that can make us a lot of money is when a company is able to eliminate or marginal their competition then it is a clear buy signal in a growing, profitable market. Another example of this is Netflix(NASDAQ:
NFLX
) and what happened with Blockbuster. When Blockbuster said it must adapt or die Netflix was looking at a market it would soon dominate over its biggest competition. Now granted Redbox was coming into the market but did not have nearly as much market share as Netflix. If you bought Netflix around the time of Blockbusters comments, than you have seen a nice chunk of change coming your way.
Business is a war game. To the victors go the profits. When you can spot winners and get on their side, than you can Get Money.
Disclosure:
No positions