This past month the news of the iPhone coming to Verizon network had everyone buzzing about how much money this would mean for Apple(NASDAQ:AAPL) and for Verizon(NYSE:VZ) and why AT&T(NYSE:ATT) should be worried. I came away with a different outlook on this story, Verizon is going to run into the same problem AT&T and every other cell phone carrier is running into. With the smart-phone revolution still in its infancy devices are starting to hit the market that demand more capacity from the antenna and the towers that provide their wireless service. The smartphone revolution is just beginning but growing rapidly. The year over year growth in Q4 was 17.9% and more growth is well on the way. (www.semiconductor-today.com/)
This has become a huge concern for carriers and especially with Android taking up most of the bandwidth.(Mobile Magazine) Combine this with the rise of the new tablets to compete with the iPad and the prepaid smart phone services, and you are going to have a bandwidth "crisis". Now we know when there is a lack of supply and a huge increase in demand, you have an increase in prices. Higher prices mean better margins and better margins mean more profits. Easy equation, right?
But what companies are going to benefit from this huge increase in demand for more capacity? The companies that make antenna and build cell phone towers of course. This includes companies that are able to speed up the existing bandwidth to handle the already large demand and can help cell phone carriers deal with increases in demand.
The companies that, I believe, will see huge upsides to this revolution are the companies that provide broadband and the components that provide quicker surfing of the mobile Internet. A lot of these companies produce semiconductors. The following companies increase the speed at which information is transmitted in the mobile web.
One company is Skyworks Inc.(NASDAQ:SWKS) who is seeing outstanding growth and I believe will continue this growth. Is a major semiconductor company. They are seeing great growth and demand for their products.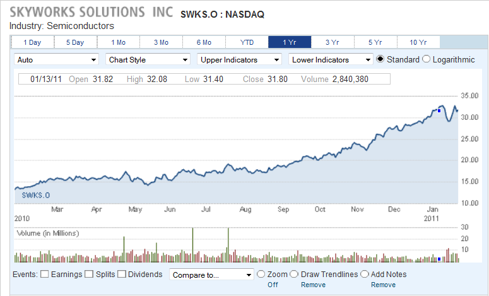 Another company poised to continue to see growth from the revolution is Cienna(NASDAQ:CIEN). They are the third largest network equipment provider and are poised to grow even more as the mobile Internet becomes common place.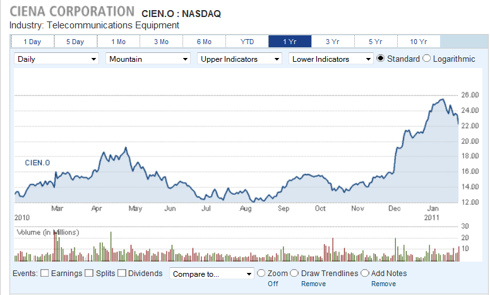 Cisco(NASDAQ:CSCO) is another huge player in the space. They provide networking and will be essential for the ever growing "cloud computing" which is so essential for the new mobile Internet so that devices do have to use so much memory to access data and programs.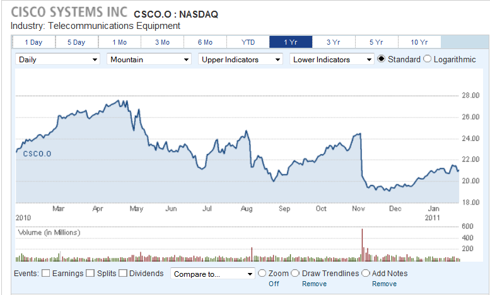 Juniper Networks Inc.(NYSE:JNPR) is another major player and just released earnings that shows amazing growth especially in their mobile Internet and cloud computing businesses.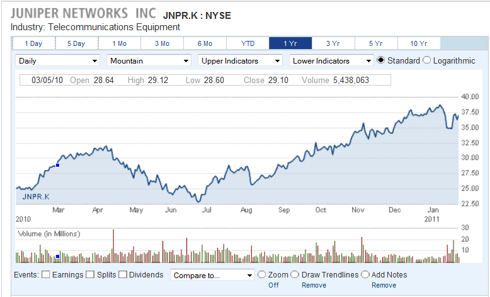 The expansion of smart phones and tablets is going to be huge for these companies. The exponential growth of not just these mobile web devices but the ever expanding ability of these devices are going to allow room for growth for years. More and more customers are going to be downloading apps and surfing the mobile Internet on their phones. This even includes those that are just going to check the score of the game or to check their balances. We are already seeing that people are starting to use their smart phones more than their computers to check email.(www.informationweek.com/blog/main/archiv...;jsessionid=3VGK4CISUORVTQE1GHOSKH4ATMY32JVN)
There is also the increase in apps that are coming in 2011 that will utilize a users location or will allow the user to make purchases from their phone. This will mean that those cell phone users are going to have to be connected at all times. That is going to require even more bandwidth. And to stay competitive, cell phone carriers must give their customers the speed they want on their cell phones in order to stay competitive. If they do not their reputation is going to be murdered.
The story of mobile Internet will seem, on its face, to be the story of Apple(AAPL), Google(NASDAQ:GOOG), Research in Motion(RIMM), AT&T(ATT), and Verizon(VZ) but their story will be about winners and losers. The story of the mobile internet will really be how companies such as Skyworks(SWKS), Cienna(CIEN), Cisco(CSCO), Juniper Networks Inc.(JNPR) and other small companies became juggernauts that the future cannot function without.
Disclosure:
I have no positions in any stocks mentioned, and no plans to initiate any positions within the next 72 hours.