Brainstorm Cell Therapeutics is a biotech company which develops stem cells therapies to treat neurodegenerative diseases such as ALS or amyotrophic lateral sclerosis (known as Lou Gehrig's disease and Motor Neuron Disease), Multiple Sclerosis, Parkinson's Disease and Huntington's Disease. The company's main product, NurOwn®, had successfully completed a 48 patient randomized, double-blind, placebo-controlled Phase 2 at prestigious medical centers in U.S and Israel.
NurOwn® uses proprietary culture conditions to induce mesenchymal stem cells (MSCs) to secrete high levels of neurotrophic factors (NFTs)  known to promote the survival of neurons.
Key factors that lead me to buy the stock ($BCLI):
Chaim Lebovits is not a typical biotech CEO. He has never been in a management team of a biotech company prior Brainstorm. He is mainly an active investor.
Through his holding company (ACC BioTech), he invested 20 millions USD into the company; that represents approximately 5% of Brainstorm. He has skin in the game; his interests are well aligned with other shareholders. Thus, he will greatly profit from Brainstorm success as much as the average investors. All the steps that he has taken so far have not hurt public shareholders. He has been honest and guided the company successfully to a phase 3 clinical trial.
During the beginning of 2017, Brainstorm added a new COO and CMO, and two new boards directors with strong background in pharmaceutical commercialization and distribution.
The company recruited Ralph Kern, M.D., MHSc, as a COO and CMO. He comes from Biogen (a large cap biotech) where he used to be VP and head of the worldwide medical organization.
Those new hires add credibility to the NurOwn® platform and Brainstorm. The management team is now well suitable and seasoned to bring NurOwn® to phase 3 and work efficiently with the medical community and ALS patients.
Funding for phase 3 clinical trial
Funding has been the main roadblock to this stock. The investment community has been pessimistic over this stock believing that Brainstorm requires massive injection of capital to do a phase 3. However; it has not been the case.
There have been no equity offering or dilution since 2014; the company has used non-dilutive assets up till now to bring NurOwn® to phase 3 trial.
The California Institute of Regenerative Medicine (CIRM) awarded 16 millions USD non-dilutive grant in support of phase 3 clinical trial of NurOwn® in ALS. In addition, the Israel Innovation Center ( formerly the Office of the Chief Scientist) also awarded 2.1 millions USD non-dilutive grant for 2017.
Those grants validates the NurOwn® platform since outside experts --independent from the company--have a positive opinion about this adult stem cell technology.
For instance, a twelve panel experts of neurodegenerative disease had to go through Brainstorm clinical trial data (phase 1&2) in order to approve the the CIRM grant. They believe NurOwn® has the potential to meet the needs of the ALS patients; it is a novel product.
Leading ALS U.S sites phase 3
Brainstorm has currently in place agreements with top medical centers in the U.S to start phase 3 clinical trial: The University of California Irvine Medical Center, Mass. General Hospital (MGH), California Pacific Medical Center (CPMC), the Mayo Clinic, the University of Massachusetts Medical school and Sutter Health.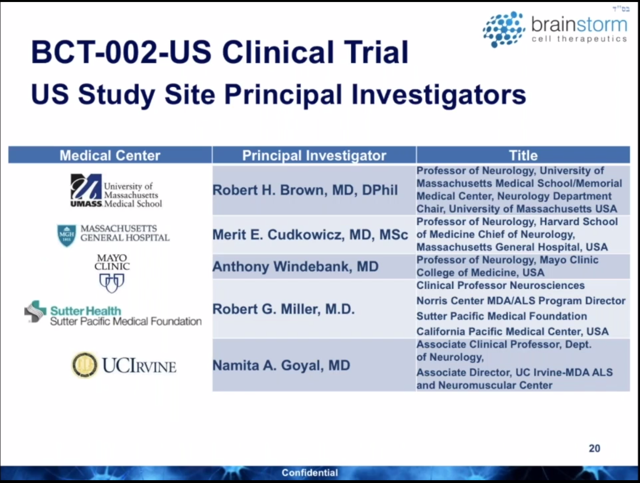 Those sites are the leading medical sites for ALS in the United States. The principal investigators are really interested in working with Brainstorm to treat their ALS patients since their drug was proven to be safe and well tolerated. A clinically significant improvement in the decline of ALSFS-R slope was also observed, particularly in a pre-specified subpopulation that excluded participants with slow disease progression during the phase 2. Besides, CSF biomarkers support NurOwn® proposed mechanism of action.
Compassionate use in Israel (50 to 60 patients)
Brainstorm applied in 2016 for an hospital exemption program in Israel. The company will be able to treat 50 to 60 patients in Israel by the end of 2017.
Brainstorm is confident in generating revenues by Q1 2018 from this program. The revenues will help finance the ongoing phase 3 clinical trial as well. Once this program is executed, it will give us an idea of the pricing of NurOwn® in the U.S and  Canada.
Factors favorable to Brainstorm
On May 5, 2017, the U.S. Food and Drug Administration (FDA) approved edaravone for the treatment of amyotrophic lateral sclerosis (ALS). This is the first medication approved for the treatment of ALS since riluzole in 1995. As mentioned in the press release, the FDA was first to engage communication with the therapy's developer, Mitsubishi Tanabe Pharmaceuticals Corp., following the approval of the drug in Japan, since there are so few treatment options for ALS patients in the U.S.
No phase clinical trial of edaravone was done in the U.S.  Mitsubishi Tanabe Pharmaceuticals Corp. failed its first phase 3 trial of edaravone in Japan. And Edaravone is not as effective as a single dose of NurOwn®.
The senate approved  the "Right to Try Act" on August 3rd, 2017 that would allow seriously ill patients in all fifty states to request access to experimental medicines without the FDA approval. The bill goes to the U.S congress for final approval which has also similar bills in the works.
This bill is wider than some state laws, because it covers patients with serious but not imminently deadly conditions, such as muscular dystrophy.
According to this law, eligible patients would have to exhaust other treatment options and be unable to participate in ongoing clinical trials.  Indeed, this measure bodes well for Brainstorm. It will potentially give access to certain ALS patients NurOwn® generating meaningful revenues to Brainstorm once the bill is enacted into law.
The new Head of the FDA, Scott Gottlieb, seems to be in agreement that new stem cell therapies that are safe need to be available to patients because they have huge potential in curing fatal diseases:
"These new technologies, most of which are in early stages of development, hold significant promise for transformative and potentially curative treatments for some of humanity's most troubling and intractable maladies."
The new head of the FDA seems to be a proponent of new health technologies that are safe, and favors less burdensome regulations which slow down the pace of innovation. I believe that he is willing to work with biotech companies that follow the rules and guidelines and to make their regulatory process less costly:
"As we work to protect Americans from the bad actors, I'm equally committed to doing all we can to help bring to patients more quickly innovative, scientifically proven regenerative cell therapies. For this reason, we're developing a comprehensive and efficient, science-based policy with the aim of accelerating the proper development of these products."
A new policy from the FDA will be shortly available for adult stem cell companies such as Brainstorm to have an easy access to the FDA  for advice and guidelines in order to bring NurOwn® to ALS patients.
The FDA is fully committed to implement the Regenerative Medicine Advanced Therapy (RMAT) designation. This regulatory pathway permits adult stem cell therapies firms to obtain FDA's existing expedited programs to assist fostering the development and approval of these novel therapies.
In terms of valuation, one should look at Bluerock Therapeutics, a joint venture from Bayer AG and Versant Ventures. It is a newly formed health startup focusing on the latest stem cell technology with no preclinical data. This company raised 225 millions USD through a series A funding.
Brainstorm had a successful phase 2 trial, and it will start a phase 3 clinical trial with enough funding. A lot of outside experts validated all their recent clinical trials data which they had been presented on multiple occasions at well known biotech events worldwide. As a result, Brainstorm Cell Therapeutics deserves a higher market cap. It has currently a market cap of 75 millions and no comparable competitive drug in the market for ALS treatment.
Disclosure: I am/we are long BCLI.