Why I invested in Radcom
Introduction to NFV:
A new transformation1 is taking place in the telecom industry. For the past few years, we saw a fast increase in mobile data causing constant capacity surges and growing operational costs. To solve those challenges and adapt their network to handle effectively more traffic, telecommunication companies must and will adopt a new network architecture that mimics the cloud technologies in order to be anti-fragile. As a result, their network will be suitable for rapid innovation, new business models, enhancing customer value, generating greater opportunities for third parties to participate in the customer value chain and an abundant choice of suppliers.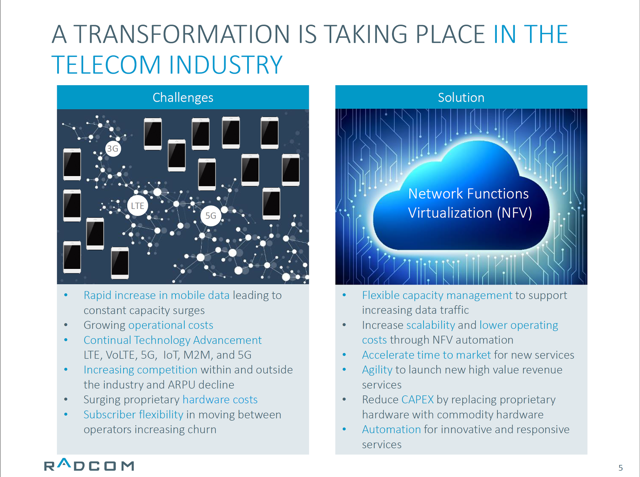 Source: Radcom Ltd -Corporate Overview -August 2017
This new technology is called NFV, and AT&T is the first carrier network leading the charge with their Domain 2.0 program which is focused on leveraging cloud technologies and network virtualization to offer services while reducing capital and operations expenditures and achieving significant levels of operational automation.
NFV, Network Functions Virtualization2, virtualizes the network services that are now being carried out by proprietary and dedicated hardware. NFV will reduce the number of proprietary hardware needed to launch and operate network services.
As the first mover in this field, AT&T launched the ECOMP3 (Enhanced Control, Orchestration, Management & Policy) platform in 2016. It is an open source software platform under the management of the Linux Foundation. It is also the engine that powers the software-centric network of AT&T.
Why the Need for NFV for CSPs (Communication Service Provider):
Revenues generated from customers are going down because of intense competition among carriers and the lack of revenues from OTT companies such as WhatsApp, Facebook, Netflix, Google, Apple, Amazon, HBO and many more.
Radcom observed those trends4 mentioned below:

Mobile data traffic grew 100,000% over eight years

Video and IoT are going to go through the same growth curve
The growing traffic on their network is due to music and video (1080p and 4K resolution in the near future) streaming and the large diversity of device connected to their network (smartphones, tablets, IOT device, etc...).

With their current or previous network architecture, CSPs are constraint to constantly upgrade their hardware and proprietary equipment or add new expensive hardware to handle the surge in mobile data traffic. Consequently, carriers network cost are going up.
In addition, they face dilemmas in dealing with multiple vendors and non-open source products. There is no-interoperability among CSPs.

NVF is a must for telecommunication companies in order to get real time analysis of their network and be able to perform customer management services. NVF will also be a requirement for "connected cars" traffic which requires real time data for "networking at the edge" and self-driving operations.
Furthermore, there will be also new technologies available in the horizon such as 5G (born in a modern architecture), VR, AR and other real time on demand applications.
Why Radcom?
Radcom is a leader the NFV market probe-based service assurance and customer management service. This is a niche segment of the vast NFV market which is a purely software and open source market and lacks dominant players.
Radcom solidified its leadership in this market through an extensive trial with AT&T --the first carrier network to deploy NFV, the largest U.S carrier, the initiator and the lead contributor to the ECOMP platform. Radcom scored 100% on the trial which lasted 9 months, and performed well above of the incumbent product (Netscout).
Radcom also got the strong backing of AT&T5 which gave them access to potentially many NFV implementation deals with other major CSPs.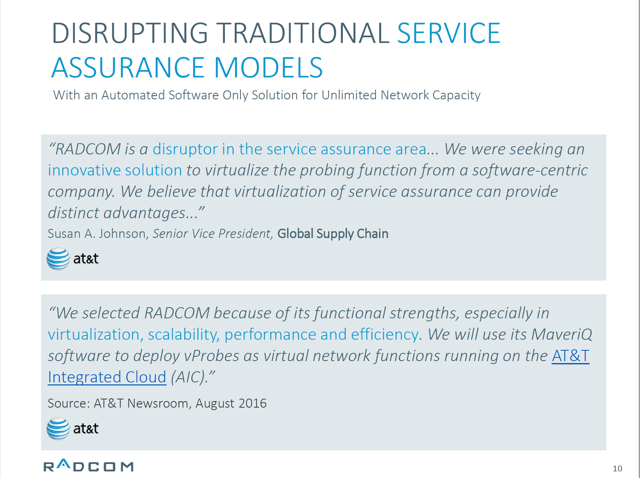 Source: Radcom Ltd -Corporate Overview -August 2017
The MaveriQ platform from Radcom provides the network visibility, big data analytics and real-time processing to the CSPs. MaveriQ enables CSPs to smoothly migrate their networks to NFV by monitoring and assuring both physical network and NFV-based network and consequently, 'hybrid' networks. With the rate of transition between physical and virtualized networks taking place gradually, CSPs will need to manage 'hybrid' networks for the foreseeable future. As a result, service assurance solutions that provide service and network performance visibility in both physical and virtual environments, are expected to gain priority.
The MaveriQ platform also accelerates deployment of new services and migration to NFV. In addition, it increases operational efficiency and lowers costs. AT&T recently mentioned that NFV investments are beginning to self fund; 34% of AT&T network were virtualized last year and 55% of the network will be virtualized by the end of this year. Besides, AT&T expects to have 75 percent of its network operations controlled by virtualized platforms by 20206.
AT&T is the first CSP which has a clear vision of the future and knows how to get there. They know that past network architectures will not be capable of supporting new traffic and adapting to new technologies. Nowadays, all the big data are moving to the cloud; thus, AT&T is copying the cloud technologies to its network in order to be supportive of this new ecosystem. Their Domain 2.0 white paper was released in 2012 and their first NVF transformation came in 2016. They also merged their ECOMP platform with OPEN-O (Chinese CSPs platform) to form ONAP. AT&T's goal is to bring all the carriers to same open source platform and for quicker implementation of NFV and less barrier to entry to this new technology. By convincing different carriers (including vendors) to agree on a common code base and APIs, both ONAP and OSM are hoping to solve one of the telecom industry's great imponderables: the inability to carry sophisticated traffic, automation and security policies across the boundaries between different carriers' networks.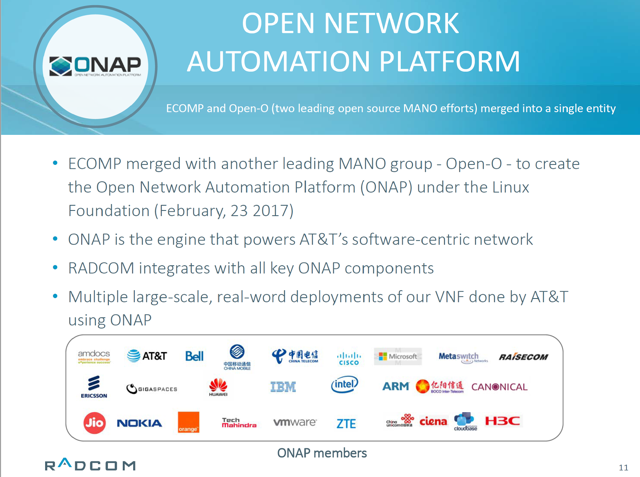 Source: Radcom Ltd -Corporate Overview -August 2017
Radcom is engaged with at least 10 top tier carriers7 for NFV implementation. The company expects to capture a new NFV deal by end of the 4th quarter.

Source: Radcom Ltd -Corporate Overview -August 2017
Since winning the AT&T deal, the company has been acquiring top talents in the telecommunication space and strengthening its balance sheets. It has also sold additional services to AT&T in addition to their NFV deal. Besides, it intends to come up with additional service for big data analytics and network security.
The future is bright for this Israeli company since there are no strong competitors which have a better product than Radcom in this growing space.
Working exclusively with AT&T is a big plus because it allows Radcom to find solutions to issues with the implementation of this new network architecture ahead of the competition.
As a result, this advantage is an absolute edge when engaging for potential new NFV deals with other CSPs. Radcom can share their knowledge gained and issues seen from the AT&T experience with prospective clients so that they can feel confident about the transformation of their network.
AT&T is the only CSP putting tremendous effort into NFV; thus, there is no way they will abandon the ONAP platform along the way. Their future depends on it.
Flawless NVF transformation is complex, and a lot of CSPs do not want to take on a lot of risks to modify their network infrastructure fearing service interruption and drop off signals.
Consequently, they will go with the first movers with a proven track record. I do not see any competitor with a positive track record of Radcom on the horizon.
Those are revenues of Radcom for the past couple years:
2015: 18.7M USD
2016: 29.5M USD
The company expects to generate between 36M and 39M USD in 2017. As of 30/06/2017, the company has 36.2M in cash and no debt. The company market cap is approximately 230M USD and the number of share outstanding is 11.67M. The current valuation is cheap.
Source:
Disclosure: I am/we are long RDCM.