There has been a lot of talk about a "double dip" recession again after the dismal GDP results. As QE2 comes to an end, let's examine where we are and how strong the economy is using three key metrics: GDP growth, unemployment, and consumer confidence.
Below we have a chart of GDP growth between 2006 and 2011. It seems the fed's policy of using Keynesian economics has kept our economy from destruction, but growth has reversed course since Q3, 2009. Ben Bernanke has driven interest rates to historic lows, and pumped billions of dollars into the economy, but the thriving U.S. economy they had hoped for is still elusive. I think we can make an argument for further quantitative easing to aid the economy.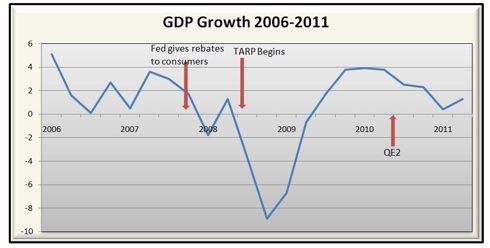 Although the fed did ease the economic pain by stimulating the economy, we still experienced the greatest recession America has seen since the great depression. Even with interest rates historically low, businesses have not borrowed to expand, and with QE2 over, we can expect rising interest rates and poor growth in the near term. This is reflected in the GDP numbers, lower government spending, business investment and consumer spending. In addition, any downgrade of the U.S. credit rating would add to long term rates, further stifling economic growth and crowding out business borrowing.






            The rise in the unemployment rate over the last three months is discouraging. Lower interest rates are generally the key to creating jobs, but they are already at historic lows. As the interest rate rises, consumer spending will fall resulting in softer GDP numbers in the near term. This should motivate the Fed to continue buying treasury bonds.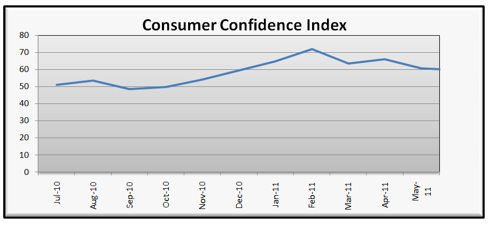 As the chart above shows, consumer confidence has been falling. Although this is a lagging indicator, we can interpolate that this measure will continue to show low consumer confidence in the near term future, and signals more tough times ahead.
            There is no secret formula for improving the U.S. economy, but past recoveries have proven the effectiveness of government spending and low interest rates. The fed and congress need to continue to stimulate the economy until consumer confidence rises, and business begins hiring again, but until then it will be a bumpy ride.
Disclosure:
I have no positions in any stocks mentioned, and no plans to initiate any positions within the next 72 hours.
Additional disclosure:
No stock analysis in article, just overall macro economic assesment.