In the past few days, I found myself looking over new prospects to add to my longer term investment portfolio. I ran across a small company with about 1 billion in market cap, over 30% ROE, and almost $5 earnings per share. But wait it seems to get better, as many of the metrics of this company are absolutely unbelievable when combined. The profit margin is above 10% while the companies operating margin is higher than that at 15%, so why isn't this main stream name?
The fundamentals of the company seem very strong; and here I would think if that were the true story that this stock would be followed more intensely. If one were to view the shorter term chart the impression that shareholders are trying to get ahead of more good news to come, yet is that the real story here?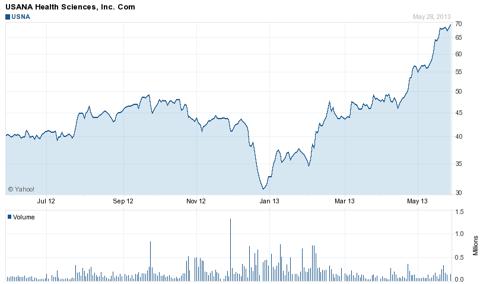 A one year view -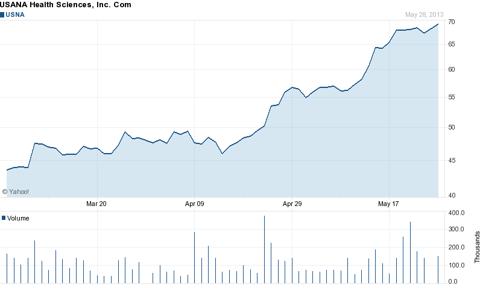 And the last 3 months -
What does this company actually do? What if I told you it was a multi-level marketing based company? What sort of image does that provide for you? I find this whole story to be very skeptical…
I've never invested in a MLM; yes, I've been cornered by those who want to enroll me or have me work for them.
Once in college, I watched a MLM board shoot through several levels of students anxious to get three of their friends to put up $250 in the hope they would move a level up why they recruit 3 others to invest under them. Needless to say, it wasn't a good ending for the 40 kids who ended up at the bottom of that MLM board. They were out $250 with nothing to show for it, while the 6 kids who started the board made a few thousand dollars.
Would this be similar for me if I were to buy some "stock" in the open market? Would I be the one holding the bag here? Clearly the stock is heading in the right direction while the company seems to be running perfectly.
Diving deeper into this story to understand more about the fundamentals, I find many other discoveries which have definite red flags of which I cannot explain. Although the fundamentals of USNA look exceptional; we all know that perception is not always reality in a stock price.
It does take typically take many months for reality to catch up to actual perception. So what seems to be some of the red flags here?
Questionable Executive Leadership
Over the past 5 years this company's leadership has issues with the SEC, possible delisting, and issues with accounting practices. More importantly, issues related to actual business practices or core revenue generation which were uncovered in 2007-08, and still remain today as a current business model.
The executives over past 3 years have been net sellers of their stock. With such strong fundamentals it would seem the top holders wouldn't be scaling out of the common stock on such a large scale. In the last 6 months, insiders have sold a total of 14% of the total insider shares held. This is similar to USNA issues in 2007-08, at that time the stock was at a similar price and the executives were exiting in a similar fashion. What's changed this time?
Multiple executive leadership changes due to serious allegations and issues, so the question is do you currently trust the current board and its executives?
- Recruiting of actual "sales people" and the products they sell. 91% of the products sold are purchased by the person recruited actual sell the product.
Customer, Products, customer-salespeople?
Recruiting of actual "sales people" and the products they sell is not a lasting, nor a proven organic growth method, if those are the one proving the throughput of current revenues

91% of USNA products sold are purchased by the person recruited to actually sell the product. This at first glance would seem to be a benefit USNA but the law diminishing returns would tell us that it cannot continue forever.
Your sales force could actually detract from future sales. A dissatisfied consumer/sales person will tell between 9 and 15 people about their experiences. And about 13% of the dissatisfied customers tell more than 20 people. At this rate, the company could recruit enough salespeople/customers to make up for the revenue loss.

The products provided by the company aren't so ground breaking or unique

USANA states that their products are of high quality, justifying their relatively high cost: but this claim was disputed by Anthony Almada, Chief Scientist of the nutritional supplement industry consulting firm Imaginutrition, who stated in an interview in Forbes that "The economic reality of Usana, and other [multilevel marketing] entities, mandates that their products invariably lack robust distinctiveness and convincing evidence of consumer relevance and superiority-achievable through rigorous clinical trials only-to their retail counterparts."
John Cloud, senior writer for Time Magazine, conducted an evaluation of nutritional supplements in which he took a regimen of USANA pills, protein bars, powder drinks and psyllium fiber as recommended by the company's online evaluation. Cloud took a blood test prior to taking the products to determine the levels of calcium, protein, sodium, cholesterol, glucose, and other substances, and then was tested again five months after taking the supplement regimen, which included 3,000 pills at a cost of $1,200. The follow-up test revealed a change in only two values; a 75% increase in vitamin D levels (attributed to the vitamin D3 supplement Cloud had been taking) and a 28 mg/dl increase in high-density lipoprotein, which could not be accounted for. Cloud also experienced a placebo response where that act of taking the supplements made him feel more vigorous despite no physiological reasons being present. This response also led to a 10-lb increase in weight, as the belief he was more vigorous led to his making poorer dietary decisions-a phenomena referred to as the "licensing effect"
USANA's associates are bound by distributor agreements, which forbid distributors from making "misleading income claims" to potential associates, and from making health claims for the products. However, an investigative report aired by Radio-Canada in February 2009, which included hidden camera filming of recruitment and other sessions, found that one group of associates appeared to violate the company's policies. The program contrasted the information about potential revenues presented at meetings and in written materials with the Canadian legal requirements for multi-level marketing schemes to provide clear, frequent and complete information about the revenue of the typical participant. In addition, the same group of associates were filmed making recommendations for using USANA products to treat illnesses including leukemia.
Can you trust the actual fundamentals?
Over the past 6 years the legal clouds perusing this stock surely must override current financials

Historically this company has been plagued by complaints of leadership insider transactions prior to large stock decreases, mismanagement, and the overall business model dislocation. Can the fundamentals be depicted "so strong" or is this a mirage?