OTCQB:SVEN Superior Venture Corp., was up nicely today over 200% from where it opened. I bought my first shares at .17 and filled the rest around .20 cents a share and then sold them all at around .27 today for a quick profit of around $770.0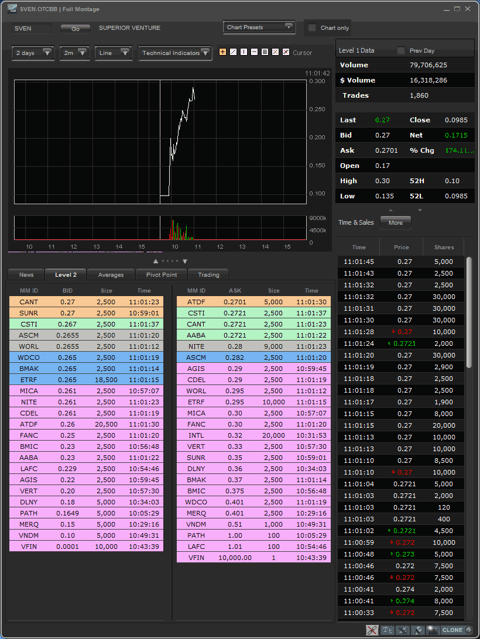 Where I sold SVEN - Click for full size image
I would have found the stock earlier this morning, as I usually do before the open, but I was busy reading some filings and stopped watching the monitor for a few minutes. I assume most people got in the stock above .20 cents a share today so while the stock is up over 200% for most the gain is only around 50%.
The company's stock was up on the initial alert of www.premiumstockreports.com and pennystock.com newsletters. Sent their newsletters out at 11.15 a.m. this morning, but the stock was already encroaching on 30 cents a share before that.
The guys that put these deals together have been known to pick a stock for a day and then cancel their coverage a day later, let's hope this is not the case for many new shareholders that are holding overnight.
Just a few items to note about the company www.superiorventurecorp.com domain was recently purchased at moniker, and was set up on: Record created on: 2012-11-08, which means this was recently thought up! It's as new a company as you can get.
The stock traded almost 177million shares, with Wilson Davis only showing some size for a moment today. This means that around fifty million shares could have been sold into the float this afternoon!
This also means there may be more to go!
As a result, immediately following the Acquisition and the Cancellation, there were 392,850,000 shares of our common stock issued and outstanding.
Ilustrato Pictures Ltd. is a Canadian company created for the development of feature theatrical films to be financed and distributed domestically by Chinese production companies, and for international release. The principals of IPL have spent years developing a network in China to integrate the company into the Chinese business fabric to conduct business there; an option we believe is not available for most of Hollywood. IPL is set to make near term revenues in China and from worldwide film sales (Chinese box office, dvd, pay per view, etc.) and set to repatriate earned income to the public company via its wholly owned tax exempt offshore holding company affiliate. All projects will be guaranteed domestic Chinese box office distribution before actual production starts.
IPL's business plan is to earn revenues in China and from worldwide film sales through entertainment mediums such as the movie theatre box-office, DVDs and pay-per-view television channels. The company will also provide movie pre-production services, which include writing original scripts, directing, and educating Chinese film companies on special effects and various film techniques. The company has made partnerships, agreements, and plans with various Chinese movie production companies to fund and co-develop featured films in China.
The company has $43. Dollars and a negative cash deficit of 535,302 dollars. With a current market cap of over $100million
One can wonder how they afforded to put out a press release today about the exciting opportunity in China
While I did trade the stock today as well as many other traders, I have already sold this and am encouraging readers to watch this stock closely as it could turn any second.
The Canadians in this deal set up an office in London and a web site 2 weeks ago, to do a deal in China! And are promoting it in the U.S.A. With a shell, a multi-million dollar promotion, and 43 dollars in the bank. Ohh the multi-million dollar promotion is only 10,000 euros according to their newsletters, which of course they have yet to receive! Again these guys must lose money on every deal they do, because 10,000 euros won't pay for one day of advertising these guys spend.
This stock will follow OTCQB:POTG OTCQB:SNPK OTCQB:HDSI PINK:MILV OTCQB: AMWI OTCQB:TAGG and many others
DO NOT HOLD THIS FOR MORE THAN A TRADE YOU WILL GET KILLED!
Disclosure: I have no positions in any stocks mentioned, and no plans to initiate any positions within the next 72 hours. I wrote this article myself, and it expresses my own opinions. I am not receiving compensation for it. I have no business relationship with any company whose stock is mentioned in this article.