A couple weeks ago, I thought the DJIA would look up at 9,500 before it breached 11,000. I based this assumption on my prediction that jobs data would be subpar, consumer sentiment/spending would continue to wane and housing would produce a drag. Now that all of those things seem to have come about, why are stocks still going up?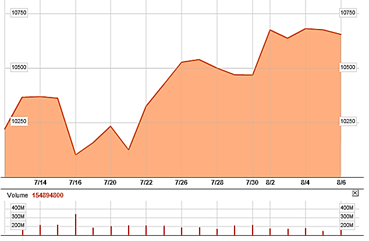 Courtesy of Bloomberg.com


I think the jobs data is more negative than many tend to believe. The net increase in private sector jobs of 42,000 was higher than the anticipated 19,000. However, seeing as how the economy is nearly a year into recovery, is this enough to support the gains we are seeing in the markets? I would argue no. The jobs being created are not even enough to support the increase in the population, and unless there is an incredible turnaround in Q3 (unlikely), what in that report warranted a rally in the markets? It seems as though analysts are carving jobs data into something positive, when in reality the numbers don't provide anything more than a prop for a temporary rally.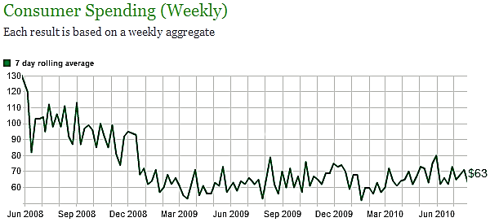 Courtesy of Gallup.com


Meanwhile, the report on consumer spending showed a decrease. However, the lukewarm jobs data overshadowed this report and the market finished up 1% for the week. What's the rub? People are spending less, and their confidence in the economy is weakening, and yet the market seems to have tunnel vision on a jobs report that wasn't that exciting to begin with.
 
Housing data has been even more universally negative. Pending home sales (which lead existing home sales in trends by 30-45 days) decreased by 2.6% in June. This means the people signing contracts on housing is decreasing. This represents the lowest measurement on record since 2001, and a forward looking index of 75.7 for June 2010 vs. 93.0 for June 2009. 100 is the average level of contract activity for 2001. The index should "
be notably lower in contrast to the spring surge when buyers rushed to take advantage of the home buyer tax credit
," said the National Association of Realtors.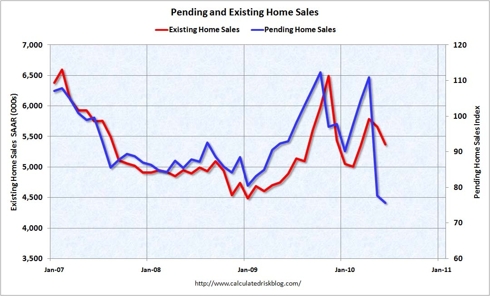 Courtesy of CalculatedRiskBlog.com

What does this mean? It means the stimulus free housing market has room to drop. Even with mortgage rates between 4-5% for homebuyers, tight lending practices and low consumer confidence will hold housing down for the medium term. This is one of the results of the new American consumer, who has had their belief in the financial system shattered by the recent recession, and now subscribes to a more conservative life plan; the looming specter of a potential downturn in either the economy or housing market has scared away even more of these potential homebuyers. While these people may be acting in a rational way, it is not good news for a quick recovery in housing. 
 
Adding to the mayhem is that fact that when housing prices drop and consumers lose equity in their homes, they tend to spend less. If the pending trend is reflected in existing sales a couple months from now, it could further dampen consumer confidence and spending. This means that the housing data strongly supports my second point about low consumer confidence and spending.
Today, the Federal Reserve is most likely going to lower their outlook for the economy, and rightfully so. My question is, how has the market managed to keep trending upwards? There is plenty of negative information that seems to be forming a perfect storm, yet people keep focusing on narrow reports that fail to incorporate the entire picture. I still anticipate we will see a tick down before we make any more movements upwards, but with the way the market is acting right now, who knows? 
Disclosure:
No Positions