So a certain SA columnist, also known as Mr. Dan Ravicher, writes an article titled "Will Patent Office Eliminate Vringo's Right To Future Royalties From Google?"
It's about Google (NASDAQ:GOOG) not having to pay Vringo (VRNG), once the USPTO rules on the '420 and '664 eventually being found "invalid", or being "valid but changed". This of course is at least a few years away from any decision being made by the USPTO in regards to either patent.
This is my rebuttal to all his claims. I understand he is a patent lawyer, I am not. But I do like to think I could have been one. Anyways, lets just stick with the facts to support this rebuttal in response to his poorly researched article.
Mr. Ravicher goes very in-depth about the USPTO reexamination for both patents and the exact claims that the USPTO has sided with Google on the '440 patent and that Google has also asked for the '664 patent to be reexamined.
He then cites a case In re Baxter International:
The majority here concludes-rightly in my view-that a prior court decision in which a party has failed to prove a patent invalid does not bar the Patent and Trademark Office from subsequently reexamining that same patent. And, it concludes that, despite a final court judgment reaching a contrary conclusion as between the patent holder and one alleged infringer, the PTO is free to conclude that the patent is, indeed, invalid. That proposition is an unremarkable one.
Unfortunately, he leaves a lot left out in the case and its outcome that was eventually ruled on by the court recently...
I will also cite case In re Baxter International: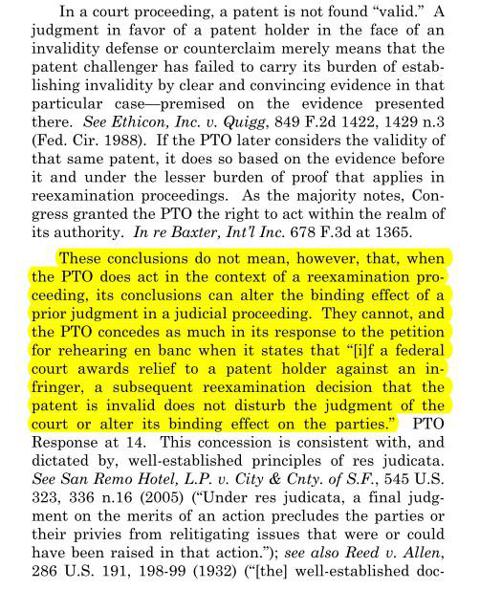 This is a very important statement from the PTO themselves. Reread once more:
These conclusions do not mean, however, that, when the PTO does act in the context of a reexamination proceeding, its conclusions can alter the binding effect of a prior judgment in a judicial proceeding. They cannot, and the PTO concedes as much in its response to the petition for rehearing en banc when it states that "[i]f a federal court awards relief to a patent holder against an infringer, a subsequent reexamination decision that the patent is invalid does not disturb the judgment of the court or alter its binding effect on the parties." . . .
So basically what this means in laymen terms is that even if the USPTO eventually finds the '440 and '664 patents invalid, it will have ZERO effect on the courts judgment and the binding effects (3.5% running royalty) between Google and Vringo.
So even if we see the USPTO invalidate the '420 patent in about 2 years from now and the '664 patent about 3 years from now, the Federal Court has already ruled that USPTO decisions have no bearing on the judgment and it's binding effects.
If we take into account that Google will be paying a 3.5% running royalty until the patents expire, I'm pretty sure most readers can do the math.
This is also not to take into account that judge Jackson can increase the running royalty apart from the jury's verdict, as he did in the case of ActiveVideo Networks Inc. v. Verizon Communications Inc.
Also Mr. Ravicher must have completely missed that the judge has already ruled on obviousness in Docket # 799 signed by Judge Jackson himself:
I wrote this article to inform the public about facts, not fan-biased fiction or hypotheticals that seem to be circulating around the SA web!
Disclosure: I am long VRNG.