Hunting for relative bargains yesterday morning, we waited in vain for the index futures to come down below Friday's levels. Alas, prices held relatively firm in the opening hour, eventually inducing yet another flight of fancy by the broad averages.  By day's end, the Dow was up 143 points, recouping most of Friday's losses while adding further to the one-way tedium of this Mother of All Bear Rallies. To put Mama Bear in perspective, the weekly chart now reflects the possibility, if not yet the likelihood, of a 125-point upthrust in the S&P 500 mini-futures.  That's 10 percent above yesterday's settlement price, and although the move would qualify as parabolic if it happens soon enough, it would actually lag the rally to 12471 that we predicted here a while back for the Dow Industrials.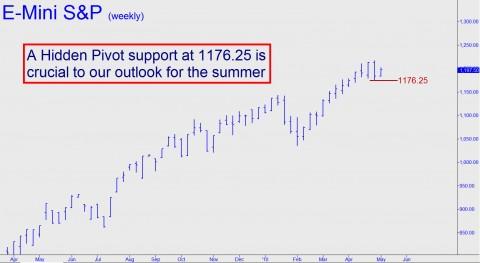 The weekly chart of the E-Mini S&Ps shows why the odds of a strong blast higher have increased lately. Using our proprietary method of analysis, the key price on the chart is 1176.75.  That number is a Hidden Pivot "midpoint", and it is directly correlated to an important Hidden Pivot well above these levels at 1317.25.  Although the lower number was technically a resistance until recently, it became support when the June futures contract blew past it, topping last week at 1216.75.
Very Cautiously Bullish
Ordinarily, we would assume the higher number (i.e., 1317.25) will be reached if its lower "sibling" is exceeded as decisively as has occurred here. But we are being extra cautious in our bullishness because the market looks especially vulnerable to a sudden, even spectacular, selloff.  There are a few reasons for this. For one, until last week stocks had risen for eight consecutive weeks on declining volume, implying, as our friend Chuck Cohen has noted, that investors are "supremely confident."  We agree.  We also think that a full-blown panic could be triggered at any time by Greece's financial problems. Under the circumstances, we'll go with the flow, which is higher, but we will also take care not to stray more than a step or two from a fire exit.
With respect to the 1176.75 pivot, it will continue to hold the key to our outlook for the summer and beyond. A breach of the support this week would be warning of possible trouble, and a Friday close below 1171.00 would make us even more nervous. Alternatively, the bullish case would become irresistible if the futures rally above 1216.75, pull back, and then complete another rally leg equal to the first. We'll be closely tracking these potential scenarios, as well as myriad other possibilities, in the days ahead. If you'd like to stay closely on top of this situation as it develops, you can sign up for my newsletter and receive one of my forecasts free each day.