People who look at a 1Y or 5Y gold chart should step back and look at the big picture before dismissing gold or lamenting its recent volatility.
The big picture about fiat money and money printing in three exhibits:
Exhibit 1: Price Stability since 1775 and the hockey puck since 1970*:
( Source: aeaweb.org/aea/2013conference/program/re... )
Exhibit 2: The "Tapering" in late 2013? Just a little less gas, no brakes: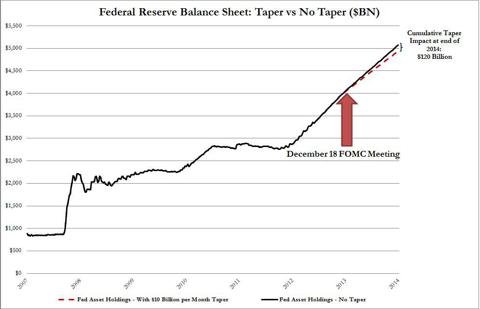 (Source: www.zerohedge.com/sites/default/files/im... )
Exhibit 3: Quantitative Easing ("QE") effects explained for Main Street: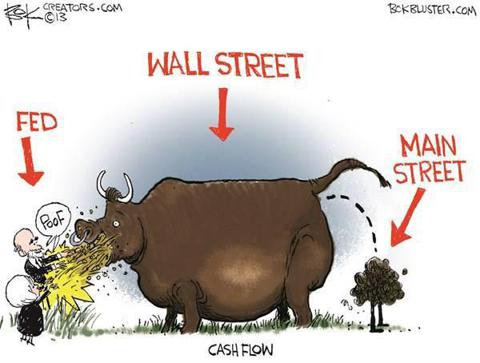 Happy Holidays !
______________
* The price levels have shown spikes both since the 1930s and 1970s:
Figure 1 plots the US price level from 1775 (set equal to one) until 2012. In 1913 prices were only about 20 percent higher than in 1775 and around 40 percent lower than in 1813, during the War of 1812. Whatever the mandates of the Federal Reserve, it is clear that the evolution of the price level in the United States is dominated by the abandonment of the gold standard in 1933 and the adoption of fiat money subsequently. One hundred years after its creation, consumer prices are about 30 times higher than what they were in 1913.

(Same source as Figure 1)
As you can see from the highlighted text in the quote above I'm not the only one thinking this has something to do with the gold standard vs the USD in both time periods (namely 1933 and 1971). Also consider this article about even higher USD purchasing power loss since 1971:
www.forbes.com/sites/charleskadlec/2011/.../
PS: I'm not advocating a return to a strict gold standard myself - but the problems of fiat money coupled with rising public debt and loss of purchasing power are too much of a coincidence to dismiss them easily.
PPS: I wrote this Instablog following a short Twitter exchange:
twitter.com/talesftf/status/413363562350792704