Understanding Apple Long-Term (Revisited)
Please Note: Blog posts are not selected, edited or screened by Seeking Alpha editors.
Tech, Long/Short Equity, Growth At A Reasonable Price, Value
Seeking Alpha Analyst Since 2012
Tales From The Future (TFTF). I picked my nickname because many advisors and investors claim they can predict the future of the (stock) markets and precisely pick the winners with almost absolute certainty. I don't.
I usually do not engage in short-term trading and myopic analysis (quarter by quarter, without looking at the big picture). I like to work with long-term scenarios. My focus is on possible disruptions and growth opportunities in (consumer) technology and related sectors. I also look into value and contrarian ideas as well as emerging technologies, growth stocks worldwide, both on the long and short side as well as the influence of monetary policy on markets.
I am fiercely independent in my investment research. That's why the avatar image of a lone Ninja hopefully fits. Independence guided my investment principles for the past 20+ years:

Pick your targets with patience. Do your OWN diligence.
Never follow the herd blindly: 'Men, it has been well said, think in herds; it will be seen that they go mad in herds, while they only recover their senses slowly, and one by one.'
General Sector Focus: Technology/Internet, Value, Disruptors, Energy/Alt Energy, Entertainment Stocks and Monetary Policy/Geopolitics. Geographical Focus: USA, Western Europe, Japan.
PS: I speak various languages but I am not a native English speaker. I apologize in advance for any typos and grammatical errors.

I wrote an Instablog with the same title back in summer of 2013. Let me first revisit two keys points I made back then:
- Major product introductions don't come easy. Apple never worked in a different way and didn't lose its innovative edge. It puzzles me that (new? ) investors think Apple should/can introduce a new product line every few months or on a yearly basis. It never did so, also not under then-CEO Steve Jobs. Between new product lines, usually five or more years passed.

(...)

- Apple often is about reduction and simplicity, also in the number of SKUs offered. Does anyone think Apple is technically not capable of producing a bigger iPhone screen or its own TV? Apple could offer all these devices in theory, it has enough engineers and 100+ billion in the bank. But I doubt these devices would end up pleasing Apple customers and be up to the standard people came to expect from an Apple device if they are "rushed" to market - or priced much lower but not up to Apple quality standards any longer.

Extending the product line for its own sake could HURT Apple a lot in the long term. As then-CEO Steve Jobs once famously said.

"People think focus means saying yes to the thing you've got to focus on. But that's not what it means at all. It means saying no to the hundred other good ideas that there are. You have to pick carefully. I'm actually as proud of the things we haven't done as the things I have done. Innovation is saying no to 1,000 things." (Apple Worldwide Developers' Conference, 1997)

Now have a look at the introduction videos / ads from this year's [this was written in summer of 2013] WWDC:

We can see that mantra - or at least the vision - still holds true for the current executive team over a decade later. In five words: Do not ship crappy products. (By the way, a goal Apple didn't achieve with Internet services in the past and is now working hard to correct.)
Turning to the present: I think the above is still very important for long-term AAPL shareholders - especially those growing impatient for the wrong reasons. Why?
(Following the sell-off on Jan 27, 2014 (after-hours) I went long AAPL)
1. AAPL remains one of the few modestly priced tech companies out there in my opinion - be it big cap or small caps (in addition to the stock buyback and the dividend!). This remains true even without lots of growth. Wall Street only seems to care about future growth, however: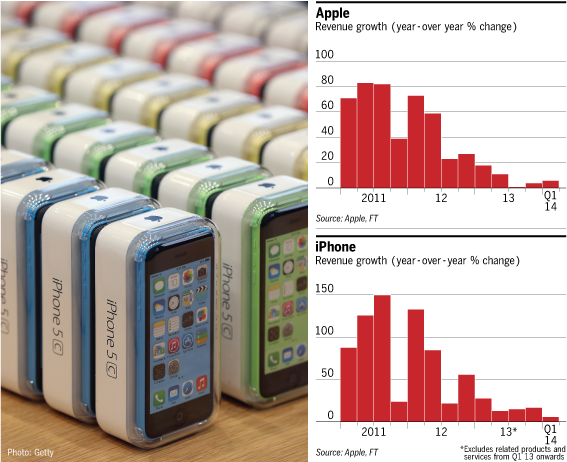 Source: FT (article is behind paywall)
It was clear to most rational observers that the growth rates of recent years (up to 80% in 2011, even higher for iPhones) weren't sustainable:
As I outlined in earlier articles, there is no way a giant company like Apple (with a market cap around 500 billion USD, the largest market cap world-wide at the moment) could continue to grow its revenues like a small start-up company. Growth has returned to earth now.*
2. AAPL secrecy and focus continues to be a short-term headwind on Wall Street. Cook just re-iterated (ABC TV interview on the Mac's 30th anniversary and latest conference call on Jan 27, 2014) that Apple will:
- focus on a few key areas (unlike for example companies like GOOG with a "shotgun approach" to innovations and new areas) that can be disrupted in a major way.
- continue to surprise customers whenever the product is ready. This implies complete secrecy and no announcements about Apple's R&D directions until the products and associated services are ready for sale.
These are the two key points: Cook stays the course, there is no change in strategy in 2014 - the same mantra was already outlined back in 1997 by Steve Jobs and again in 2013 by Tim Cook (see my longer quote from last year quoted above for details).
Most of Wall Street of course hates this strategy of secrecy and focus (what many critics call "cash hoarding"): There is no way to model in growth beyond current product lines as with most other big cap stocks.
For example, Apple could call a PR event in late 2014 or 2015 with a cryptic invitation (introducing a new product line like the iPhone or iPad) and all current analyst EPS and revenue estimates can be thrown out.
3. AAPL being secretive on the outside doesn't mean Apple R&D is in hibernation. It however depresses the current stock price because it usually takes many years between innovations and "outsiders" can't see what's going on inside Apple in between the splashy product introductions.
One final note of caution: Apple is so big now that the new product lines need to be in the billions to move the needle revenue- and EPS-wise:
Trying to predict what product segment is a game many play but few win.

"Apple needs something big to grow the top line by 10 per cent," says Adnaan Ahmad, analyst at Berenberg, in a recent note. "It needs to find $20bn in revenues from somewhere."
Summary: I'm modestly bullish given the status quo. I don't see AAPL going back or above its all-time highs around $700 BEFORE/UNTIL it introduces new product lines. But I see a high probability AAPL will enter new areas within the next 12-24 months given educated rumors and moves from AAPL (for details, see my earlier Instablog entries).
Even with limited upside in the short-term, Apple is a compelling stock given the high valuation of its peers and the entire stock market. (I'm out of most stocks since late 2013 because of inflated stock valuations.)
___________
* I won't discuss the latest quarterly numbers in detail, these have been discussed in many good articles already. If anything, the iPhone 5C sales have been disappointing a little. This was already expected after Apple cut some orders for the 5C last year. On the other hand iPhone ASPs and units shipped have held up due to strong(er) iPhone 5S sales - maybe Apple will increase the price delta between the two product lines going forward? A number summary can be found here for the quarter:
www.businessinsider.com/apple-q1-earning...-1
Last quarterly earnings for comparison:
www.businessinsider.com/apple-q4-earning...-10
The iPhone continues to be the key product revenue- and profit-wise. Wall Street seems to focus on that miss versus the overall EPS beat:
EPS: $14.50 versus $14.08 expected by sell-side analysts and $14.35 expected by buy-side analysts

iPhone units: 51 million versus 54.7 million expected by sell-side analysts and 56-57 million expected by buy-side analysts
Disclosure: I am long AAPL.
Additional disclosure: Position around $501-502 after sell-off on Jan 27, 2014
Seeking Alpha's Disclosure: Past performance is no guarantee of future results. No recommendation or advice is being given as to whether any investment is suitable for a particular investor. Any views or opinions expressed above may not reflect those of Seeking Alpha as a whole. Seeking Alpha is not a licensed securities dealer, broker or US investment adviser or investment bank. Our analysts are third party authors that include both professional investors and individual investors who may not be licensed or certified by any institute or regulatory body.