I already talked about this topic a few blog entries ago, so I just wanted to give a short update with two great (as always) graphics from Asymco.
One can see the hyper-growth in iPhones and iPads (back in 2011) and the start in the rapid decline of the iPod business around the same timeframe - the iPod has been in the red for about three years:

Below is the overall Apple revenue over time. One can again see the big influence of the iPhone and the iPad in recent years (iTunes' recent growth is certainly also related to the these two devices) in orange and purple: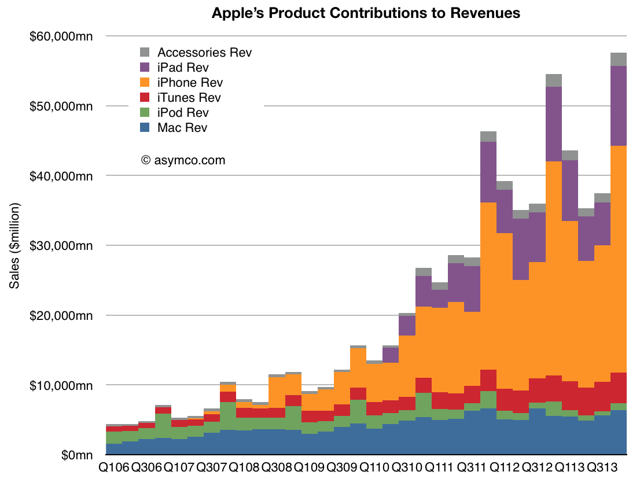 Source: www.asymco.com/2014/02/05/apples-growth-.../
Summary: A future product category (possibly replacing the aging iPod business*) will have to be very substantial to "move" the needle in revenue and in turn the Apple stock price - I estimate at least 5 to 10 billion USD, maybe even 20 billion of revenue per year.
Speaking of investment opportunities, these can be tied to smaller suppliers as well. One example in early 2014 is (GTAT) stock after the use of sapphire in future Apple hardware became clearer. Others include companies like SWIR, INVN and LQMT that I talked about in earlier Instablogs - please note these smaller companies and suppliers come with heavy volatility and risk (investing in a basket of them with small position sizes is probably a good idea).
__________
* Since Apple sometimes likes to reuse names and trademarks (e.g. iBook used to be laptop hardware and is now an app name for the book store), the terms "iPod" or could be possibly re-used for future wearable devices.
Disclosure: The author is long AAPL.
Additional disclosure: Long AAPL at $501 since Jan 2014