King is soon filing for an IPO. A revenue comparison to two other big mobile game companies: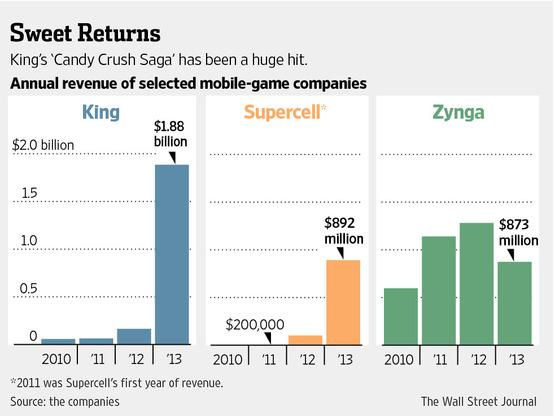 As the WSJ writes (and I also outlined in earlier blogs on the subject):
King will likely face investor questions about what differentiates it from Zynga, and how it can continue to match the fickle tastes of mobile gamers.

In its filing, King acknowledged "a small number of games currently generate a substantial majority of our revenue." Specifically, in the fourth quarter of 2013, its top three games-Candy Crush, "Pet Rescue Saga" and "Farm Heroes Saga"-accounted for 95% of its total gross bookings, it said. Candy Crush, in particular, accounted for 78% of its total gross bookings.
This revenue concentration and outlook is similar to the movie business - few products with huge hit/miss variances. No company has a secret sauce for the next hit (luck and timing involved) and only very few mobile games can be turned into long-lasting and easier-to-predict franchises (Angry Birds from Rovio is the exception to the rule in the space).
The valuations in the mobile gaming space continue to be very rich compared to "traditional" game console companies - KING valued at ZNGA revenue multiples would result in a market cap of close to $10 billion!
Hmmm.....I won't touch this on the long side.
Disclosure: I have no positions in any stocks mentioned, and no plans to initiate any positions within the next 72 hours.
Additional disclosure: I may go short ZNGA or KING in the future (not short-term) depending on valuation and outlook.