A leading executive from German auto supplier Bosch recently had the following to say about the future of the automobile:
Die Zukunft des Autofahrens: elektrisch, automatisiert, vernetzt

(The future of driving (cars): electric, automated and networked)
I mostly agree with the outlook in the long run - but not with the (quite optimistic) timeline outlined by Bosch detailed in the link.
With that said, it will interesting how the biggest car market in the world, China, will absorb these three developments as the country tries to move to "greener" (even that's debatable since much electricity in China is coming from dirty coal plants, I will leave it at that) transit.
I won't focus on "automated" driving as these developments are too far in the future in my opinion (2025 or later in many countries?) and only focus on electric and networked aspects:
1. Electric
Sales of EVs and PHEVs in China were dismal so far. Based on new regulations and incentives...
Chinese cities open up green car markets as government battles pollution

(..) But the cities last month said they would subsidize purchases of pure electric and plug-in hybrid cars from Chinese makers including Warren Buffett-backed BYD, SAIC Motor Corp and Anhui Jianghuai Automobile Group Co Ltd (JAC Motors).

Any sales rise will add to a population of 50,000 new energy vehicles "NEV" - defined in China as electric, plug-in hybrid and fuel cell - well short of a government target for half a million by 2015 and 5 million by 2020.

"This is the goal to strive toward, with the numerical targets putting pressure on car makers," said Luo Xing'an, secretary general of the Guangdong Automobile Association. "But there's no guarantee these targets will be met. The foundation of the industry is not yet solid."
...the Chinese local and central governments aim to boost sales for "NEVs" in the future.
In anticipation of subsidies and regulations many foreign car makers set up local JVs and created new car brands to appease the Chinese government (so far, only locally produced EVs and PHEVs get the full subsidies and incentives). Some NEV brand examples include:
Zinoro (Brilliance-BMW)
Denza (Mercedes-BYD)
Venucia (Nissan-Dongfeng)
Carely (FAW-Volkswagen)
...
In addition, NEVs from local Chinese companies such as aforementioned BYD now qualify for nationwide incentives.
BYD (on their own, outside the JV) just launched the best selling EV/PHEV in China according to their PR, their new Qin PHEV model: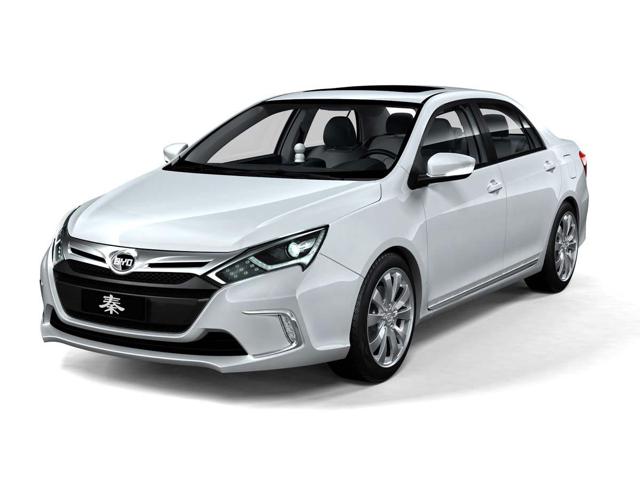 BYD's QIN is announced "China's Q1-2014 Best-Selling Electric Vehicle" and the Quarter is not even over

(...) the BYD QIN has been selling at record numbers, so much that BYD has had trouble meeting demand. In the first weeks of 2014, more than 6,000 vehicles were sold accounting for over half (50%) of the Chinese new-energy vehicle market. Analysts are not expecting sales to slow down any time soon as both Shanghai and Beijing announced earlier this month that they will now permit BYD new energy vehicles to qualify for local municipality green-vehicle incentives and be licensed in those regions.

Source: www.businesswire.com/news/home/201403200...;China's-Q1-2014-Best-Selling-Electric
Even so, more than 6000 units per quarter are a drop in the bucket compared to total car sales in China - over 20 million new cars are sold in China each year (please see the comment section at the end where I will add more detailed numbers and links about NEV and luxury car sales in China).
2. Networked
One important aspect of networked transportation and reducing the traffic in big Chinese cities is sharing cars instead of owning them. One Chinese company involved in the sector and listed on US markets is Kandi Technologies (NASDAQ:KNDI). I can however not recommend KNDI stock since there were repeated doubts about the company's numbers in the past. For details, please see...
Kandi Technologies: Weighing The Evidence
...with further links on the subject. Generally, the idea of car sharing networks with EVs in large metropolitan cars makes sense however and is by no means unique to China. French company Bollore is using the same model in big Western cities (available today in Paris, soon in London and US cities):
Parisian Bollore Electric Car Is Cheap; Requires Battery Rental Source: http://greencarreports.com/news/1082896_parisia...

and

Tycoon Vincent Bolloré to back London electric car hire scheme -
Scheme planned for 2015 will allow drivers to book electric cars for short journeys between parking points in the city
Coming back to China, these incentives and share networks will take a long time to implement.
The current problems include missing charging points - both (DC) fast-chargers and slow chargers for workplace/overnight charging.
China recently decided on adopting its own fast-charging (DC) standard called GB/T with yet another plug design from the globally dominant SAE Combo and Chademo designs. Below is an overview of the four DC plugs in use worldwide, the "Chinese" plug is System B: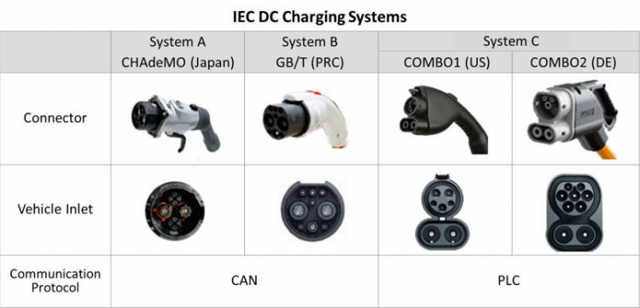 At least manufacturers now (2014) have certainty which systems are approved by regulation bodies worldwide (encourages investments).
But since the majority of drivers need to/want to charge their EVs at home or at work using slower AC connections many issues remain in China due to regulations and bureaucracy. Below is a report from an early EV adopter living in China:
However, installation of a charging pole on the permanent parking lot at his residential area took four months. The application procedure is extremely complicated, partly because demand is limited to a small number of individuals.

"First, I sent an application to the property management company, which discussed the matter for two months before finally giving approval. Then I applied to a power supply bureau and Shanghai Municipal Electric Power for the electricity supply and installation of an electricity meter. In the end, I submitted a construction plan to the property management company for approval and arranged the wiring layout myself," he said.

(...)

Most companies that manage parking lots and residential areas do not allow the installation of charging poles because of the amount of space required. Once, charging poles were installed in front of service centers and offices of power supply bureaus in Shanghai, but now they're only installed at the request of individual drivers, according to Li.
The above example was for a "lucky" person who at least had a permanent parking spot of his own. Most Chinese people living in big cities don't even have a personal parking spot and even fewer have a personal garage (very expensive in city centers) to conveniently charge their cars overnight.
Where does that leave current EV media darling Tesla, selling only high-end cars until at least 2017 (and without a local manufacturing base in China at the moment)?
The question is important because many TSLA bulls expect the company to sell many vehicles in China (and the Chinese market to become as big as/ bigger than the North America soon, as is the case with other car brands selling into China).
(Besides China, Japan and UK remain the only two untapped large car markets for TSLA in 2014)
Tesla will enter the Chinese market in 2014 with a slightly modified Model S (there was talk about improved rear sets because some buyers will have a driver in China, I couldn't confirm these modifications so far. It will also make sense to produce an adapter for the aforementioned GBT standard and plug system in China).
I remain skeptical for TSLA and other high-end EVs in China as I outlined above (general slow uptake of EVs/PHEVs in China) and in earlier comments. A summary:
Foreign high-end manufacturers have to add about 40% import taxes to their unit prices to Chinese imports, this immediately cancels out EV/PHEV incentives and rebates.
For example, a BMW i3 will cost close to $100k in China while the high-end Model S from TSLA will start at about $120k - even as TSLA promises not to price-gauge their customers in China.
More generally, market innovators and early entrants rarely stay on top as a market matures. EVs and PHEVs are still in infant stages today.
I see heavy competition in EVs and PHEVs and shrinking margins for TSLA and all other higher-end EV makers in a few years.
The listed joint-ventures in the mass-market in China (Zinoro, Denza, Venucia...*) are ready with EVs and standing by until more incentives or regulations are passed to increase production and sales efforts.
In particular, new so-called "fast followers" from within Asia in the mass car market around $15-30k (the car ASP is lower in Asia than in most other regions) could shake up the EV markets in a few years - one of them being BYD in China. Another example could be Samsung from Korea or other large battery suppliers forward-integrating and building their own EVs.
As I outlined in earlier articles, the exact timeline for EV adoption/uptake is still cloudy - there is a shortage of cheaper and readily available EV batteries, especially for cars with longer range (above 150-200 miles, in need of expensive, heavy battery packs).
Until battery prices come down, there will most probably only be a slow EV/PHEV uptake. There are only two accelerators:
Last but not least, China and the Chinese car market remains a wild card because of the
All risk scenarios could heavily influence future car sales in China.
PS: I will write another separate article on China's big potential credit bubble soon. Please also see my earlier entries on this important subject.
___________
* For upper middle-class and high-end models, foreign vendors will retain their "usual" international EV brands within China. For example, the Zinoro EVs (JV with BMW participation) models will be priced below the "international" BMW i3 and sold using different distribution and dealer networks (not using BMW dealers and branding).
** This scenario is possible due to heavy congestion. People need to win a lottery to get a license plate in many Chinese cities today, this could spur sales of low-end and mass-market EVs in China and hurt sales of mass-market ICE cars in the future. (EVs and PHEVs are exempted from most of these regulations and auctions). Picture examples of traffic jams in big Chinese cities say more than a thousand words: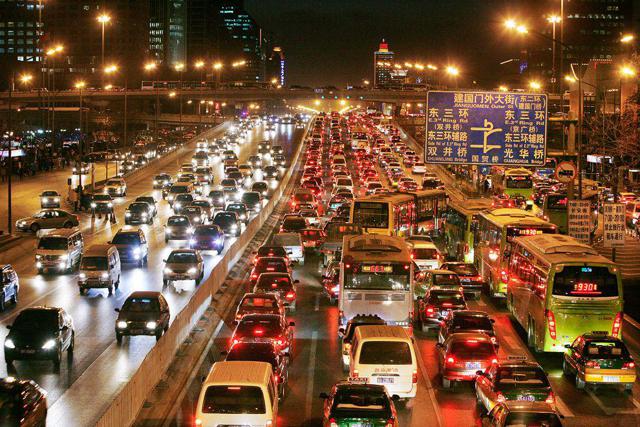 news.nationalgeographic.com/news/news/en.../
and
www.chinawhisper.com/10-china-cities-wit.../
However, the only "real" and long-term solution (since a rising middle class will not return to bicycles) for dense urban regions in countries like China in my view is a limit on cars in general:
Improved public mass-transport (efficient subways, a dense networks of local trains and EV buses; Japan implemented such infrastructure and mechanisms quite successfully in large urban regions, a possible model for other Asian countries)
Road tolls, road pricing and car license plate lotteries/auctions (China implemented some of these measures already, see links above)
Car sharing/car rental systems for personal transport needs (reducing car ownership per capita).
Disclosure: I am short TSLA.