While AAPL did some successful financial engineering in H1 2014 (dividend hike, buyback, share split etc.), the product innovation side will have to wait a little longer this year.
I have written about both the pending Apple TV box renewal and the "iWatch" project* back in 2013 extensively, so I will not repeat all the details here.**
Journalists with good access have likely confirmed that the new product launches will not take place this June already (when Apple's annual developer conference aka WWDC is held):
You Can Start Writing Those "But Where's Apple's Next Big Thing?" Posts Right Now

If you've been anticipating the debut of some new category-defining hardware at Apple's upcoming Worldwide Developers Conference, a word of advice: Dial back your expectations or be disappointed. Sources familiar with Apple's plans tell Code/red that Tim Cook will not use WWDC to unveil Apple's mythical wearable device. Nor will he use it to show off a new Apple TV, or even preview the new software the company is developing for it. Which makes perfect sense, really. There's little point in Apple unveiling a new OS in advance of a significant hardware update. As 9to5Mac's Mark Gurman reported Thursday, the big announcements at this year's WWDC are going to be OS X 10.10 and iOS 8 and, perhaps, the rumored Healthbook app, Apple's coming foray into health and fitness tracking.
(Recode.net is of course the new outlet where many former WSJ Digital/D journalists re-assembled, they have good sources.)
Key take-away from Recode: Dial back your (product) expectations until later in H2 2014 for AAPL.
The revenue potential and pricing of these two products obviously will be important for the stock - we will have to await the actual announcements.
Without new categories, Apple faces a cluster risk longer term because of the large iPhone slice in total revenue:
The iPhone makes up 50-60% (57% in most recent quarter) and the iPad about 20% (17% in most recent quarter) of total revenue.
AAPL is clearly about the iPad and iPhone today in terms of revenue, but it is not (yet) in a hurry to introduce new products.
The iPhone is still doing great, see the latest numbers - I wrote in earlier Instablogs that I see the iPhone family move about 45-60 million units each quarter over time (going into 2015 and later).
CEO Tim Cook reiterated several times that new product categories will indeed be launched later this year (H2 2014) - what we now learned is that they will be released towards the end of 2014.
This corrresponds well with the earlier schedule from well-sourced AAPL analysts KGI Securities (see chart below). H2 2014 could become very busy for Apple in terms of product renewals and new categories if the rough schedule holds up (KGI Securities had a good batting average with their AAPL product roadmaps in recent years):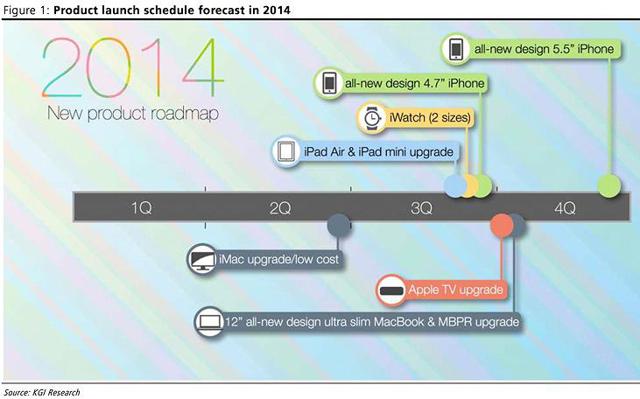 Summary: It remains to be seen how much revenue the two product categories (revamped Apple TV and iWatch/Wearable) can contribute later in 2014 and going into 2015.
Especially the pricing for the iWatch and related online services (possible tie-ins: Medical? Fitness? Mobile Payments?) will be paramount to gauge the influence on the AAPL share price and EPS.
Apple shareholders just need to remain patient for a few more months.
I'm still long AAPL and the stock is finally moving, short-term it may be stuck at $85-100 (post split), but I see a move above $100 in 2015 if Apple's new categories are as successful as earlier launches.
PS: The only detail that irks is that AAPL recently seems to swamp the markets with new products in H2 of each year while the H1 half is quite dry usually. Maybe it's just a coincidence since Cook took over...
_______
* Apple just got in a legal fight over the iWatch/iSwatch name with Swiss watch giant Swatch. In the end, another name could be used for the iWatch/Wearable project. (This is quite funny because the iWatch name and project obviously have not been confirmed officially and Apple used shell companies to protect the trademark...)
** If anything, the medical/fitness aspect of the rumored iWatch device have taken centerstage in the last months. Reuters just summarized once again the many hirings by Apple in the medical and fitness field:
Apple on medical tech hiring spree, a possible hint of iWatch plans
www.reuters.com/article/2014/05/05/us-ap...
(This Reuters article mostly repeats what the blog 9to5Mac said over many months, the research credit should go to 9to5Mac for most reporting...)
Disclosure: I am long AAPL.
Additional disclosure: Be patient adding to AAPl shares at the moment, I would not add to existing positions above $600 until new products are launched (I bought AAPL at $501 earlier this year).