Let's forget the GS Buy/Sell ratings columns for a moment in the chart below - the list itself is quite interesting although most companies aren't "pure plays" in the emerging "IoT" arena...
"where does Goldman Sachs see two rallying points in the new IoT revolution? Two big growth areas will be communications technology (meaning Wi-Fi, expanded cellular service, and so-called "fog" computing) and hardware (sensors, connectivity devices, and microcontrollers).

In these areas, Goldman Sachs sees the following 17 communication technology/chipmaker stocks as "best positioned" to cash in on the coming revolution:"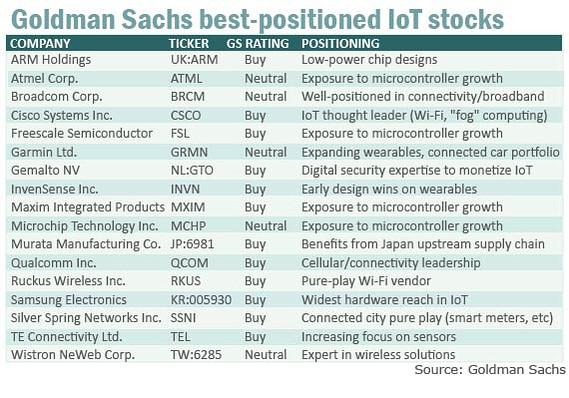 ( Source: blogs.marketwatch.com/thetell/2014/06/26.../ )
I would maybe add NXPI, STM and SWIR to the list from GS (for a grand total of 20 companies).
Would I simply buy into these stocks? Certainly not, especially since most of them trade at elevated valuations at the moment, but this list can be a good starting point for investments into this emerging sector.
PS: I expect quite some hoopla (and valuation bubbles in suppliers) when Apple finally launches its rumored iWatch device later this year.
Disclosure: The author is long INVN.