A few years ago (2011-2012), I recommended buying a car company stock starting with the letter "T". Of course most people who I played this little riddle with were thinking I was referring to cult stock Tesla - but it was about Tata Motors.
Tata Motors peaked in early 2015 and I have long sold out of the stock (believe it or not, I was also long Tesla back when it was trading in the $20-30 range and then sold out after the stock had doubled and tripled, the valuation simply didn't make sense to me at $75-90 and especially above $100).
It's time for another car gem: I think Mazda is another under-rated Japanese car maker with an interesting portfolio and a recent EBIT close to 8% (almost matching sector giant Daimler in 2014 !).
Mazda may not have that much room to run valuation-wise, but it's still a very interesting company:
Without getting too technical, Mazda has some interesting approach for future PHEVs to meet CAFE standards and other new regulations:
1) Skyactiv ICE technologies en.m.wikipedia.org/wiki/SkyActiv
2) Wankel/PHEV combinations http://aol.it/1gdLZel
I think the Wankel engine is ideal for PHEVs (only Audi used this approach in PHEV trials besides Mazda, which amazes me to this day). I hope Mazda will put these cars in production one day.
More generally:
- Mazda is really innovative (also in design language in recent years) despite relatively small output globally (see for numbers: www.mazda.com/en/about/profile/results/ )
- As mentioned above, Mazda also had one of the best EBIT margins next to Subaru (Fuji Heavy) among Japanese car makers in recent years.
- Mazda still makes most of its cars in Japan (although the number of overseas cars is rising), a weaker JPY helps Mazda more than its larger domestic rivals.
- Mazda already scores well in average emissions thanks to their SKYACTIV (and soon SKYACTIV2) technology: http://bit.ly/1gdLZen
A stock to put on the watch list in the car/transportation sector!
As a final general caveat, the big cloud on the car sector is weakening demand in Asia/Greater China in 2015 and beyond.
The exposure among car makers can vary quite a bit as we can see from Mazda's bigger rivals: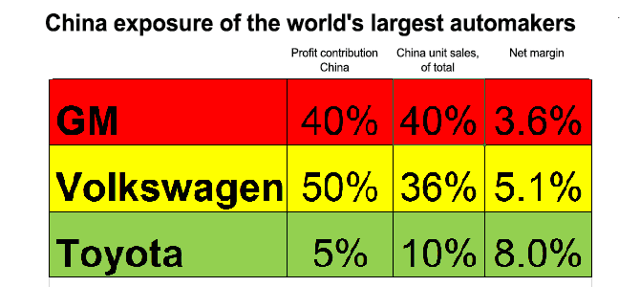 Source: dailykanban.com/2015/08/1-second-analysi.../
( China was Mazda's 4th-largest market in 2014, behind Europe, Japan and the United States, see their IR page for more details ).
Disclosure: I/we have no positions in any stocks mentioned, but may initiate a long position in MZDAY over the next 72 hours.