I will try to keep this one short because so much has been and will be written on the topic.
Just three simple observations.
1. Markets Hate Uncertainty in General - And Trade Wars In Particular
There are numerous areas where Trump's policies will benefit publicly traded business (for example, corporate tax reform and a lower repatriation tax - maybe even a one-time free repatriation).
You have seen the jumps in both (large) infrastructure and finance names immediately after his victory. I won't need to repeat this.
Other aspects are more problematic - starting with general uncertainty. Trump often looks very unpredictable (even most of his ardent supporters will admit to that) and markets hate uncertainty.
The markets have digested Trump's "temper tantrum" tweets very calmly so far. The VIX and other volatility instruments are near record lows. We will see if this continues when it is about firm actions and policies being implemented - and not just tweets and rhetorics.
Let's pick a concrete example: Trade, especially (increasing) trade barriers and trade frictions.
Here's a good article on these specific issues likely increasing under Trump:
Trump is more of an improvisational thinker than a systematic one. He doesn't want to shift American policy in a way that aids companies that compete with foreign exporters - he wants to negotiate new, better trade deals.

Anthony Scaramucci, a Wall Street guy who's been trying to become a political player for years and has been tapped for a job in the Trump White House, said in Switzerland this week that America could wage a trade war and win. He said the US-China relationship is asymmetrical, with China depending more on the American market than we do theirs.

In his hearing, Ross said that Trump would use the threat of tariffs to force foreign countries to open their markets more to American exporters.

This sort of thing has been tried in small ways by previous administrations, usually only to be met with retaliation and an eventual mutual climbdown. That's good reason to doubt that going big on coercive trade strategies will create the results Trump is hoping for. But the only way to really know is to try. And Trump seems dead set on trying.
I'm pretty sure many stock holders in large-cap companies (or even the company execs themselves) with lots of ties in/out of China or with other important US trade partners are still discounting these dangers as of January 2017.
Take for example Apple, one of most prominent targets (besides the large US car companies) to get singled out by Trump. See for details and some number estimates for AAPL x Trump e.g. here.
2. Trump Can't Beat (Long In The Tooth) Stock Market and Economic Cycles
Obama's eight years as president coincided with an amazing stock market run (at least if you look at US stocks only) - of course "thanks" to a financial crisis in 2008, a severe worldwide recession followed by ultra-low interest rates and even ZIRP / NIRP measures by the FED and other important central banks.
The result of these policy measures (which I'm very critical about, see my other Instablog entries) was a re-run similar to the 1993 to early 2001 index development: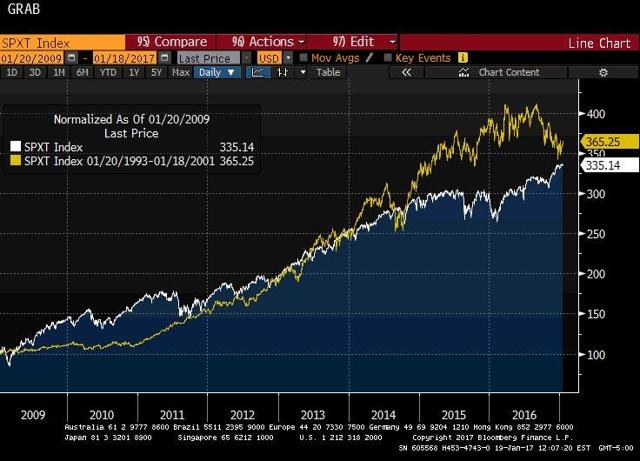 Trump will inherit a "long in the tooth" bull market by all historic standards.
Donald Trump could well preside over a final "blow-off" bull run for another one or two years - but the resulting crisis will be even more severe.
Why is that so? Today's market gains are no longer fueled by increased earnings but rather expanding multiples over many quarters: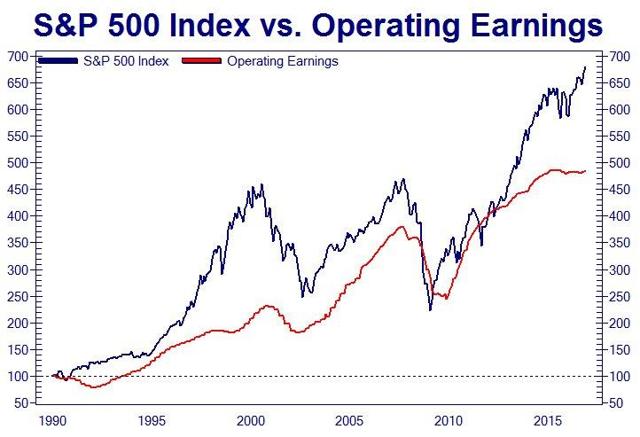 This brings me to the final point...
3. The Market Is Mostly Expanding Multiples - Actual Earnings Don't Keep Up
It doesn't take a stock market genius to realize how dangerous this stretch becomes in 2017 and coming years if the bull run accelerates into a last mile - especially if we get a re-run of a 1998-2000 style "blow off" / mania.
Valuations are already stretched as of 2016 and early 2017.
Have a look at two simple graphs.
First, the (ex-financials) Debt/EBITDA ratio of the S&P 500: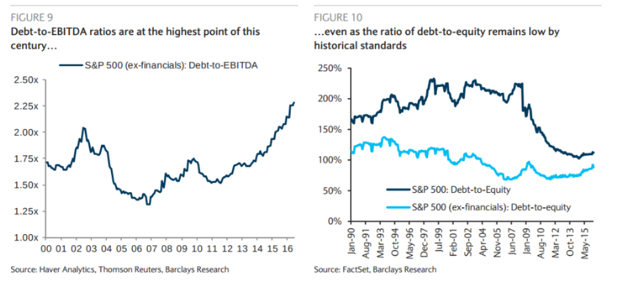 ( Keep in mind that this chart is from mid-2016: www.zerohedge.com/news/2016-08-04/debt-e... )
Second, the S&P 500 Price / EBITDA graph. Look at the ratio today (yes, it's already higher than at the peak about about 17 years ago!)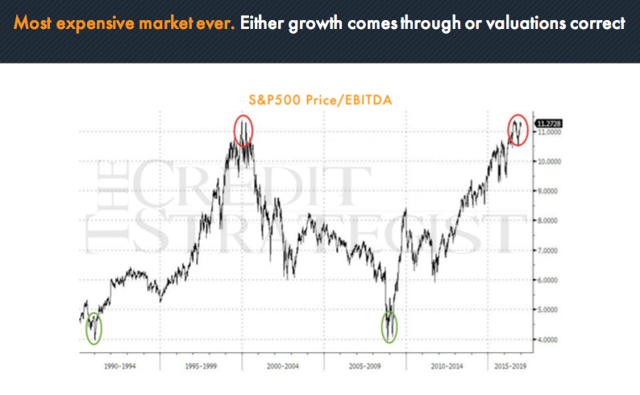 ( Source: www.businessinsider.com/15-killer-charts... )
You will also notice the eerie 1993-2001 vs 2009-2017 parallels.
Looking at historic durations of (US) bull markets we are in a very long cycle already as of early 2017.
Now I won't say history repeats itself but I will repeat the old saying:
History doesn't repeat itself, but it does rhyme.
Which means be extra careful on the long-side going into 2017-2018 and keeping stops and trailing stops in place - or adding them, it's never too late in an up-market, but it will be in a down market!
(Remember that it's usually "stairs up, evelator down" in stock markets - you can lose gains acculumated over years within weeks).
Disclosure: I/we have no positions in any stocks mentioned, and no plans to initiate any positions within the next 72 hours.
Additional disclosure: I am long and short different market instruments for both myself and clients. Too long to list them all. Please see stock-specific blog entries where I always list disclosures on specific names I discuss.