A perspective for $TSLA perma-bulls and all other auto start-up dreamers about "disruption" in the car sector.
It takes a long time to show up with a big rectangle on that list: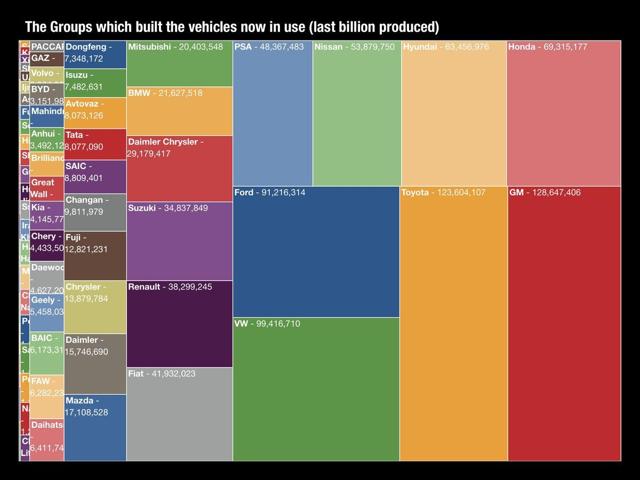 Source: twitter.com/asymco/status/824631894549688320
(Once again, Horace Dediu of Asymco does an amazing job of visualizing data, some readers may be familiar with his work on Apple data, I refer to his blog and podcasts for more details...)
Tesla is now a public company for over 5 years, it has increased capital again and again since 2011 - yet it's still nowhere to be seen on the chart above. It will take another decade or so before Tesla shows up with even a small rectangle on the chart above - the same applies to all other EV start-ups such as Lucid, FF and many others (if they even make it until 2020. FF for example could collapse within a few months without a fresh capital injection in the billions...)
As I outlined in many of my earlier Instablog entries here on SA it's simply impossible to "disrupt" (the buzzword so popular in Silicon Valley for other sectors) the car market in a few years - significant marketshare shifts in the automotive sector take decades.
Many people simply forget that cars have very slow replacement cycles - the average replacement cycle for cars is about 10 years (even in countries with a lot of purchasing power):
Average age of U.S. car, light truck on road hits record 11.4 years, Polk says (2013)
That's the demand side. The same is true for supplies. It takes billions to set up a modern car factory in each region (Asia, North Ameria and Europe). Manufacturing cars is hard, most large car makers still have trouble benchmarking the leader in the space, Toyota. And while the rest of the industry tries to catch up Toyota experiments with some puzzling (at least at first sight) new innovations - less automation, smaller plants.
Finally: If car sharing networks ("Transport as a service", coupled with fully autonomous cars) gain significant marketshare in the coming decades car ownership ratios in many developed countries could be reduced considerably in the future.
Disclosure: I am/we are short TSLA.
Additional disclosure: I have also been long Tata and Renault in the past years.