I guess everybody remembers the naked stats from August 2018, this cycle is now the longest bull market (for US stock markets at least) - 114 months and counting: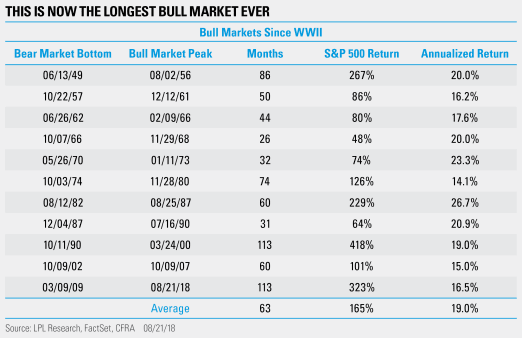 Add to that the simple price to earnings over longer periods of time - the Shiller P/E (in this chart measured using the broad S&P 500 index) is at historic highs. It is even at all-time highs if we dismiss the dotcom anomaly of the late 1990s: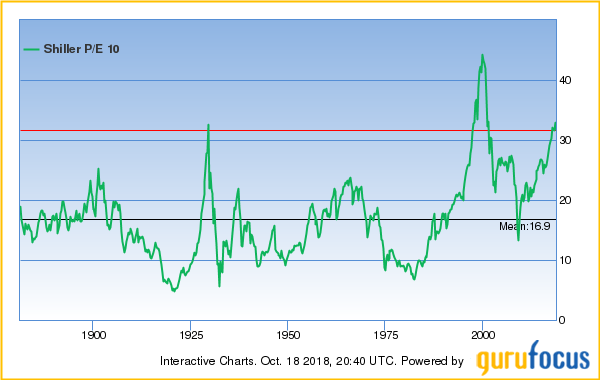 (The historic peak in the 1920s was in 1929 aka 'Black Tuesday' in stock market history.)
Do two simple historic analogies tell us the current bull cycle is over? It's never that simple - history doesn't repeat, but it rhymes.
I have been warning for months that the current bull cycle (started in early March 2009) was getting long in the tooth and sold most of my long positions.
Many assets were in a bubble and were being held up or even fueled by ongoing ZIRP and NIRP policies from major central banks - that included central banks buying into securities and ETFs (what was once proposed as an emergency measure during the last crisis became the new normal) as we all know. This madness (imho) will have consequences one day:
https://www.ft.com/content/34bf4d1e-a787-11e8-926a-7342fe5e173f
What is my reaction to all this as of early October 2018? I have seen enough for now. Too many macro and interest rate risks looming out there in my opinion (not just the prominent headlines of US-China trade wars...).
The consequences? I have gone one step further this month: I have sold all my long positions in stocks (not just US, but all other countries too. The only exception are some stocks in Asia, mostly small caps, where I hold minor positions in a separate account, play money only).
Maybe I'm wrong (or rather early, because cycles do end one day). Predictions and timings never are an exact science. I'm rather out early than late and being sorry, because the downward moves in stock markets tend to occur a lot faster ("stairs up, elevator down" is the old saying in the stock market).
If I'm wrong (early) then we are just see some 'usual' October turbulences followed by a nice end of the year rally and a smoother 2019 - but I simply can't justify the risk-reward ratio any longer as of late Q3 / early Q4 2018 with a Shiller P/E ratio above 30 - and that's with already having reduced my long exposure in stocks since 2015-2016 in stocks across all regions and sectors.
Back to cash in stable currencies and a few minor (single-digits compared to cash) holdings in precious metals. Like a turtle in a shell.
I will update on my Twitter feed and here if I change my opinion and re-enter the market with long positions.
Disclosure: I/we have no positions in any stocks mentioned, and no plans to initiate any positions within the next 72 hours.
Additional disclosure: I continue to hold various short / bearish positions (mostly single stock picks so far, I may start to short indices or other instruments over the coming months depending on the market outlook).