Space, The New (Ultimate?) SPAC Frontier
Please Note: Blog posts are not selected, edited or screened by Seeking Alpha editors.
Tech, Long/Short Equity, Growth At A Reasonable Price, Value
Seeking Alpha Analyst Since 2012
Tales From The Future (TFTF). I picked my nickname because many advisors and investors claim they can predict the future of the (stock) markets and precisely pick the winners with almost absolute certainty. I don't.
I usually do not engage in short-term trading and myopic analysis (quarter by quarter, without looking at the big picture). I like to work with long-term scenarios. My focus is on possible disruptions and growth opportunities in (consumer) technology and related sectors. I also look into value and contrarian ideas as well as emerging technologies, growth stocks worldwide, both on the long and short side as well as the influence of monetary policy on markets.
I am fiercely independent in my investment research. That's why the avatar image of a lone Ninja hopefully fits. Independence guided my investment principles for the past 20+ years:

Pick your targets with patience. Do your OWN diligence.
Never follow the herd blindly: 'Men, it has been well said, think in herds; it will be seen that they go mad in herds, while they only recover their senses slowly, and one by one.'
General Sector Focus: Technology/Internet, Value, Disruptors, Energy/Alt Energy, Entertainment Stocks and Monetary Policy/Geopolitics. Geographical Focus: USA, Western Europe, Japan.
PS: I speak various languages but I am not a native English speaker. I apologize in advance for any typos and grammatical errors.

Summary
As I wrote in my OneWeb blog entry: Space Travel & Space Internet may well become the next bubble frontier (once we pass the current SPAC valuation bubble in EVs).
There are virtually no EV companies (even including related sectors like battery and charging supplies/networks) left for a SPAC. Even "zombies" like Faraday Future managed to catch a SPAC lifeboat.
Space may be the ultimate (last?) target for SPAC hopefuls before the bubble bursts and people come to their senses.
Pending entries: $RKLB, $SPIR,$BKSY,$ASTR,$MNTS, $ASTS. Not to forget the "classic" $SPCE (Virgin Galactic, public since 2019).
This website maintains a current list of SPACs from A to Z - including those still in pre-IPO stages.
While the SPAC bubble is everywhere...
- Renewable Energy and other companies with ESG-stickers (ex electric vehicles, the bottom of the barrel seems to be reached there already; even zombie companies and others with ZERO revenue for many years to come managed to become a SPAC target - Faraday Future is a prime example)
- Consumer Technology and Entertainment
- Tech in general (from AI to IoT, add your favorite abbreviation)
one sector, in particular, could become the ultimate indicator of how out of touch with reality many company valuations got recently: Space.
Not in absolute numbers of SPACs going public, but in terms of the most absurd valuations across all sectors.
Space has many factors that will attract easy (not to say dumb) retail money to float a SPAC shell publicly:
- Long lead times. As in the pharma sector with its various trial stages, a new entrant can appear to be working on something for many years. These are easy excuses for setbacks and more testing/funding rounds.
- Glamor factor. Space has become the new frontier for billionaires. Owning a big sports club, a mega-yacht, or buying a private island is somewhat boring in the 21st century. From Microsoft co-founder Allen (RIP) to the likes of Bezos, Musk, and Branson, ventures into space are the latest playgrounds.
- Unlimited market size assumptions. Infinite space literally makes everything possible for story-tellers. Tesla CEO Elon Musk is again a prime example with his grandiose assumptions about Space Internet to Space Travel. Large colonies on Mars in particular are his favorite goal:
"We're establishing cargo flights to Mars that people can count on," he said in June 2016. "The Earth-Mars orbital rendezvous is only every 26 months, so there'll be one in 2018; there will be another one in 2020. And I think if things go according to plan, we should be able to launch people probably in 2024 with the arrival in 2025."

Musk reiterated this timeline in 2017, though he did not meet his timeline to send a cargo flight to Mars in 2018.

(Source)
He still maintains the 2024 timeline to send humans to Mars, now hedging with 2026 (as of December 2020):
Musk's "other" company, SpaceX, isn't public yet, but that may change one day if he decides to unite it with Tesla in a holding company (or at least float the Internet unit "Starlink" publicly. I discussed Space Internet using a Starlink vs OneWeb comparison in an earlier blog entry in more detail.)
Other space entrants are already public, namely Virgin Galactic (SPCE) and - soon - Rocketlab (RKLB). Both used SPAC shells.
It will be interesting to watch their valuations since many governments help cross-subsidize space activities due to (national) security concerns.
OneWeb's "rescue" out of Chapter11 in 2020 was successful in part due to the Brexit vote and UK's subsequent need of a substitute for the (EU-backed) Galileo tracking system: UK industry bids farewell to EU's Galileo system.
In comes OneWeb to provide a tracking alternative:
The Chapter 11 bankruptcy process in America wiped out OneWeb's existing debts, and although Bharti Global and the UK government pumped in a combined one billion dollars, there is still roughly $1.4bn-$1.5bn of funding outstanding.

(Source)
India, Russia, China, Japan, the EU, and the U.S. will all continue to use taxpayer funds for military and other space purposes in nationally controlled entities; the role for private space companies, therefore, remains very limited (or at least confined to one government partner, nobody likes to work with a company that also partners with a geostrategic rival). Many large aero companies have been attached to these governments for decades. They will fight tooth and nail for future security-related defense and military contracts with new entrants. An example chart for the U.S. comparing the "old" to the "new" guard: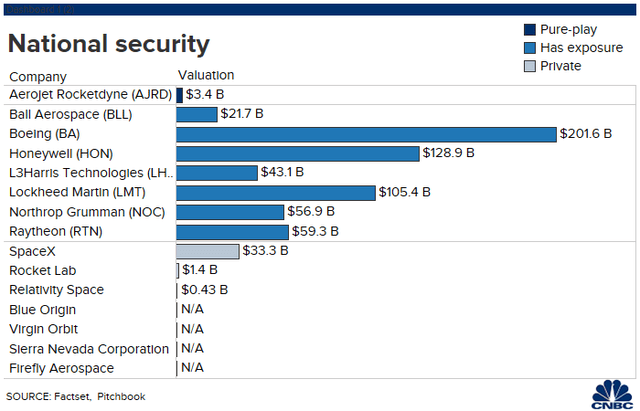 (Source, I already linked to that article in my Starlink vs OneWeb blog entry).
There for sure is a market (private satellite launches, ultimately space travel for high-net worth travelers) for these "new" entrants, but that market is fairly limited with more and more launch supply; some even talk about a large supply glut on the horizon:
Rough Landing Expected for the Glut of New Small-Rocket Makers

Increased use of compact satellites by companies and military isn't seen supporting the current number of smaller launchers
We will therefore see and more absurd attempts to grab attention and (easy) money, the latest example that caught my eye:
Conclusion: Space-related IPOs and related Space SPACs are a good canary in the asteroid mine how crazy valuations have become and how much more easy (dumb?) money is out there.
This Twitter account compiled a good list of present and upcoming Space SPACs (valid as of early March 2021). I already mentioned two of those companies (Rocketlab and Virgin Galactic):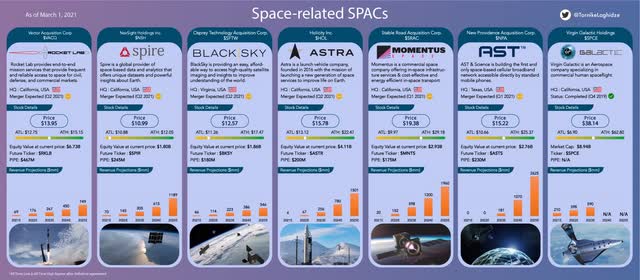 (Source, simply click on the image above to read the text in full size)
As with the potential standout Quantumscape in the battery field (ticker: $QS, see my detailed critical discussion in an earlier blog entry) there is at least one candidate with very unique technology and applications - if it can be made to work as promised (same question with Quantumscape's solid-state tech):
SpaceMobile will be the first space-based mobile network to connect directly to 4G and 5G smartphones without any need for specialized hardware.

AST SpaceMobile, in partnership with Vodafone Group, today unveiled plans to launch the first phase of its space-based commercial mobile communications service in 2023. The company has secured the necessary funding to take the venture to this next stage, which will cover the 49 largest countries in the equatorial regions.

(Source, emphasis in bold mine)
This approach (at least on paper) sounds more promising than dishes and other proprietary equipment to make broadband Internet from Space work - and what rivals like Starlink from SpaceX and all other satellite networks so far require(d).
We will see about the valuation of Space Mobile from AST & Science, upcoming $ASTS (SPAC sponsor ticker $NPA) and the commercial launch projection of 2023.
As always: Caveat emptor.
Analyst's Disclosure: I/we have no positions in any stocks mentioned, and no plans to initiate any positions within the next 72 hours.
I have not looked into Rocketlab's financials in detail and therefore don't want to put a "bubble" label on that company. It just happens to be a SPAC and in that sector. The same applies to all future tickers mentioned, such as $ASTS.
Seeking Alpha's Disclosure: Past performance is no guarantee of future results. No recommendation or advice is being given as to whether any investment is suitable for a particular investor. Any views or opinions expressed above may not reflect those of Seeking Alpha as a whole. Seeking Alpha is not a licensed securities dealer, broker or US investment adviser or investment bank. Our analysts are third party authors that include both professional investors and individual investors who may not be licensed or certified by any institute or regulatory body.