Summary:
1. Economic Data
2. Market Data
3. Corporate Earnings
4. Sentiment Indicators
Chicago Fed National Activity Index (CFNAI)
Led by declines in production-related indicators, the Chicago Fed National Activity Index (CFNAI) fell to -0.51 in May from +0.05 in April. All four broad categories of indicators that make up the index decreased from April, and all four categories made negative contributions to the index in May.
The index's three-month moving average, CFNAI-MA3, decreased to -0.36 in May from -0.25 in April. May's CFNAI-MA3 suggests that growth in national economic activity was somewhat below its historical trend. The economic growth reflected in this level of the CFNAI-MA3 suggests subdued inflationary pressure from economic activity over the coming year.
The CFNAI Diffusion Index, which is also a three-month moving average, moved down to -0.30 in May from -0.23 in April. Twenty-eight of the 85 individual indicators made positive contributions to the CFNAI in May, while 57 made negative contributions.
Twenty-eight indicators improved from April to May, while 56 indicators deteriorated and one was unchanged. Of the indicators that improved, 12 made negative contributions.
National Financial Conditions Index (AFCI) (NFCI)
Detrended Credit-to-GDP Ratio
The Non-Financial Leverage Sub-Index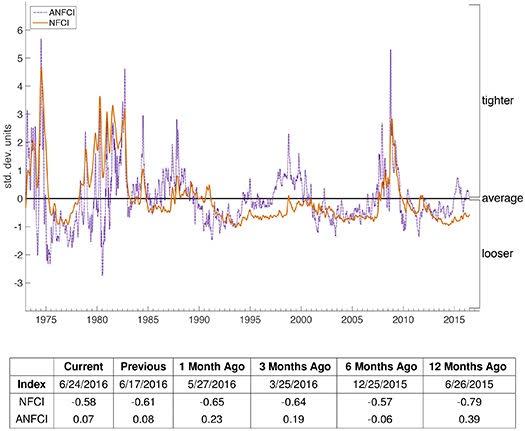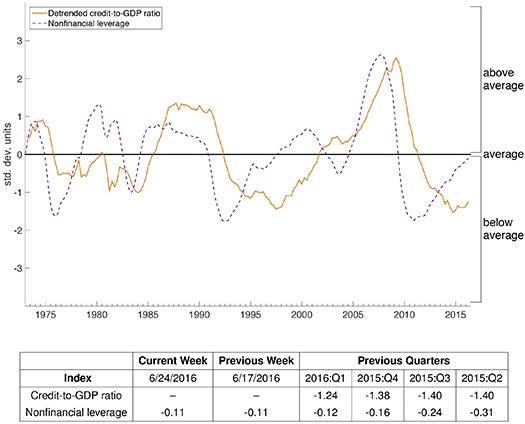 Labor Market Conditions Index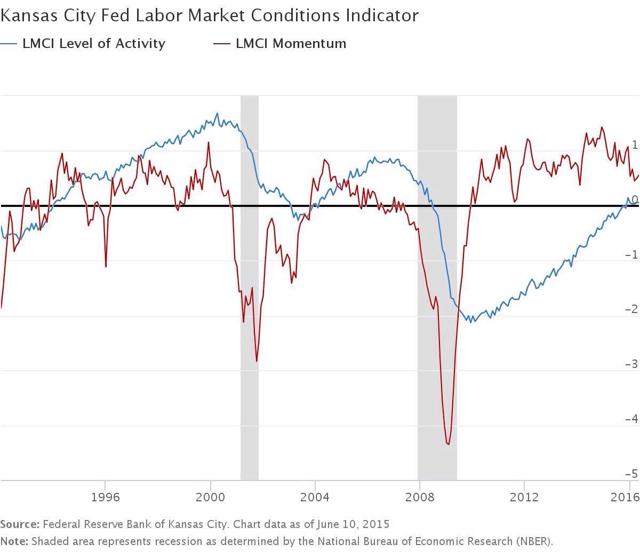 Total U-6 Unemployment, May 2016: 9.7 Updated: June 3, 2016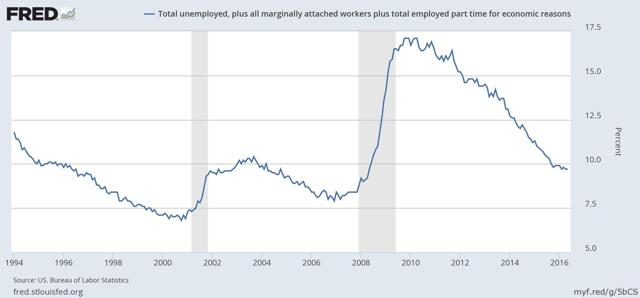 Personal Consumption Expenditure Index Core - May 2016 0.2 Updated: June 29, 2016.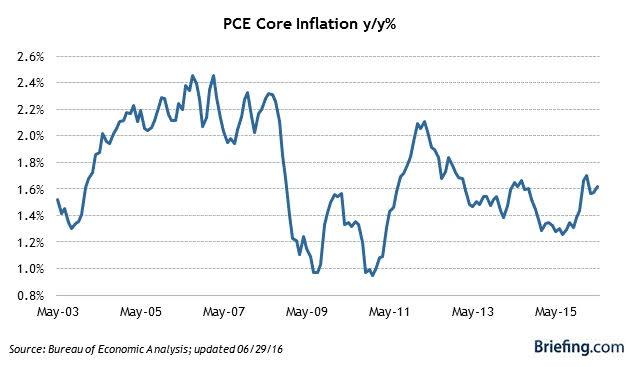 Corporate Profits - Released On 06/28/2016 8:30:00 AM Q1:16
Highlights
Corporate profits sank in the first quarter, revised to minus 2.3 percent year-on-year vs the initial estimate of minus 3.6 percent. Profits are after tax without inventory valuation or capital consumption adjustments.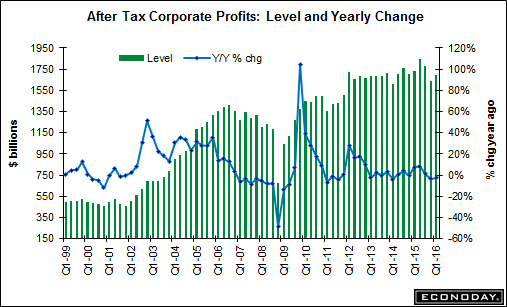 Definition:
Corporate profits, as reported by the Bureau of Economic Analysis (BEA), are summarized briefly as the income of organizations treated as corporations in the national income and product accounts. The BEA reports several measures of profits. Profits from current production (corporate profits with inventory valuation and capital consumption adjustment), are also known as operating or "economic" profits. Capital consumption adjustment deals with the differences in depreciation= allowances used for accounting and income tax purposes. Inventory valuation adjustment (IVA) deals with the difference in measuring the cost of inventory replacement. Book profits amount to operating profits subtracting out inventory valuation and capital consumption adjustments.
After tax profits are book profits after taxes are subtracted. The Econoday reports focus on after tax profits reported by the BEA, since these are the most relevant.
Market Valuation - The total market valuation is measured by the ratio of Total Market Cap./GDP. As of 2016-07-02 (updates daily):
The Stock Market is Significantly Overvalued. Based on historical ratio of total market cap. over GDP (currently at 119.3%), it is likely to return 0.04% a year from this level of valuation, including dividends.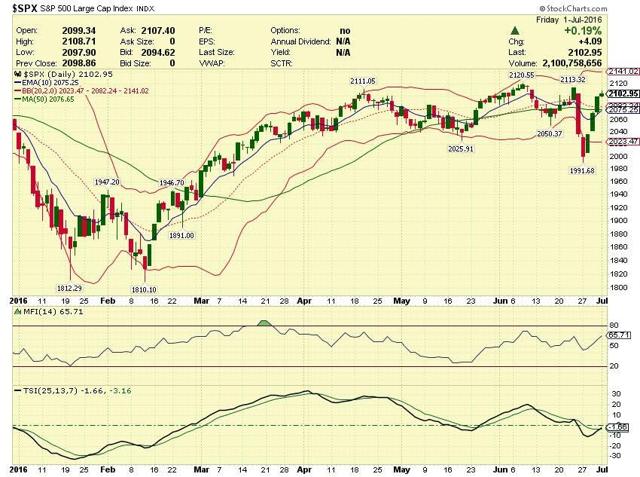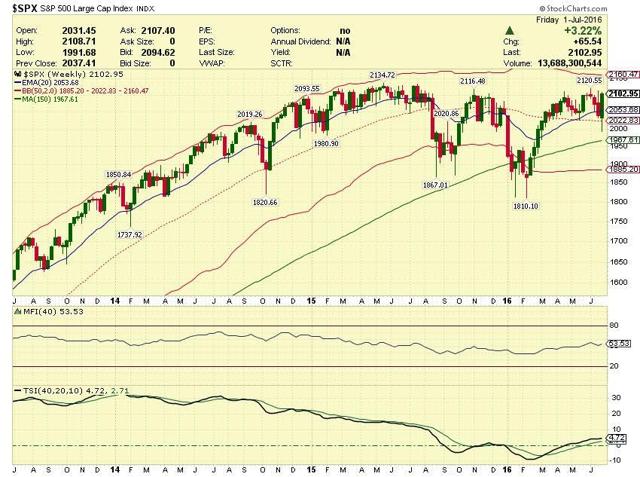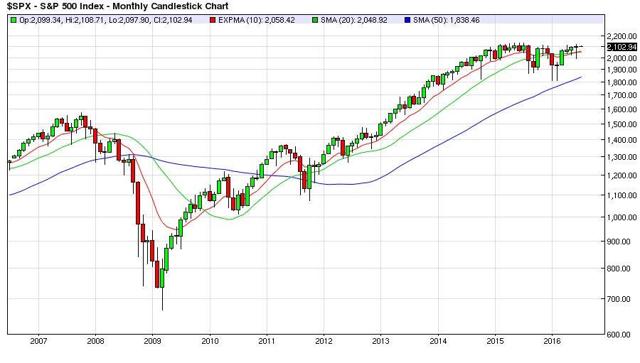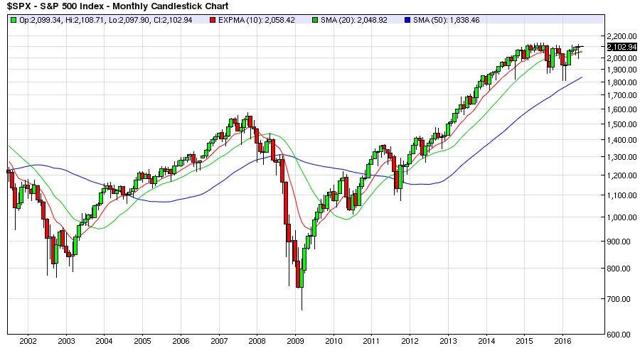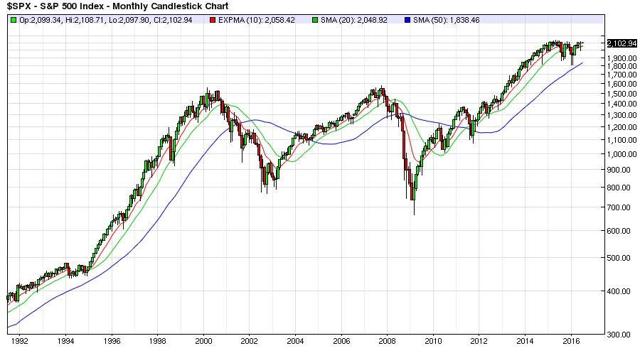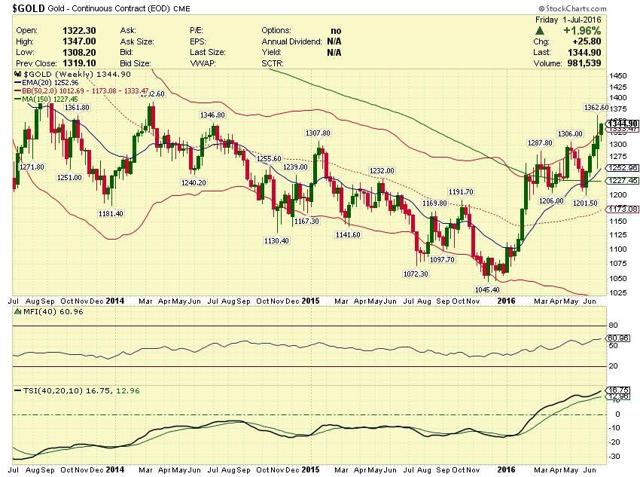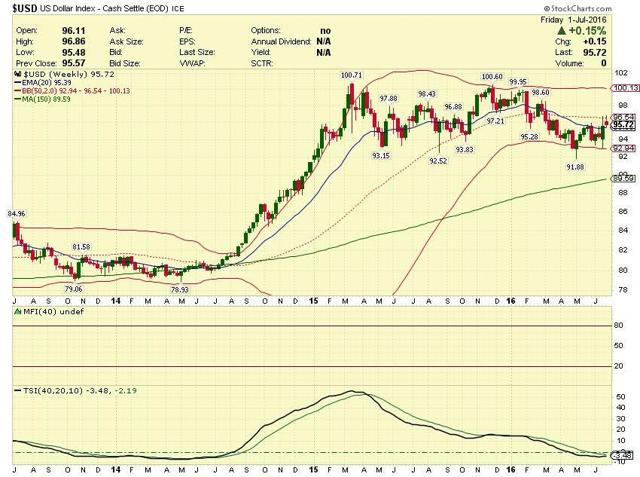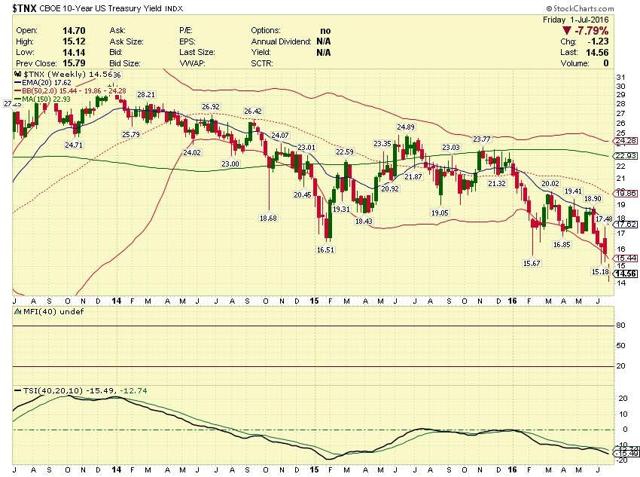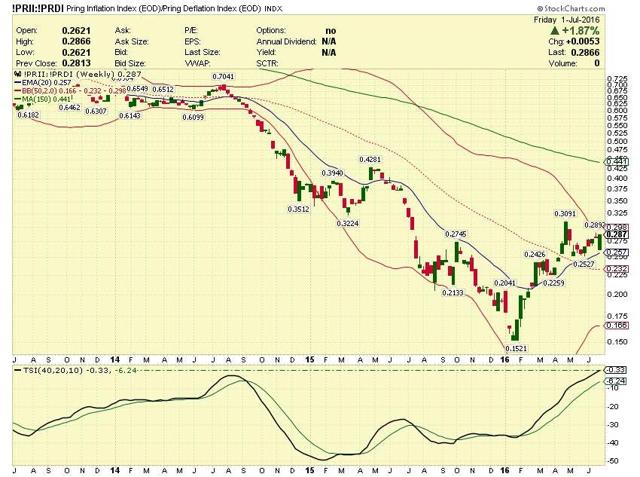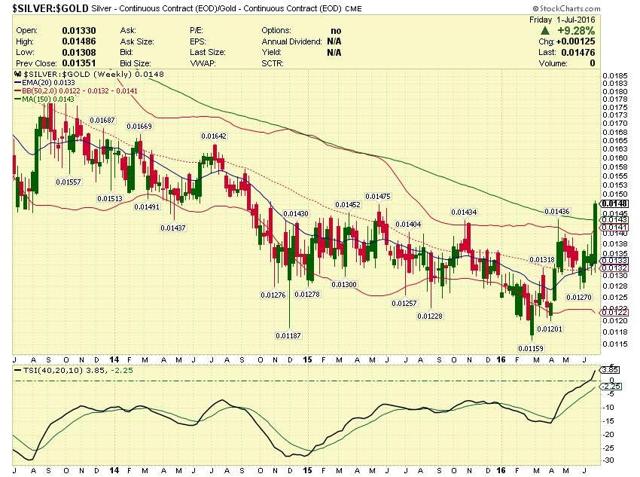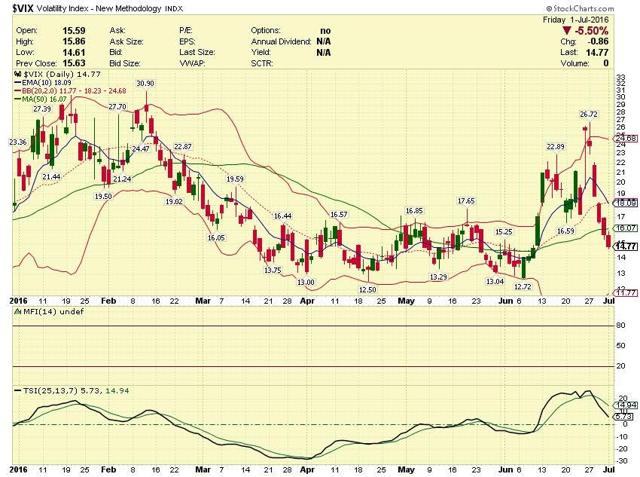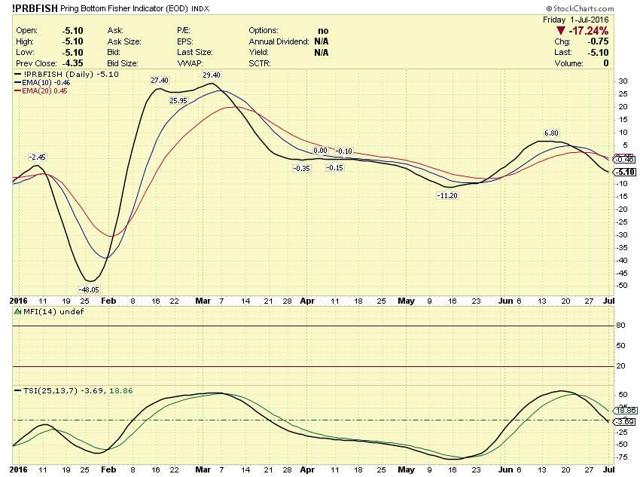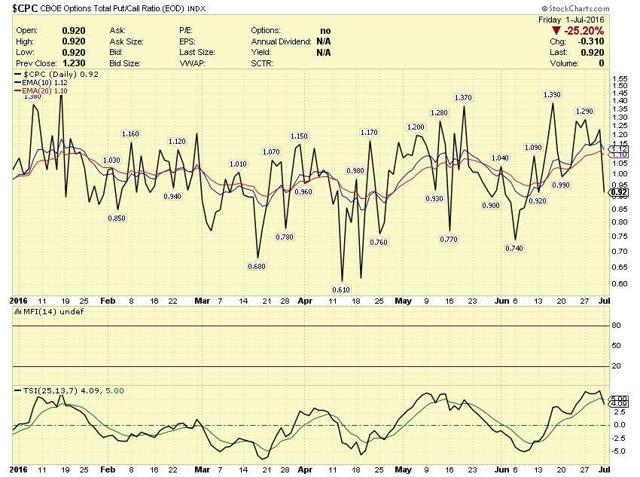 STOCKS ABOVE THEIR MOVING AVERAGES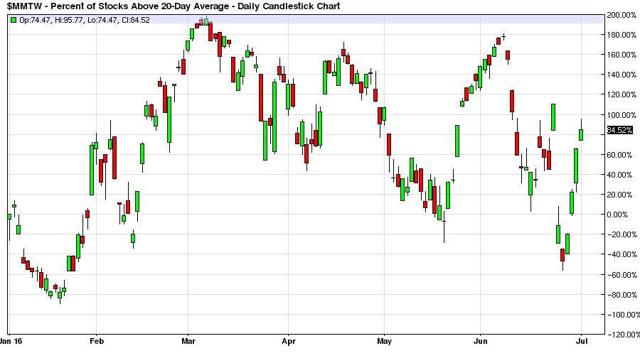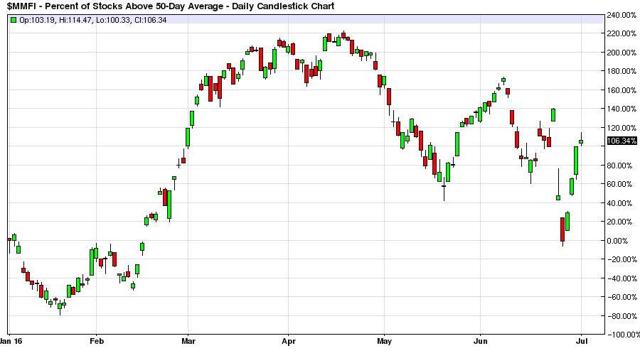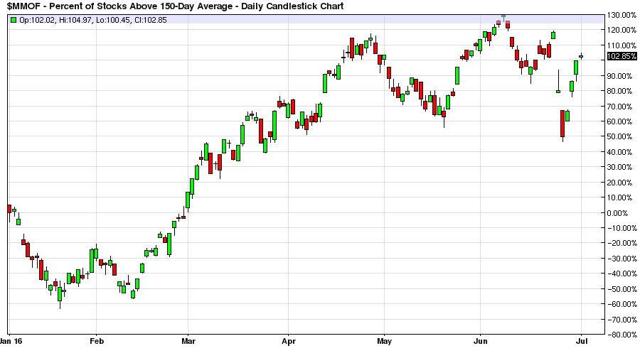 The Conference Board Consumer Confidence Index
Recent History Of This Indicator:
The Conference Board's consumer confidence fell back in May forecasters see a rebound for June, at a consensus 93.3 vs May's 92.6 May's report was a disappointment but did include some positives including modes improvement in income expectations and a rise in buying plans for homes. This report has not been signaling the same level of recent strength as the consumer sentiment index which is near recovery highs.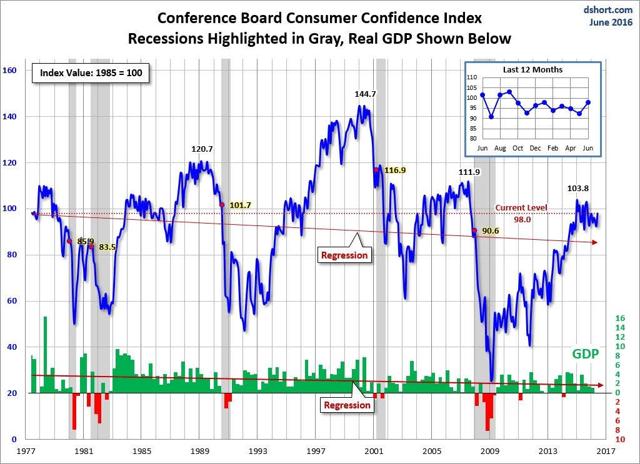 Definition:
The Conference Board compiles a survey of consumer attitudes on the economy. The headline Consumer Confidence Index is based on consumers' perceptions of current business and employment conditions, as well as their expectations for six months hence regarding business conditions, employment, and income. Three thousand households across the country are surveyed each month. In general, while the level of consumer confidence is associated with consumer spending, two do not move in tandem each and every month.
The State Street Investors Confidence Index
The State Street Investor Confidence Index fell 0.1 points to 105.9 in June from a downwardly revised May reading of 106. The State Street Index reflects positions on the books on June 22 and thus does not account for the post-Brexit market reaction, in which major outflows from equity markets took place that point to much lower index readings at the present time. Though still confident on balance, North American institutional investors became more cautious in June even prior to the Brexit vote, with the regional index dropping 2 point to 105.9, while European and Asian institutional investors increased the percentage of their equity holdings judging from the index, which rose 3.5 points to the plus equity side at 100.3 for Europe and 2.0 points to 113.4 for Asia, the most confident region in June.
Definition:
The State Street Investor Confidence Index measures confidence by looking at actual levels of risk in investment portfolios. This is not an attitude survey. The State Street Investor Confidence Index measures confidence directly by assessing the changes in investors holdings of equities. The more of their portfolio that institutional investors are willing to invest in equities, the greater their confidence. The report's main index is global and is based on activity in 45 countries. The report tracks more than 22 million transactions annually. There are three published components: North America, Europe and Asia-Pacific. The separate weightings of the three components vary month to month based on investment activity and are not published. Also included in the global index, but also not published, is activity in South America and the Middle East.
The Bloomberg Consumer Comfort Index
The first glimpse of an indication of a Brexit effect on the U.S. consumer is marginal, as the consumer comfort index for the June 26 week edged 3 tenths lower to 43.9. The decline is not a surprise, not only given the Brexit vote of June 24, but also because the prior week saw a giant 2.1 point surge to the 44.2 level, a surge that made a retracement likely. This report next week may offer more telling signals on initial Brexit effects at the consumer level.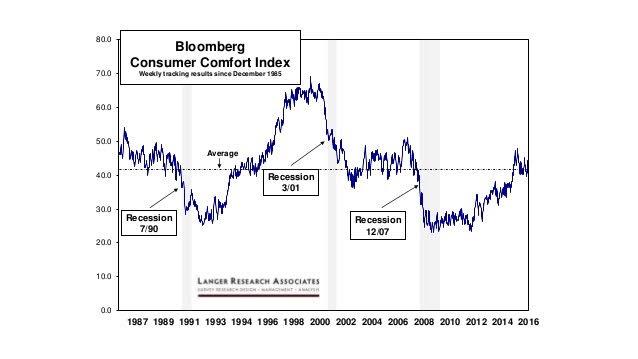 Definition:
The Bloomberg Consumer Comfort Index is a weekly, random sample survey tracking Americans' views on the condition of the U.S. economy, their personal finances and the buying climate. The survey was formerly sponsored by ABC News since 1985.
Beginning in April 2014, immediate details of the report are available by subscription through Langer Research Associates which conducts the survey for Bloomberg. Publicly released details are available only after a significant delay after release of the headline number. In May 2014, Bloomberg changed the series range to zero to 100 versus earlier reports with a range of minus 100 to plus 100.
The University of Michigan Consumer Sentiment
The University of Michigan Final Consumer Sentiment for May came in at 93.5, a 1.2 points decrease from the 94.7 May Final reading. Investing.com had forecast 94.0.
Surveys of Consumers chief economist, Richard Curtin, makes the following comments:
Consumers were a bit less optimistic in late June due to rising concerns about prospects for the national economy. While no recession is anticipated, consumers increasingly expect a slower pace of economic growth in the year ahead. Importantly, the persistent strength in personal finances will keep the level of consumer spending at relatively high levels and continue to support an uninterrupted economic expansion. Over the past 18 months, the Sentiment Index has shown only minor fluctuations about a very positive trend, with the June 2016 level a bit higher than the overall average (93.5 vs. 92.6). This relative stability stands in sharp contrast to the much more volatile path of GDP.
The stability in the overall Sentiment Index reflects a gradual improvement in assessments of current conditions being offset by a downward drift in the economic prospects. The Current Conditions Index reached in the June survey its highest level since January of 2007, while the Expectations Index declined a modest 9.5% from its January 2015 peak. Although the data are consistent with GDP growth falling slightly below 2.0% in 2016, real consumer spending can be expected to rise by 2.5% in 2016 and 2.7% in 2017.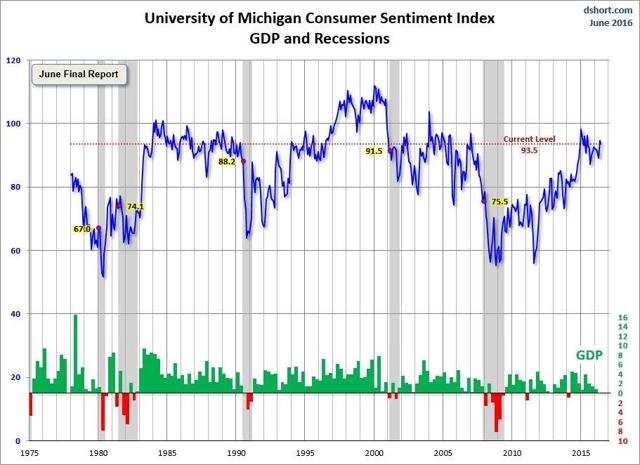 Today's report into the larger historical context since its beginning in 1978, consumer sentiment is 9.5 percent above the average reading (arithmetic mean) and 10.8 percent above the geometric mean. The current index level is at the 72nd percentile of the 462 monthly data points in this series.
The Michigan average since its inception is 85.4. During non - recessionary years the average is 87.6. The average during the five recessions is 69.3. So the latest sentiment numbers puts us 24.2 points above the average recession mindset and 5.9 points above the non-recession average.
Note that this indicator is somewhat volatile, with a 3.0 point absolute average monthly change. The latest data point was a 1.2 point change from the previous month. For a visual sense of the volatility, here is a chart with the monthly data and a three-month moving average.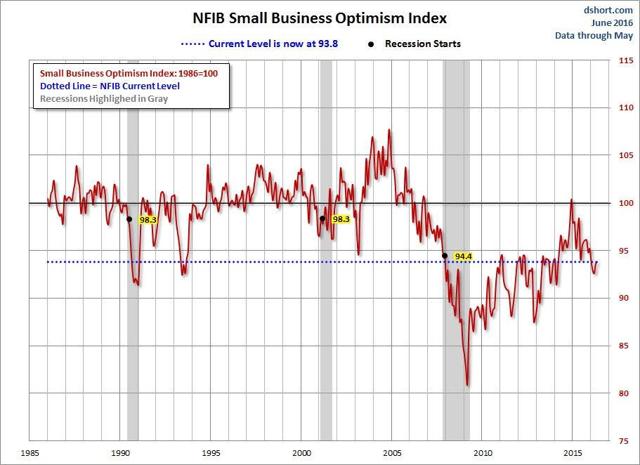 THE INDEX OF SMALL BUSINESS OPTIMISM
The Small Business Optimism Index is a composite of ten SBET indicators that provides a monthly, summary data point for the state of the small business economy. It is a coincident indicator of the national economy, though it also offers direction for the small business sector's immediate prospects. The ten indicators include: good time to expansion, general economic outlook, expected sales, current earnings, planned capital outlays, current job openings, hiring plans, inventory status, expected inventory change, and expected credit conditions.
Sources:
Chicago Fed, Kansas City Fed,
bloomberg.com/markets/economic-calendar
www.barchart.com/chart.php?sym=%24MMTW&a...
Disclosure: I/we have no positions in any stocks mentioned, and no plans to initiate any positions within the next 72 hours.
Additional disclosure: Disclosure:

The information in this article is not of myself, and the words expressed are not of my own opinion. I am not receiving compensation for it. I have no business relationship with any company mentioned in this article.