My stock holdings are bets on the future, not the past. Therefore, I am actively avoiding business models that come with extensive external effects, that is: bills for others to pay. Some call this do-goodism, for me it is prudence. Damages caused elsewhere tend to backfire in the form of litigation or regulatory action, think the Volkswagen emissions scandal (VLKAY). I do not want to take those kinds of risks.
Tracking my portfolio is meant to be a boring exercise. I called the latest update on my portfolio in 2016 T-Rail Positions For 2018 and as intended I have made further progress by doing nothing.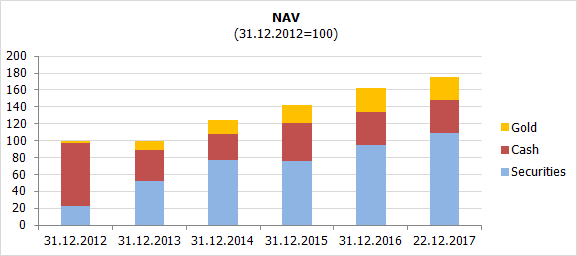 To allow for a time out from work, I have been putting money aside with the effect that my retirement portfolio's NAV has grown at a slower rate of 8 percent this year. The trade-off is perfectly acceptable to me, though.
Dec 2016

Dec 2017

Stocks

5.7% IAR Systems Group (OTC:IARSD)
4.6% Energiekontor AG
3.4% secunet Security (YSN)
3.2% Shimano Inc. (OTCPK:SHMDF)
3.2% Sims Metal (OTCPK:SMSMY)
2.9% Canadian National (NYSE:CNI)
2.6% Alterra Power Corp (OTCPK:MGMXF)
2.4% Pentair PLC (NYSE:PNR)
2.3% Hannon Armstrong (NYSE:HASI)
2.2% SAP SE (NYSE:SAP)
2.2% GPT Group (OTC:GPTGF)
2.1% PSP Swiss (OTCPK:PSPSF)
2.1% HCP (NYSE:HCP)/QCP (NYSE:QCP)
2.1% Coloplast A/S (OTC:CLPBF)
2.0% Xylem Inc. (NYSE:XYL)
1.9% UBS Group AG (NYSE:UBS)
1.9% Swatch Group AG (OTCPK:SWGNF)
1.9% PowerShares QQQ (NASDAQ:QQQ)
1.9% AB Kinnevik (OTCPK:KINNF)
1.7% Epicore Bionetworks (OTC:EPCBF)
1.4% Novozymes A/S (OTCPK:NVZMF)
1.3% Granite Construction (NYSE:GVA)
1.2% BioGaia AB (OTCPK:BIOGY)
1.1% Investor AB (OTC:IVSXF)
1.1% Schaltbau Holding AG

59%

6.3% secunet Security
5.0% IAR Systems Group AB
4.1% Energiekontor AG
3.5% Alterra Power Corp
3.4% Sims Metal
3.3% Epicore Bionetworks
2.8% Canadian National
2.4% Pentair PLC
2.4% SAP SE
2.3% Shimano Inc.
2.2% GPT Group
2.2% Hannon Armstrong
2.2% AB Kinnevik
2.2% PowerShares QQQ
2.1% Xylem Inc.
2.0% Coloplast A/S
1.9% Novozymes A/S
1.9% Swatch Group AG
1.8% PSP Swiss
1.8% UBS Group AG
1.5% HCP/QCP
1.2% BioGaia AB
1.2% Granite Construction
1.1% Investor AB
0.9% Schaltbau Holding AG

62%

Cash

24%

22%

Gold

17%

16%
I am benchmarking the portfolio total against the diversified fund of funds Arero and my stock allocation against the S&P 350 Europe index (IEV) as the closest European equivalent to the S&P 500 (SPY). My stocks have outperformed the S&P 350 Europe four years in a row now, while the portfolio as a whole has beaten Arero in three out of four years.
This year the deck of chance cards was stacked in my favour: In May, the WannaCry ransomware attack sent cybersecurity play secunet Security Networks to new highs. In autumn, Alterra Power and Epicore Bionetworks were bought out by Innergex (INGXF) respectively Neovia which settled the matter.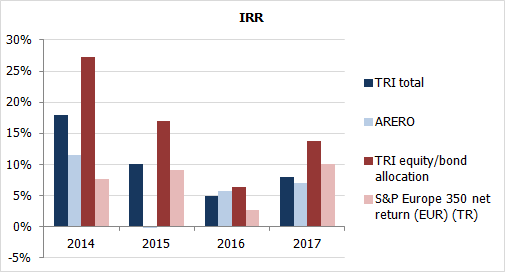 A four year track record may not say much, but it does not have to. I am not trying to become fund manager of the year, I am saving for retirement. My strategy seems to be fit for purpose and it is sufficient for me to conclude that there is no reason to change course.
The departures of Alterra Power and Epicore Bionetworks mean that my 'T-Rail Positions For 2018' will look different from what I thought in 2016. To reduce capital gains taxes, I am even considering some tax loss harvesting by selling e.g. HCP/QCP and Schaltbau Holding. The Antifragile Portfolio includes a couple of ideas which stocks could fill the gaps.