Pre Market Monday 2-11-2019
Dr. John L. Faessel
ON THE MARKET
Commentary and Insights
Quote of the Day
Relevance in today's world is for you to discern
Today let's start with funny …"If life were fair, Elvis would still be alive today and all the impersonators would be dead."
~ Johnny Carson ~
&
"The bottom-line -- we see an economy [World's minus USA] that is growing more slowly than we had anticipated,"
~ Christine Lagarde ~
International Monetary Fund Managing Director
At the World Government Summit in Dubai.
2/10/2019
The US economy is on a huge roll as the so called experts who were adamant about a tariff caused disaster couldn't have been more wrong. Looks like Trump's instincts were right once again.
We just experienced a 12% stock market gain in 7-weeks, near 3% annual growth, 304,000 new jobs created and prices have remained flat (they actually went down on a month-to month basis). And inflation? There isn't any. Add that the U.S. Treasury collected $8 billion in tariffs, 83% more than it did a year earlier. Big picture we're experiencing an economic boom while the world's lefty economies are (as usual) moribund.
EuroLand Growth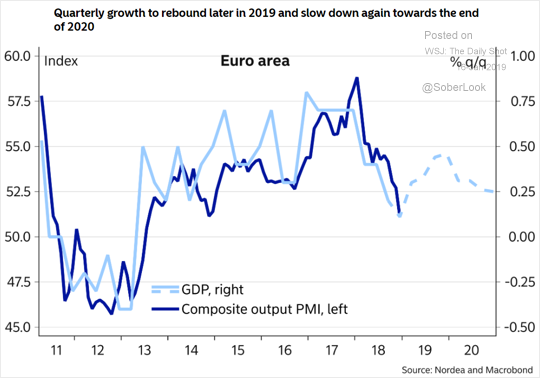 Could Germany be heading for a #recession?
And Uh-oh! #Germany's industrial production fell an enormous 4.7% in November. On a year-on-year basis that's the most since December 2009.
Going forward Berlin just cut its economic-growth estimate for 2019 to 1% from 1.8%.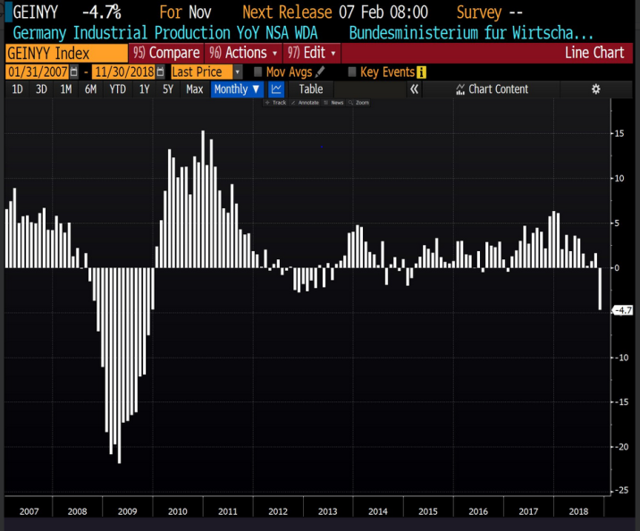 More on the Great US Economy
The Bureau of Labor Statistics [BLS] quarterly releases showed a 3.1% gain in the wages and salaries component in Q4 of 2018. That's up from 2.9% in Q3 and tied for the biggest gain since Q3 of 2008, just as worst of the financial crisis hit. Also 'big' from the BLS is that manufacturing productivity was up 1.3% in Q4 2018; that's "big" because 'it' points to more on the way. [#JobsReport #BLSdata & Employment Cost Index Data].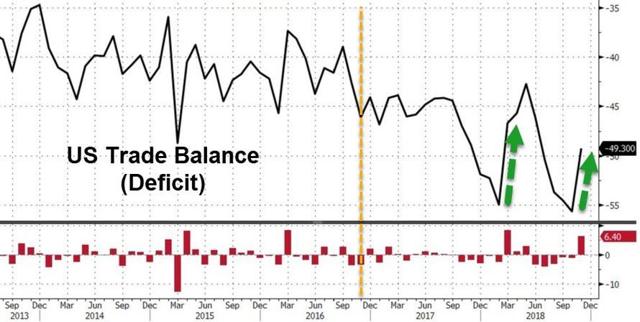 The delayed data for the US Trade Balance (Deficit) in November showed the deficit shrank dramatically. Against expectations of a small drop to $54.0 billion, the US trade deficit dropped a whopping 11.5% to 49.3 billion - smaller than the lowest estimate of 56 economists ($51.6bn to $60bn)...
The Institute for Supply Management's Manufacturing Index came in at 56.6 for January, easily surpassing economist expectations for 54 score. The unexpected turnaround is another signal that the US economy has strengthened recently, again defying predictions that it would slow.
The New Orders Index, which had come in weak in December, registered 58.2 % an increase of 6.9 %. The Production Index registered 60.5 % a 6.4-% increase.
And things are continuing to slow in China.
The gap between US and China GDP growth has been shrinking over the last decade.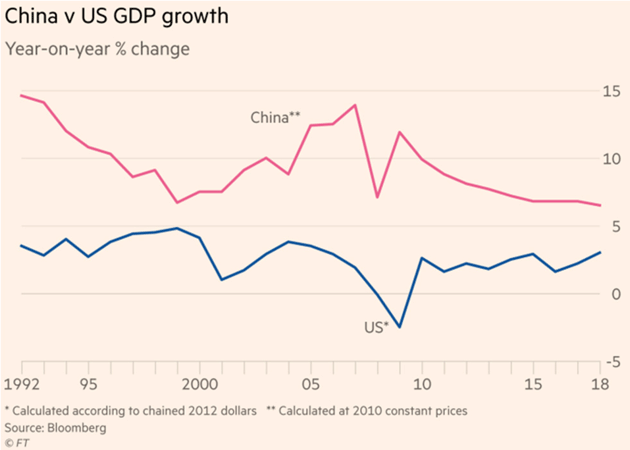 Sad, but true quotes
"We live in a truly odd time where nobody can be fired for actually being inept at their job but everyone can be fired for a clumsy social media post." ~ Dennis Miller ~
A bunch of rich people convincing poor people to vote for rich people by telling poor people that other rich people are the reason they are poor"
~ Charlie Kirk ~ On Democrats.
a "record number of families have tried to cross the border in recent months, overwhelming officials at the border and creating a new kind of humanitarian crisis." ~ The New York Times ~ 2/6/2019
Two interesting charts from the Federal Reserve Bank of St. Louis.
Men still make more money than women, but to see the differences in wage growth, compare these two charts from the Federal Reserve Bank of St. Louis. Here are male wages since 1979:

Contrast that chart with the positive story of the female economic revolution:

Wow item
1930's snow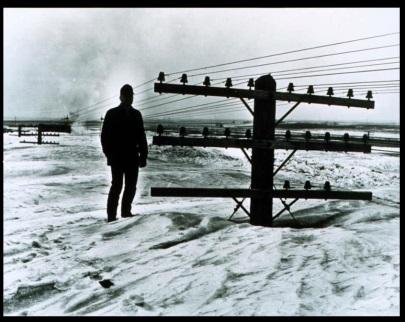 S&P 500
The S&P 500 (SPX) trading at 2707
Price resistance is at 2742 and 2800
The recent price support is at 2680 then at 2624
Theslightly rising50-day moving average &SUPPORT is at (SPX) 2615
The now flatening 200-day moving average and resistance is at (SPX) 2742
The "Hillary wins" the election lows and deep solid support is 2083
The Fibonacci 38.2% weekly support is at 2508
Fibonacci 50% weekly support is at 2375
The crucially important 61.8% Fibonacci weekly supportis at 2242
The 20% retracement level (BEAR MARKET) is at 1704.66
Deep price support and the low of the October 2014 decline is at SPX 1862 then 1814 and 1737 *
* This Week's Investor Sentiment overview
The overview of Investor sentiment – (a contrary indicator) – is beginning to burn hotter as the market continues its historic 12% advance.
Bullish sentiment moved decidedly into Euphoria in late 2017 as it had been rising bullishly along with the unprecedented spike in the market post-election. Most numbers were well into the Alarm Zone of "too bullishness" in Late December 2017 and especially in January 2018 driven by the tax cuts that created a huge jump in earnings for corporate America. This was the first time in many years that we had reached these very high Bullishness / Euphoria levels.
(High BULLISH readings in the Investor Sentiment are usually signs of Market tops; low ones, market bottoms.
CBOE Put / Call Volume Ratio – 1.04 [on December 20th 2018 it was 1.82 highest in 23 years]
VIX – 15.72
The Barron's Confidence Index posted 80.4
The American Association of Individual Investors [AAII]Investor Sentiment Survey of BULLISHNESS rose to 39.9 % from the prior week's 31.8 %.
Long-Term Average: Bullish: 38.9 %.
The American Association of Individual Investors [AAII] Investor Survey ofBEARISHNESS slid to 22.8 % from 31.8 % the prior week.
Long-Term Average: Bearish: 30.4 %.
The Investor's Intelligence Bull vs. Bears as of February 5th 2019 reveals 48.6% Bullish and 20.6 % Bearish. The prior week the numbers were 45.8% Bullish vs 20.6% Bearish.

[Notably on January 1 2019 Bullishness had dropped to 29.9 % and Bearish registered 34.6 %.]
This week the Barron's Consensus Index of BULLISH sentiment was 50% up six (6) ticks from the 44% the prior week. Three weeks ago it was 43%.
The cycle and multi-year highs of 78% were established in June, 2014.
The Market Vane (Market Letter Survey) The Bullish Consensus was up five (5) ticks to 53% up from 48% the prior week.
Friday's key indicators and metrics
Cycle highs or lows are in red
Key Battery metals:
Cobalt – 14.79 USD/LB
Nickel – 5.83 USD/ LB
Vanadium (ferro) 21.65 USD/lb
Bitcoin(Globex)@ $3,615
~~~~~~~~~~~~~~~~~~~~~
Friday's McClellan Oscillator is in neutral at a plus 3.34
EURO – (Globex) –1.13565 at multi-year lows
Palladium – (Globex) – at Forever closing Highs 13.71
Germany Bund 10-year yield – 0.08%
3 - month LIBOR at 2.69775 % has backed off considerably from January's 9-year highs of 2.79388 - Link here
The Treasury 5-year yield – 2.441
The Treasury 10-year yield – 2.632
The 30-year Treasury – 2.976
Natural Gas (Globex) – 2.583 – right at 3-year lows.
WTI Crude oil (NYMEX) – 52.72
Canadian Dollar – (Globex) – 0.75425
US Dollar Index – 96.416
Aussie Dollar (Globex) at 0.709
British Pound (Globex)- 1.2956 - hit one year lows on Thursday
Japanese Yen (Globex) – @ 0.9134 closing in on 6-month highs.
Swiss Franc (Globex) – @1.0034 just off recent 14-month lows
Lumber (Globex) – 419.1 ticked forever highs of 445 on Wednesday
Platinum (Globex) –802.5
Copper (Globex) – 2.8105
Gold (Globex) – 1318.5
Silver (Globex) - 15.809
Brent crude (July) NYMEX– 62.10
CBOE Put / Call Volume Ratio – 1.04
VIX – 15.72
Iron ore 62% (Globex) February 2019 (CME) $92.29 – 5 year highs? Due to a fire at Rio Tinto's Cape Lambert export terminal in Australia and easing of China USA tensions