Pre Market Monday 4-8-2019
Dr. John L. Faessel
ON THE MARKET
Commentary and Insights
Quote of the Day
Relevance in today's world is for you to discern
"We shall banish want. We shall banish fear. The essence of socialism is human welfare rooted in a fuller life for every German [American] from childhood to old age"
~ Adolf Hitler ~
(I crossed out the word German and added American and it sounds exactly like
AOC or BernieSanders)
~~~
BARRON'S HEADLINE today – IS THE BULL UNSTOPABLE?
Today, yes! However, danger lurks out in time; see below in my segment in Recession Watch*
The number of Americans filing applications for unemployment benefits dropped to a more than 49-year low last week.
The unemployment rate is just 3.8%, near the lowest level in 50 years.
Fed Funds futures are now pricing in 30 basis points of easing in 2019, meaning at least a quarter-point cut in short-term rates.
The S&P 500 Index (SPX) which is now only 1.6% from new bull market highs and the Nasdaq 100 Index (NDX) which is only 2.2% from new bull market highs.
American consumers regained their mojo in March, pushing the University of Michigan's consumer sentiment up to 98.4 from February's 93.8.
The CBOE Volatility Index (VIX) has dropped to 12.77, the low for the year
Market
There has been huge improvement in the technical pictures of global stock markets; notably China's Shanghai index (that hit a 52 week high in today's trade) and add the Hang Seng too, plus the STOXX Europe 600 Index.
All of this bodes well for our markets as the global market picture has been drag until February when the rumblings of improvement began. These plusses add credence to the recent exceptional economic news that has buoyed the backdrop here in mother USA.
More specifically re US markets;
Price in the S&P 500 (SPX) has once again has remarkably moved above the 10-year channel that goes back to the indexes 666 lows put in March 2009.
Also notable last week was that both the (SPX) and (NDX) indexes had "so-called" golden crosses this week when their 50-day averages crossed above their 200-day averages. Market technicians see this as a very bullish event.
Another plus; the yield curve has reversed back. Notably, the yield curve is just one (1) of the 10 components of the Index of Leading Economic Indicators.
NYSE Advance Decline Line just posted all-time highs. This indicator IMO is the be all and end all of market health. When this disassembles – watch your backside. (This was 'the' indicator that blew the abandon-ship horn back in March 2000.)*
* In the 14 months to April 2001. The loss in Nasdaq points was from 5132 to 1600 That's not even counting the 9-11 hit to the September 21, 2001 even lower lows to 1387.
NYSE Advance Decline Line at all-time highs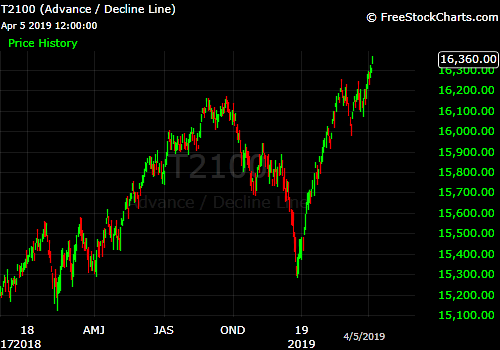 Price just moved back above the 10-year channel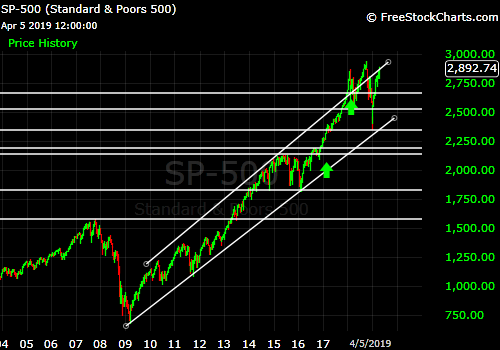 Green arrow was Trumps election November 2016
* Recession Watch
Looking at the 32,000 publicly-traded companies in 14 advanced economies, a Bank for International Settlements study in November 2018 found that 12% of the total were both at least 10 years old and had an interest coverage ratio below 1.0 for three (3) consecutive years. In other words, these companies weren't making enough revenue to pay back their loans, much less cover their other expenses and earn a profit. (They borrow money at near zero % and kick the can down the road).
Bank of America (BAC) just found the same in a new study that finds; 13% of developed-country public companies can't even cover their interest payments. They are either borrowing more cash to pay off previous loans, or issuing equity to hopeful (too hopeful) investors. When things get dicey ─ as the will (a recession) ─ these companies will almost surely fail.
Interesting chart of the day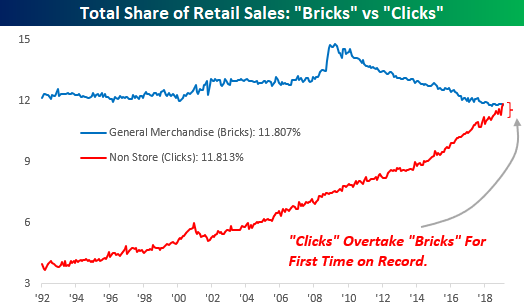 Pic of the day
A truly hellish invasion coming our way. Good grief!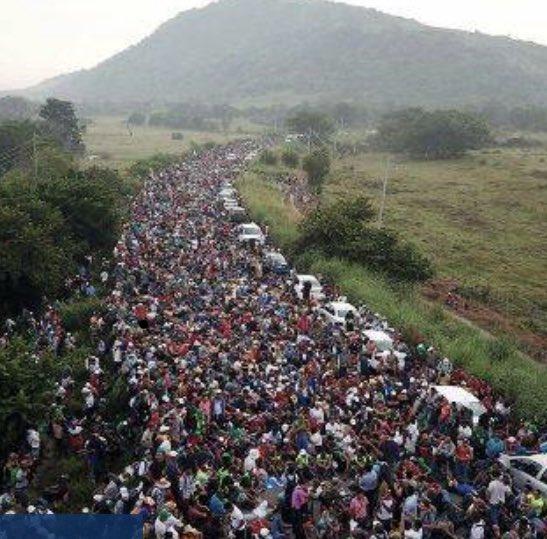 S&P 500
The S&P 500 (SPX) trading at 2892.74
Price resistance is at 2939 the previous all-time high
The recent price support is at 2758 then at 2722
Therising50-day moving average and support is at (SPX) 2778
The now very slightly rising 200-day moving average and support is at (SPX) 2758
The "Hillary wins" the election lows and deep solid support is 2083
The Fibonacci 38.2% weekly support is at 2692
Fibonacci 50% weekly support is at 2627
The crucially important 61.8% Fibonacci weekly support is at 2562
The 20% retracement level (BEAR MARKET) is at 1704.66
Deep price support and the low of the October 2014 decline is at SPX 1862 then 1814 and 1737 *
* This Week's Investor Sentiment overview
The overview of Investor sentiment – (a contrary indicator) – is remarkably tame in its bullishness considering the accelerating market picture. And that's a good thing going forward.
(High BULLISH readings in the Investor Sentiment are usually signs of Market tops; low ones, market bottoms.
CBOE Put / Call Volume Ratio – 0.82 [Of Note; on December 20th 2018 it was 1.82, highest in 23 years]
VIX – 12.77
The Barron's Confidence Index posted 80.8
The American Association of Individual Investors [AAII]Investor Sentiment Survey of BULLISHNESS rose to 35% from the prior week's 33.2%.
Long-Term Average: Bullish: 38.9 %.
The American Association of Individual Investors [AAII] Investor Survey ofBEARISHNESS rose to 28.3 % from 27.2% the prior week.
Long-Term Average: Bearish: 30.4 %.
The Investor's Intelligence Bull vs. Bears as of April 2nd 2019 reveals 53.4% Bullish and 19.4 % Bearish. The prior week the numbers were 52.0% Bullish vs 20.6% Bearish.
Notably on January 1 2019 Bullishness had dropped to 29.9 % and Bearish registered 34.6 %.
This week the Barron's Consensus Index of BULLISH sentiment was 63% from the 62% the prior week.
The cycle and multi-year highs of 78% were established in June, 2014.
The Market Vane (Market Letter Survey) The Bullish Consensus was 55% up from 53% the prior week.
Friday's key indicators and metrics
Cycle highs or lows are in red
Key Battery metals:
Cobalt – 14.52 USD/LB
Nickel – 5.92 USD/ LB
Ferro Vanadium 80% (CHINA)53.50 USD/lb
Bitcoin(Globex) @ $5,020.
~~~~~~~~~~~~~~~~~~~~~
Friday's McClellan Oscillator is in neutral at a plus 111
EURO – (Globex) –1.12845 just off multi-year lows set on Tuesday
Palladium – (Globex) – 1345 ticked forever-highs of 1576 on 3/21/2019
Germany Bund 10-year yield – 0.00%
US Dollar Index – 97.002 closing in on 2-year highs
3 - month LIBOR at 2.59213 % has backed off considerably from January's 9-year highs of 2.79388 - Link here
The Treasury 5-year yield – 2.312
The Treasury 10-year yield – 2.501
The 30-year Treasury – 2.090
Natural Gas (Globex) – 2.664
WTI Crude oil (NYMEX) – 63.08 at 6-month highs
Canadian Dollar – (Globex) – 0.7577
Aussie Dollar (Globex) at 0.7144
British Pound (Globex)- 1.3075
Japanese Yen (Globex) – @ 0.9002 at 4-month lows
Swiss Franc (Globex) – @1.0067 just off recent 14-month lows
Lumber (Globex) – 352.8 ticked forever highs of 445 2/6/2019
Platinum (Globex) –905.4 at 6-month highs
Copper (Globex) – 2.8945
Gold (Globex) – 1295.6
Silver (Globex) - 15.086
Brent crude (July) NYMEX– 70.35
CBOE Put / Call Volume Ratio – 0.82
VIX – 12.77
Iron ore 62% (Globex) April 2019 (CME) $92.54 – 5 year highs? Due to a fire at Rio Tinto's Cape Lambert export terminal in Australia and easing of China USA tensions