Dr. John L. Faessel
ON THE MARKET
Commentary and Insights
Best Idea for 2020
The Great Developing Nickel Panic
There are currently no material Class 1 nickel projects in construction anywhere in the world
&
Making the case to buy Clean TeQ Holdings …
The only development-ready Class 1 nickel project in the world *
Clean TeQ Holdings ─ CLQ.ASX: $0.245 OTCQX: CTEQF $0.167
Market-cap 182 million AU$ ─ 124 million US$
Clean TeQ stands out as the developer of one of the largest integrated high purity battery-grade nickel sulphate and cobalt sulphate projects in the world. And with $200 million into the project it's the most advanced development-ready battery materials project on planet earth. Their Sunrise project will bring significant new nickel and cobalt supply to the electric vehicle [EV] market. Throughout 2019, solid progress has been made on design and engineering, with over 150 engineers in Australia and China working to support tendering for long lead items, procurement and site delivery. And that's not even half of the story …
McKinsey & Company August 2019 report: "The global market for electric vehicles [EV]'s has grown at about 60% per year, reaching 2.1 million in 2018. China's EV market grew 85% over the prior year, significantly above the industry average. US sales were up 81% in 2018 over 2017.
The dominant and necessary chemistries for the next-generation [EV] battery are nickel, cobalt and lithium.
The world needs more than 1 million tons per year [mtpa] of new nickel capacity over the next decade (about 50% of today's global nickel production of 2.2mtpa). That is the equivalent of five of CLQ's Sunrise projects each year for the next decade. The majority of those new projects will need to produce battery-grade nickel feedstock (referred to as Class 1 nickel), not low-grade nickel pig iron or ferronickel. There are currently no material Class 1 nickel projects in construction anywhere in the world. Historically, these laterite projects take approximately 6 to 12 years from start of feasibility study to first production.
Nickel prices are up 66% year to date and are now trading at multi-year highs.
Dow Jones Commodity Index Nickel - Ticker: DJCIIK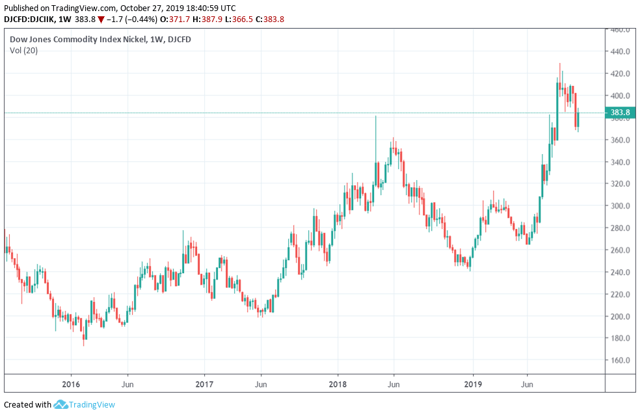 JP Morgan (JPM) estimates that overall EV sales are estimated to account for over 38% of total automotive sales in 2025. If so, then demand for high-purity Class 1 nickel is likely to skyrocket from 33 kilotons (72,752,546 lbs.) in 2017 to 570 kilotons (1,256,634,894 lbs.) in 2025. Source: McKinsey
The closest nickel cobalt resource to production is Clean TeQ's Sunrise.
We're talking about the best of the world's nickel and cobalt asset class and the world's top scandium resource. Over 1,300 core holes have been drilled in the near-surface Sunrise deposit in New South Wales, Australia to delineate the resource's size and grade, and it's amendable to simple strip-mining by excavators—plus there are other significant and weighty features of the company.
The global significance of the Clean TeQ Sunrise Battery Materials Complex is without parallel and will generate more than US$14 billion in revenue over life of mine. Clean TeQ will use its proprietary Clean-iX processing technology to extract nickel, cobalt and scandium. Scandium is revolutionary in how it will transform aluminum for the aerospace, automotive, marine, and rail transport industries. Sunrise is one of the largest and highest grade scandium deposits in the world.
Adding a tiny amount (0.15% to 0.20%) of scandium to aluminum creates a next generation alloy that is corrosion resistant, weldable (with no loss of strength at the weld), 3D printable, able to significantly enhance castings, 'superplastic' (can be fabricated to form more complex shapes), stronger, and harder. Thus, the alloy can be formulated to be much lighter on a comparative basis than standard aluminum.
(For my ON THE MARKET report on scandium email a request to: onthemar@san.rr.com )
Notably the CLQ development-ready Sunrise project is located in New South Wales, Australia, one of the safest jurisdictions in the world, at a scale that can deliver enough battery material to support the battery needs for 500,000 to 1,000,000 electric vehicles [EV]'s per year.
The Clean TeQ Sunrise definitive feasibility study [DFS] has revealed that around 2 million tonnes of nickel sulphate could be produced from Sunrise, along with 400,000 tonnes of cobalt sulphate over the first 25 years.
Average production post ramp-up of Sunrise:
21,780 tpa nickel and 4,640 tpa cobalt (Year 2 – 6)
19,620 tpa nickel and 4,420 tpa cobalt (Year 2 – 11)
18,520 tpa nickel and 3,450 tpa cobalt (Year 2 – 25)
Glencore Plc indicates that global demand for nickel in EV's will hit nearly 1 million metric tons by 2030. That amounts to 55% of the metal produced globally in 2017. Prices look set to double by 2022.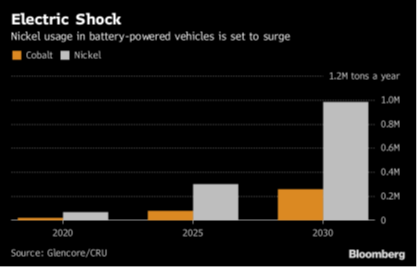 The back story driving the nickel demand
The world's largest producer of nickel is Indonesia which recently specified that the country would ban exports of raw nickel ore beginning in December 2019.
The range of EV's is directly dependent on the amount of nickel density in the cathode necessitating increasingly more nickel in battery cell chemistries (NMC532, NMC811, NCA vs LFP, LMO)
Nickel use in batteries in 2018 was 82,000 tonnes. The forecast for 2025 is 1.5 million tonnes, over 18 times higher.
A key factor is that less than 50% of current global nickel production is suitable for battery applications (Class I / nickel sulphate).
The next generation batteries for the EV will require over 4 to 8 times more nickel that the current ratio 1-1-1 of lithium, cobalt and nickel.
Currently, the amount of nickel per car could on average go from 20 kg (44 lbs.) to 50 kg (110 lbs.) in just 5 years and eventually to 80 kg (176 lbs.) with the adoption of ratio 8-1-1 technology.
The lack of new Class 1 (either nickel sulphide or pressure acid leach [PAL]) developments is leading to a continued Ni sulphate premium of up to 35% over the London Metals Exchange [LME] nickel price.
Only Class 1 nickel is suitable for battery production; thus going forward overall nickel demand will be accompanied by an increase use of Class 1, (estimated by McKinsey by 2025) to grow from 0.82 million tonnes to 1.5 million tonnes. Class 2 nickel use will remain flat at 1.1 million tonnes.
McKinsey further notes that Class 1 supply will lag demand by 2025 with only 1.2 million tonnes available to meet the above mentioned pipeline demand of 1.5 million tonnes.
Over the last decade the pace of new nickel discoveries was minimal and will provide only a fraction of what's required to meet demand.
Nickel mines can take five or more years to develop; adding the build-out of processing plants will add to that shortfall.
Due to the last decade of overall very low nickel prices, there was little interest in developing additional nickel production; hence the dearth of building new or increased capacity.
Further, the United States Geological Survey [USGS] has reported that only 40% of currently available reserves are in sulfide deposits amendable for Class 1 nickel and that most of the sulfide deposits in well-established mining regions globally have been depleted, necessitating additional exploration in new regions. "This is a boon for Class 1 suppliers."
London Metal Exchange [LME] nickel inventories & supply / demand outlook;
Last week LME nickel inventories plunged to 66.99 kt a 10-year low.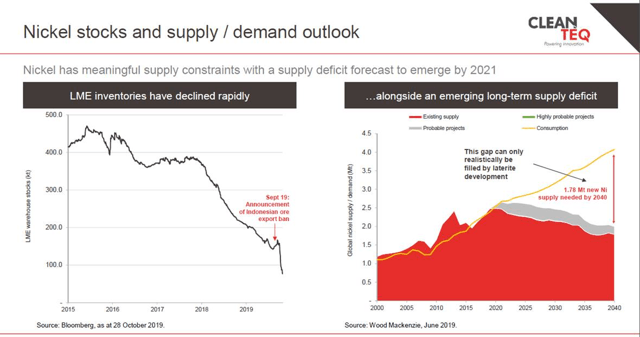 The automotive industry simply hasn't realized how long it takes to bring new nickel capacity to market. Global automakers have placed approximately US$300 billion in forward orders with the battery industry for EV battery packs, which has resulted in a rapid build-out of new battery plant capacity (approximately 700 Gigawatt hours [GWh]) so far in construction or commitments).
(Benchmark Minerals is now tracking 96 battery plants with a total capacity 2,030.1 GWh of production by 2028.) 70 of these megafactories are currently under construction ─ where 46 are located in China.
Again: There is not one significant Class 1 nickel project in construction today. Moreover and shockingly; the looming perceived 'nickel deficit' is the equivalent of five Sunrise Projects successfully delivered per year for the next decade.
There is just no feasible way the mining sector can expand this rapidly to fill those factories.
Cobalt
Cobalt stabilizes battery chemistry in the EV and improves recharge and discharge performance ─ critical for fast-charging applications. It's true that newer battery chemistries use less cobalt, but it's very difficult to replace cobalt entirely.
Cobalt is not only necessary, but the world will need more than 180,000 tonnes of new cobalt capacity within a decade; correspondingly cobalt prices have rebounded around 40% from its lows in July of this year.
The shuttering of large-scale capacity in Democratic Republic of the Congo [DRC], combined with a reduction of artisanal supply entering the market, has reinforced improved cobalt's trading conditions.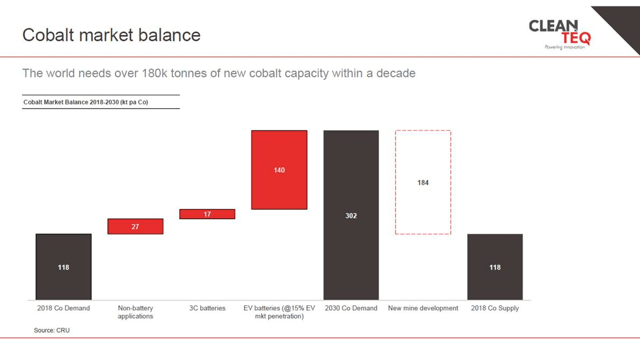 Probably as important as anything to do with the Clean TeQ / Sunrise undertaking is that billionaire and mining guru Robert Friedland is the largest shareholder and Co-Chairman & Non- Executive director, and it's right up there as one of his top focus projects. The man has discovered a $trillion worth of minerals in the ground and raised mega billions globally for his projects. More on the truly remarkable Mr. Friedland below. **
There are no issues with the Sunrise project as it has been progressively de-risking as it gets closer to construction. Massive engineering, procurement, construction management [EPCM] giant Fluor Corp (FLR) NYSE is now actively engaged in delivering the project execution plan in Q2 next year. Of note: Fluor is progressively demobilising from its huge multibillion BHP Billiton Iron Ore (BHPBIO) development projects located in Western Australia, which they began in 2001. Fluor has 41 mining development projects going on globally and has 53,000 employees.
In February 2017, Clean TeQ sold leading Chinese conglomerate, Shanghai based Pengxin International Mining Co. Ltd. 16.2% of the company for $81 million.
More than a dozen parties have now expressed interest in taking up as much as a 50% stake in Clean TeQ Holdings Ltd.'s Sunrise nickel-cobalt-scandium project, Chief Executive Officer Sam Riggall said in an interview. They include companies in regions that until recently had shown less impetus to tie up raw material supplies.
Clean TeQ's signed an offtake agreement Chinese Beijing Easpring (market-cap US$1 billion) in August 2017 that represent 20% of Sunrise's annual cobalt and nickel-sulphate tonnage. Easpring produces nickel-cobalt-manganese and lithium cobalt oxide cathode chemistries, and its clients include major lithium-ion battery makers Sony, Samsung SDI and LG Chemical. The binding five-year purchase agreement will and begins at the start of commercial production.
Clean TeQ has a market-cap today of A$182 million / US$124 million, which is less than the capital that's been invested in the project. The market-cap is just above their cash backing, meaning an investment in CLQ is almost a zero cost purchase of the best undeveloped Ni/Co/Sc project in the world. And importantly, Clean TeQ is well capitalized to finish the engineering work that needs to be done.
Regarding, the cheap price of the Clean TeQ shares: there has been a fundamental disconnect with value, not just with Clean TeQ, but across the battery materials sector. It's a perplexing dynamic, given there is almost universal recognition that the EV market is set for very solid growth, supported by strong government policy and rapidly declining battery pack prices.
Some relevant data points:
The Australian super fund recently increase their holdings by 17.5 million shares taking their ownership from 6.3% to 8.7%
Fidelity fund family owns a total to 50 million shares
Co-Chairman & Non- Executive director Robert Friedland owns 96 million shares
CEO of Clean TeQ Sam Riggall owns 26 million shares (disclosed in annual report)
Short position is just under 6 million shares
Over and above Clean TeQ's Sunrise developmentthe company is in full-speed-ahead mode promoting and developing other related new technologies.
It's an overlooked treasure trove of value that's now 'unlocked' because of new technologies.
Water Treatment
Clean TeQ's water division delivers real solutions to the world's most challenging water treatment problems. Their cost-effective, best in class technological process brings their proprietary water treatment technologies to the markets mining, power and industrial applications. Sustainable water management practices are becoming critically important in the mining industry as environmental regulations are tightened globally and water scarcity increases. Their water recovery technologies also treat ground, surface and grey water into potable water suitable for municipalities. This is a global problem where only 1 in 10 people (that's 844 million) lack access to clean water and 2 billion people – 1 in 3 on the planet – lack access to a toilet. Clean TeQ's technological solution is particularly applicable in China, where algae blooms are fouling wastewater being discharged into waterways.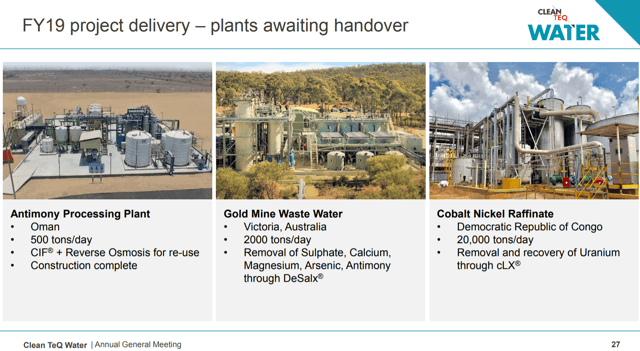 Ion exchange resins
The Ion exchange technologies—over 20-years in development by Clean TeQ (add 30+ more years under earlier Soviet development) when viewed as a solution to cleanse water and to extract metals from low grade ores, slurries, tailings, salar and geothermal brines have truly astonishing global potential. The amount of low-grade ores, mine tailings, slurries and brines that have residual mineral concentrations is staggering. Clean TeQ's proprietary Continuous Ion Exchange (CIF®) processing technology has been deployed in the DRC for metals processing. This process achieves an extraction rate of more than 98% of the contained metal from ores and tailings pulled from up to 20 million litres per day of a raffinate stream.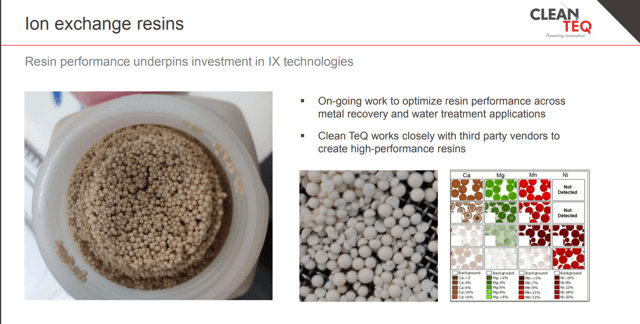 Graphene
'The Miracle Material' that won its creators the Nobel Prize.
Recently, Clean TeQ and Ionic Industries created a joint venture company called NematiQ to pursue the development of graphene oxide [GeO] membranes and absorbents for water treatment applications. These nanofiltration membranes allow for higher flow rates and are less likely to become blocked-up and fouled. As a result, the graphene oxide membranes have the potential to deliver lower operating costs, longer membrane life and lower maintenance costs. All documentation for the various commercial agreements and technology licenses has now been finalized, and NematiQ's work program has commenced. A plant for the manufacture of high purity graphene oxide has been designed and installed at NematiQ's premises, with graphene oxide produced by the facility to be used for larger scale manufacture of graphene oxide membranes.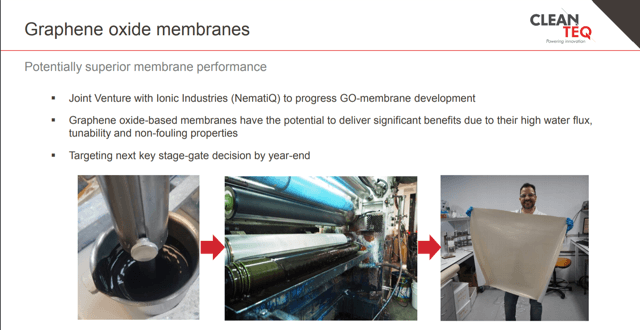 I'm a shareholder and have bought more shares as the price has eroded.
Clean TeQ website: Clean TeQ - Powering innovation
__________________________________
* The Sunrise Development project, the only development-ready Class 1 nickel project in the world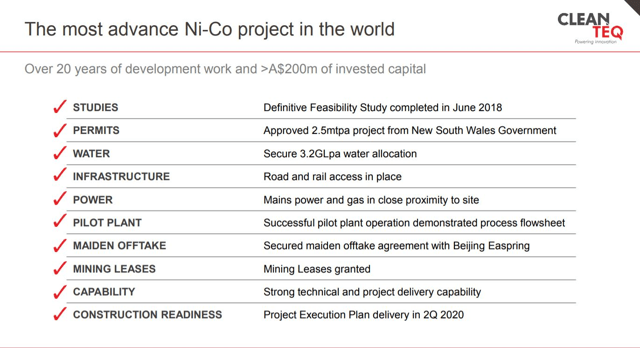 ** No other person ever has been more successful at taking what come to be tier-one assets that he has discovered or has interest in 'to market' than Robert Friedland.Currently, Friedland sits on three of the largest mineral finds ever: perhaps the world's richest and one of the largest copper finds, perhaps the largest and richest zinc find, and perhaps the largest and richest platinum find. In addition he has major ownership interests in a lot of other mind-boggling technology stuff [HPX], including, and notably, his perhaps favorite Clean TeQ. In September Mr. Friedland's HPX received approval from the government of Guinea to acquire the 1 billion ton high-grade iron ore deposit from BHP, Newmont and Orano.
In 2016 Friedland was inducted into the Canadian Mining Hall of Fame and in 2017 was the recipient of The Northern Miner's Lifetime Achievement Award (link here & here). Another remarkable item that will make you scratch your head is that he also picked apples with Steve Jobs way back when on Robert's uncle's apple orchard ―no kidding. In the best-selling book Steve Jobs by Walter Issacson, Friedland is mentioned numerous times with 14 references to him in the index.
Let me close this part of my report with a data point re Robert Friedland that will give you pause; consider that Friedland / Ivanhoe has spent on average $10 million a month drilling (cores) / (holes in the ground) for 20+ years. That's over $2.4 billion. (And counting, I might add.) Rick Rule President and CEO of Sprott US Holdings, told me this factoid a couple of years ago at a big mining conference in South Africa.